Oh yes, I've made slippers! You may recall that this isn't my first attempt at slippers, but in the past it didn't go well... This time I made slippers for the Spa Kits I'm making for Christmas, so I needed 6 pairs... it's a good job it went well! I used this excellent tutorial to make Spa Slippers.
It involved large amounts of binding - my other nemesis. The bits that go across your foot needed binding by machine, I did find this tricky. Above is the top view, below is the underneaths.
Not too bad, but not perfect either! As these bits are hidden, I can live with it. Next came large amounts of quilting.
Actually, that's a blatent lie. If you look at the photo above, you can see that they were quilted before being bound. I can't be bothered to try and change the order of the photos though as Blogger doesn't like that so you'll just have to suspend reality for a moment! These were quilted at 1 inch intervals. It took forever. The other 5 pairs have much wider gaps between the quilting, maybe 2 inches, perhaps a little less. I didn't take any photos of that for some reason.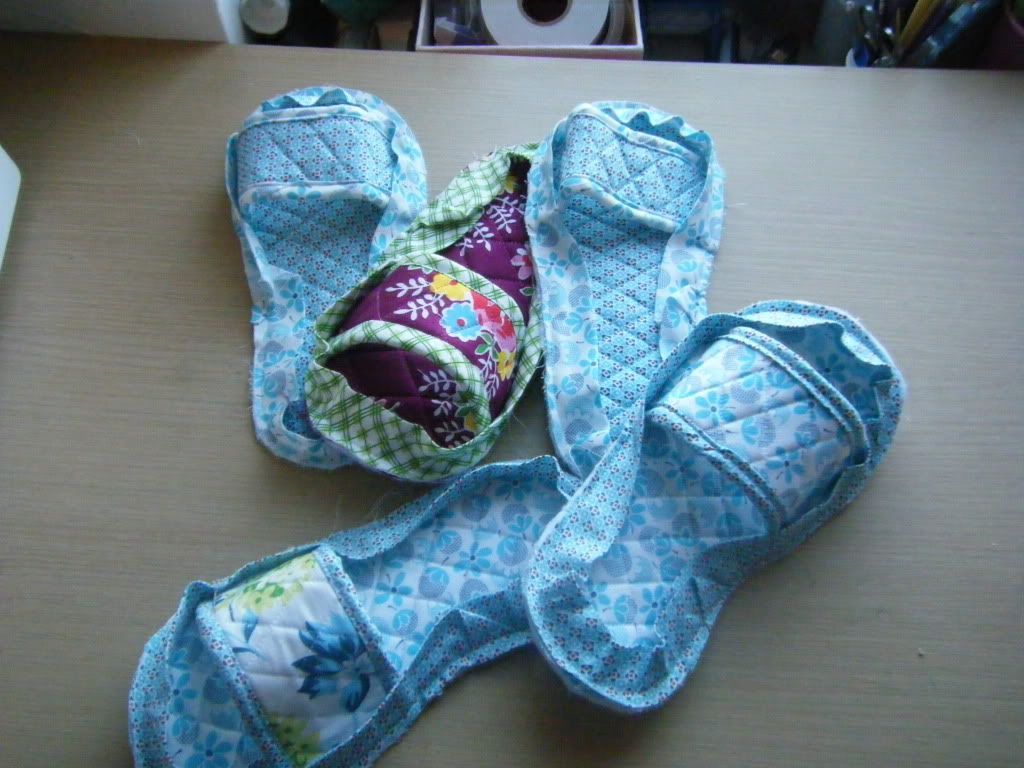 Here's the first 5 slippers with the machine binding bit done, awaiting my hand sewing attention. I folded the binding in half and sewed both raw edges to the edge of the slipper, to hand sew I tucked it round to the back and slip stitched. I haven't done it this way before but it seemed to work really well! I know, I know, you've all been doing it for years, but when it comes to quilting, I'm remarkably slow!
My machine had a bit of a strop at this point, so I left it and picked it up last weekend. I only needed to clean the machine out, as I'd suspected but had been too tired to do. I got down to some hand sewing...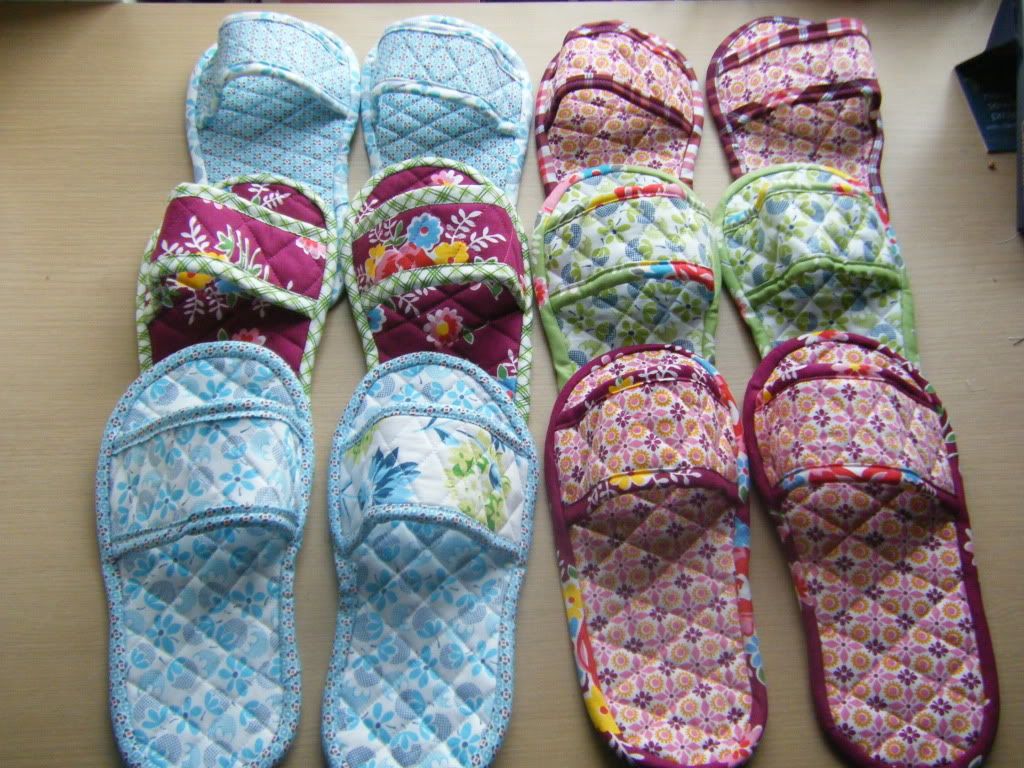 Ta dah! I'm really chuffed with them. They're all in the DS quilt range that was sold in Joann's and that the lovely Wee Pixie obtained for me. I've used up all but a couple of scraps of the 12 fat quarters I had!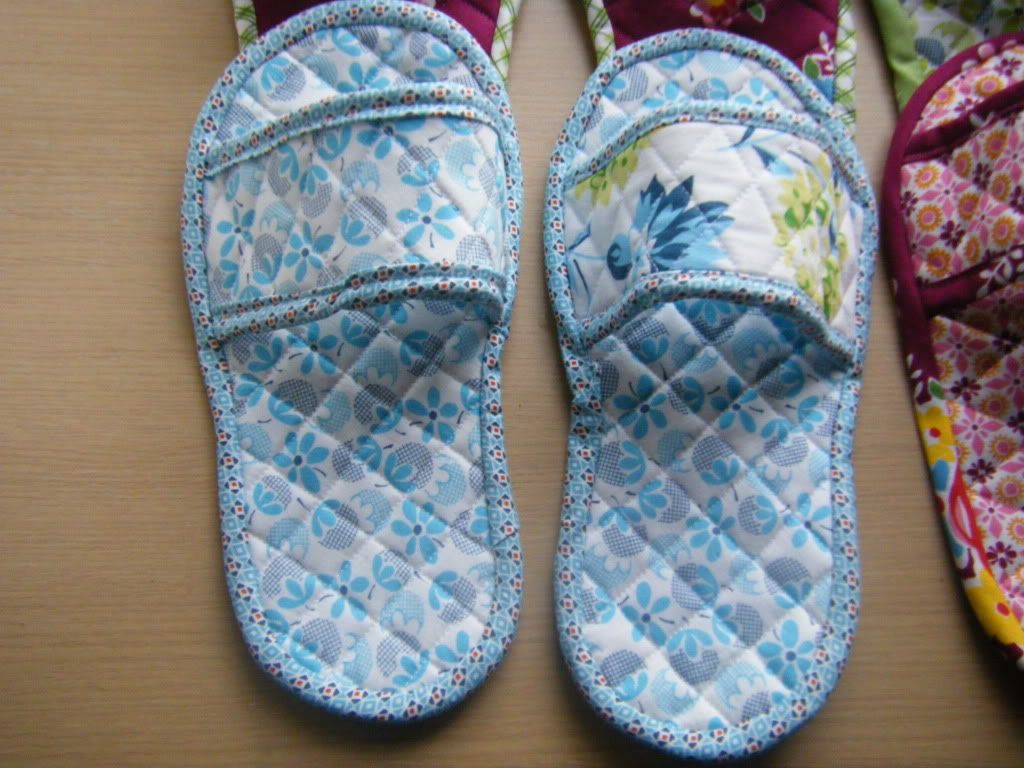 I think these are my favourites. But I can't keep them.
I have a confession to make. I really, really enjoyed hand sewing this binding. I've always thought that quilters who said they love hand sewing binding were wierdos, well now I know that either I was wrong, or I'm a wierdo too!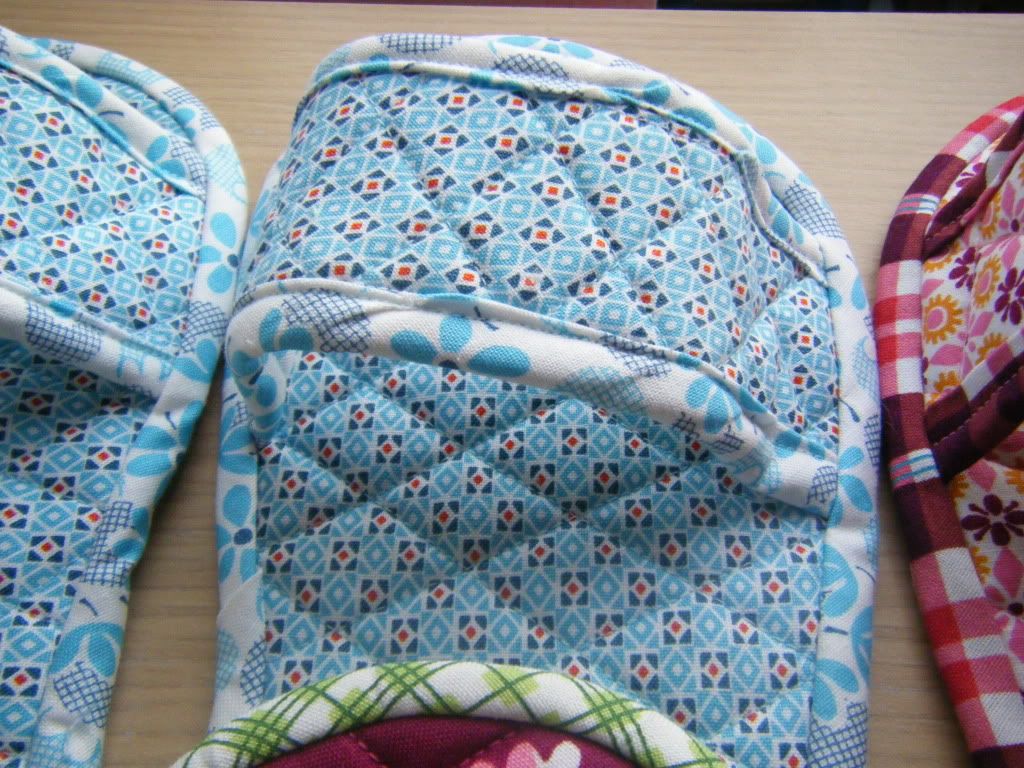 I'm making matching eye masks. I've done all the machine sewings, so now I get to sit and hand bind them! That's after I hand bind the table runner... oh yes, I've been busy! I'm still crap at quilting though...