On Saturday I went on a basic jewellery making course at The Bead Shop Nottingham with my mum. They run a massive range of jewellery courses, most of which I hope to attend at some point over the year! I have made jewellery before but my mum hasn't so I said I'd go with her as I still have a lot to learn. I'm really glad I went.

First of all we learnt the correct way to form loops. I've been doing it the hard way all this time! OK, so Blogger has rearranged my photos. Fine. The LAST thing we made was a memory wire bracelet. The most difficult part about this is choosing the beads but I managed to find some lovely blue and white beads that reminded me of porcelain, so I used them.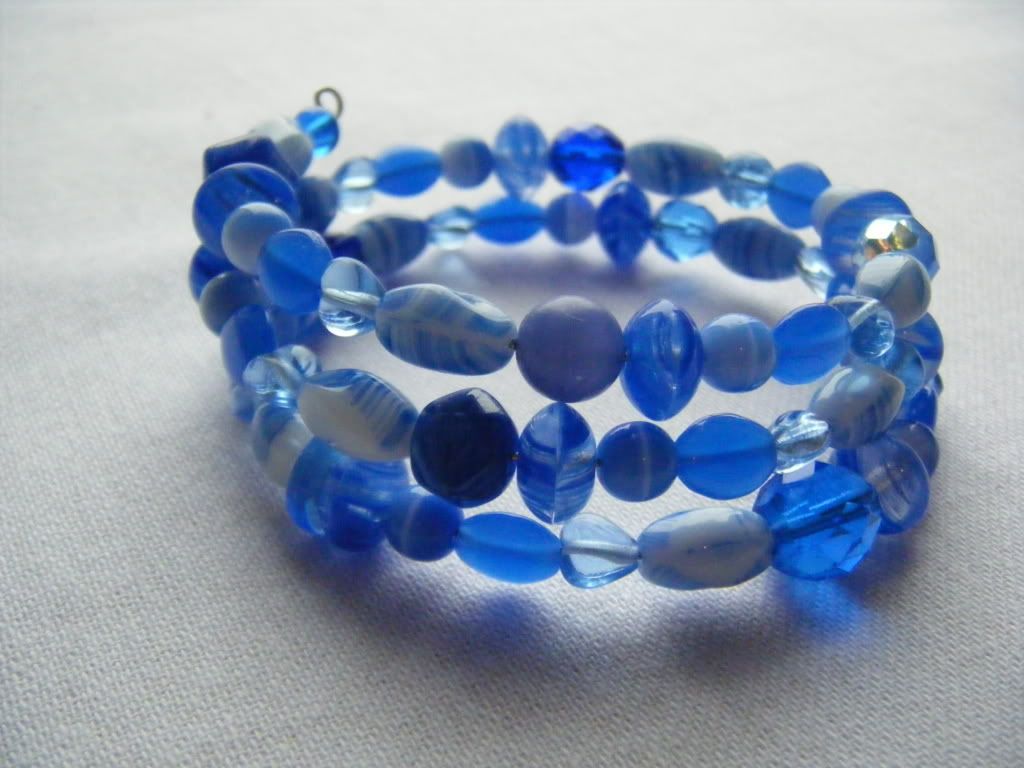 Apart from bead choice, this was incredibly easy to make. Making the loops was quite hard as the wire is very tough but it wasn't a difficult technique.
The FIRST thing we made was a pair of earrings using our new-found loop-making skills. I had a bit of trouble with this as earrings make me feel sick. Yep, weird I know. I used to be pierced, loads in my ears, two in my nose and one in my belly button, but for the past 10 years or so they've made me feel ill so I don't wear them. Even seeing other people wearing earrings can make me nauseous. I got past it in the end by very much not focusing on what they were!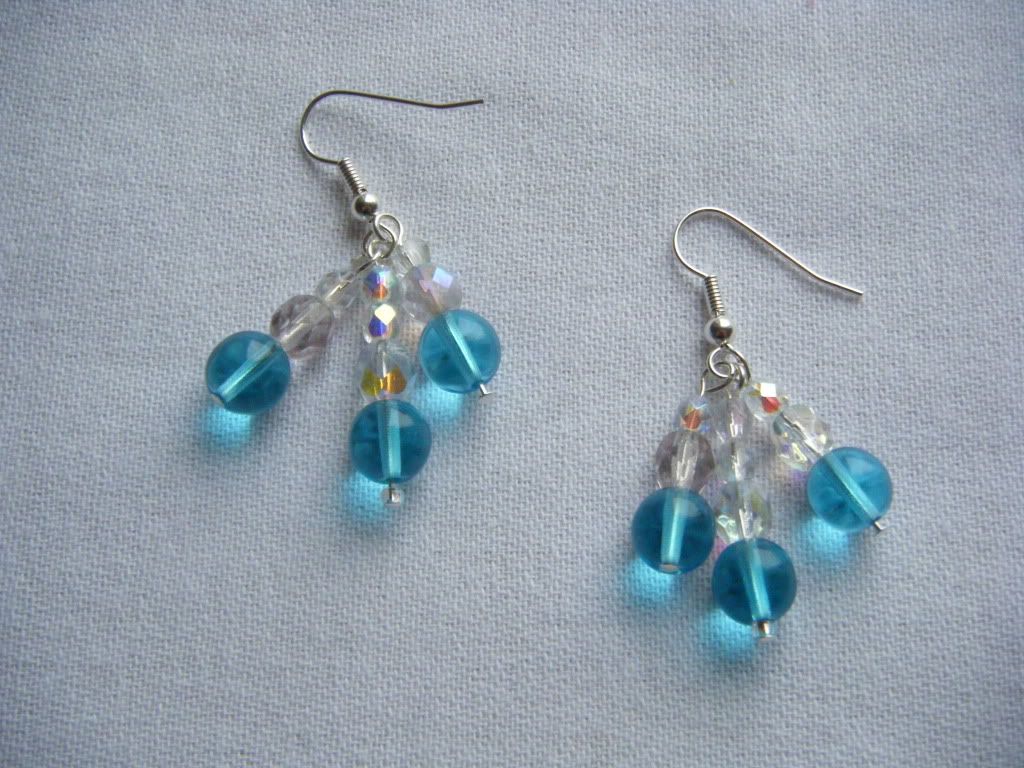 I went for a simple three-drop design with these lovely blue beads and some clear crystals. My mum said they looked like the kind of earrings she used to wear in the 60s. Not sure if that's a compliment or not...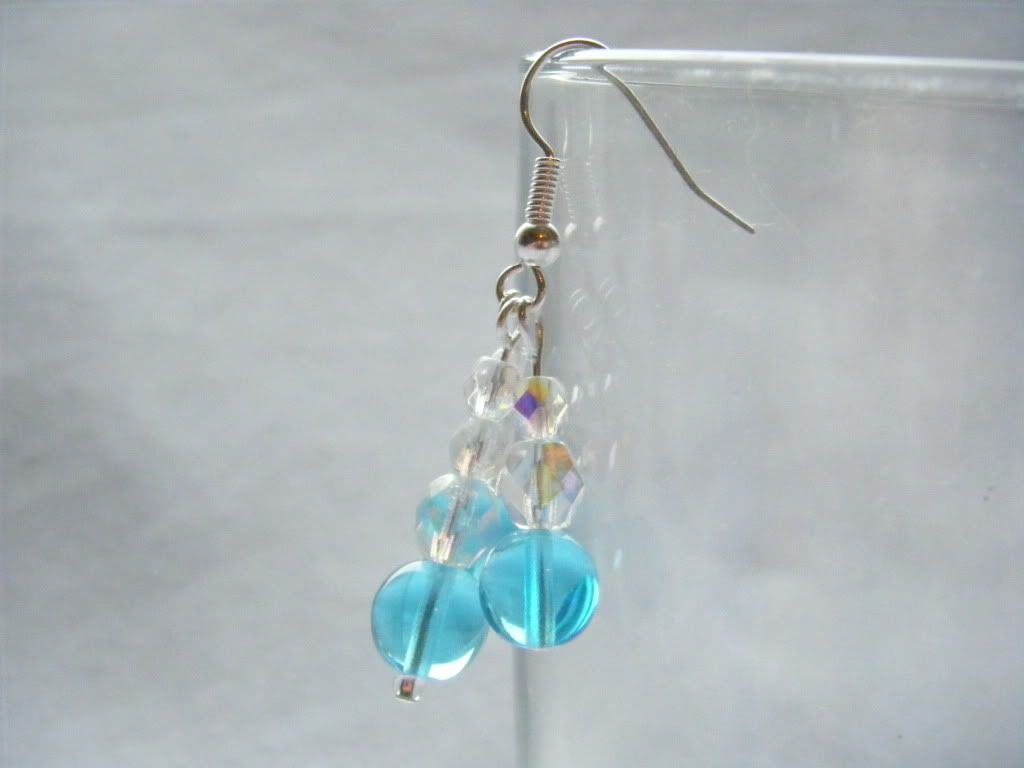 Yesterday I attempted some artistic photography. Hm.
After we'd done the necklaces (which blogger says you can't see until last), we had a go at beadweaving, attempting the Right Angled Weave (RAW). I love this technique!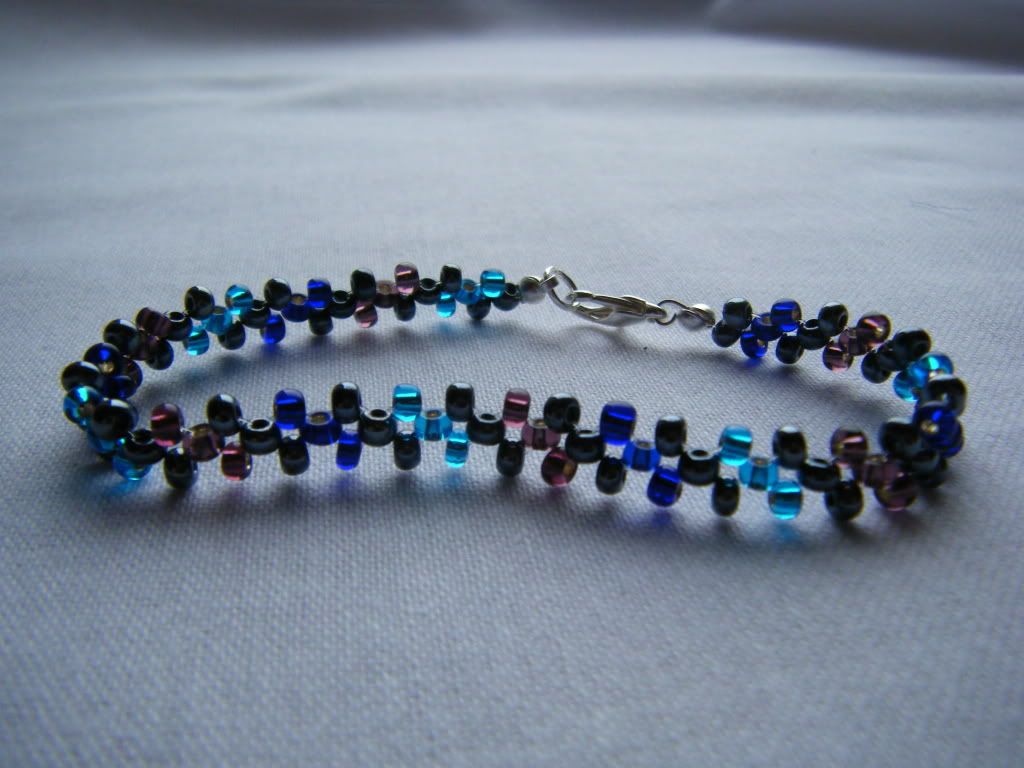 I chose to do a stripy pattern, rather than have one colour in the centre and a different at the sides like the samples in the class. Somehow I managed to break my end-cap type thing which the tutor said never usually happens so I'm not quite sure what happened there! As I'd already cut the thread, I had to rip back a few rows and make the bracelet smaller. It's a good job I've got the smallest wrists known to man (the only slim bit about me). Oh that reminds me, I didn't tell you about week 2 at fat club, did I? I got Slimmer of the Week, go me! It made up for almost dying in the aerobics class. I'm so unfit it's not funny.
This was incredibly hard to photograph as it's so small.
I don't think I've captured the colours very well, they're all really dark. I did manage to iron my photo background cloth though, the new iron is great, it gets wrinkles out and everything, I'd kind of forgotten that irons do that!
So, we made earrings first, then the necklace below this, then this necklace. This uses crimp beads which I like a lot now I've figured out how to close them properly! The beads I used are actually clay, not wooden though they do look it.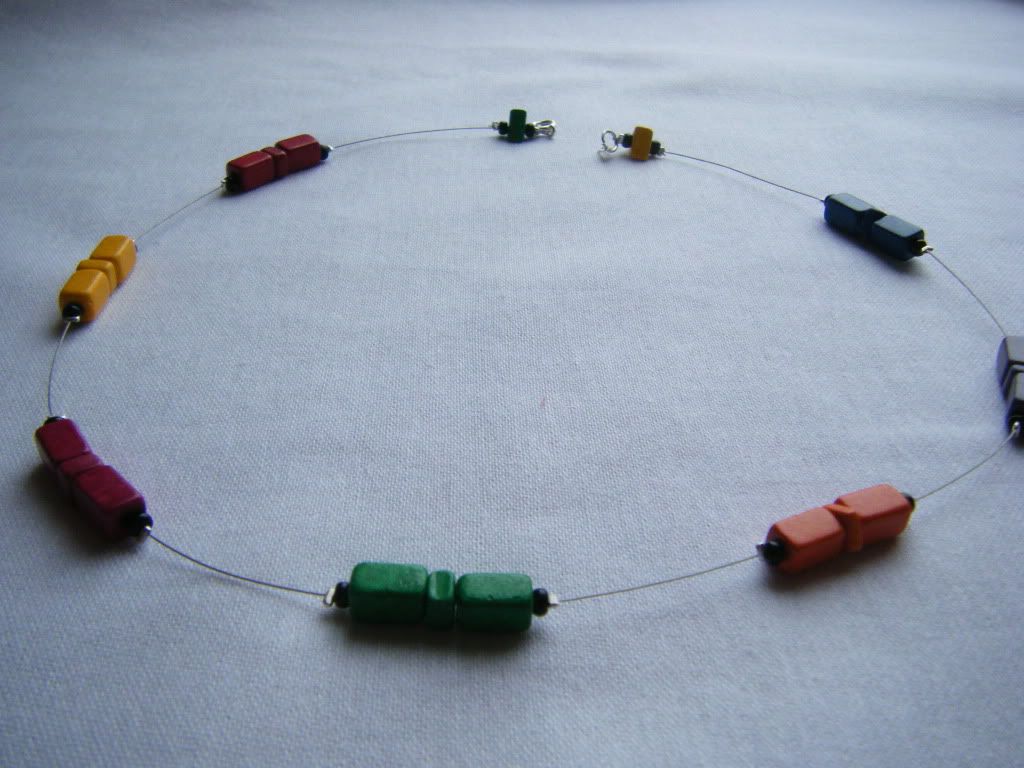 I went for a rainbow arrangement and I love this one, I'm keeping it for myself along with the RAW bracelet, the other items (especially the (urgh) earrings) are going in the
shop.
I took a close up of the ends as I love the little triangle beads and wouldn't have thought of this kind of detail without the tutor suggesting it.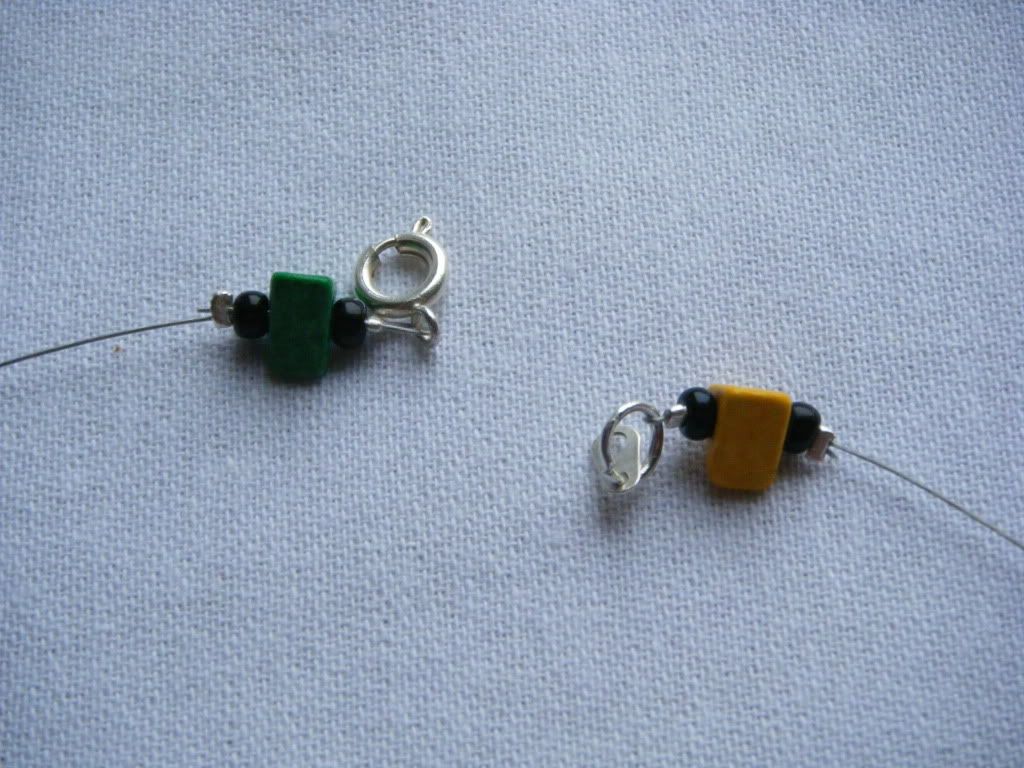 On to the first necklace! They'd provided us with big jars of mixed beads, so trawling through them to find beads to use was a long process. I'd found two perfect beads and it turned out they didn't have a hole all the way through!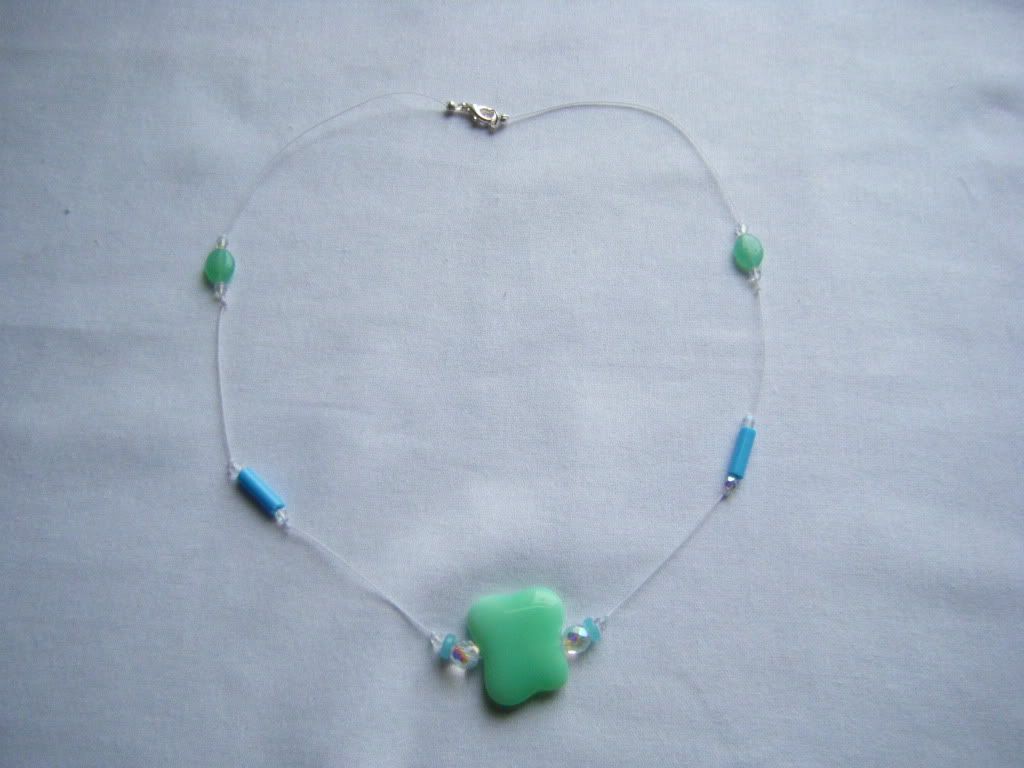 This necklace was made with a kind of cord and knots. Tricky to get the knots in the right place. This was a technique I'd never tried before.
I quite like that funky bead, but it's too long for me and so I'm going to try to sell it.
I'm looking forward to more jewellery classes in the near future, we're planning on attending one a month if we can, but not next month as I've already booked onto a stained glass course, I can't wait!
If any of these pieces take your fancy, or you want to see some other jewellery I've made, take a look in
my Folksy Shop
.