That's right, this post is not about the baby quilt. But... I have finished it! The reason I'm not showing it to you is that I finished it on Sunday night and I have been at work during all hours of daylight since and this quilt deserves proper photos (if I do say so myself!). My nephew still hasn't arrived, he's now 5 days late and according to the midwife, he's almost ready to make his entrance. Fingers crossed people, I can't wait much longer. I've been in a state of mild panic for over a week (not helped by being given a false deadline at work... someone may just die today...) and need to get rid of these butterflies in my stomach! I dread to think how my brother and his lovely lady are holding up.
Anyway, I didn't just drop by to witter on at you, I do have something to show you. In my last post I showed you the appliqued babygrow that I'd made for my nephew and also the failure that was the booties I made. The

lovely

Sandra

suggested that I throw them away and forget about it! What?? Sandra, you must have realised that I'm as stubborn as a mule, give up? Never. And guess what? I conquered the bloody things!
Ta da! Yes, they're slightly wrinkled and not exactly perfect, but they are cute (in the British sense of the word)! I'm pleased I stuck it out and got them finished, and I'm pleased I managed to get a giraffe on one and an elephant on the other like I meant to do it (I kind of did, but didn't know if it would work, I have low expectations of myself). The pattern is from Craftseller magazine, not an entirely successful pattern, I felt the directions were a bit hit and miss, but at least the magazine isn't rife with spelling mistakes and bad grammar like other UK craft magazines I could mention.
I clearly forgot about directional print when cutting out the soles... we'll just ignore that, shall we? Here they are with the babygrow:
I think that makes a nice little set. Now, I finished these the same night I finished the to-be-revealed quilt, but I wanted to make something else for him. I found a pattern for a bib in One-Yard-Wonders and thought that would do nicely. This was a well written pattern, but it turned out rather on the large side, you'd have thought I'd have noticed from the size of the paper pattern really.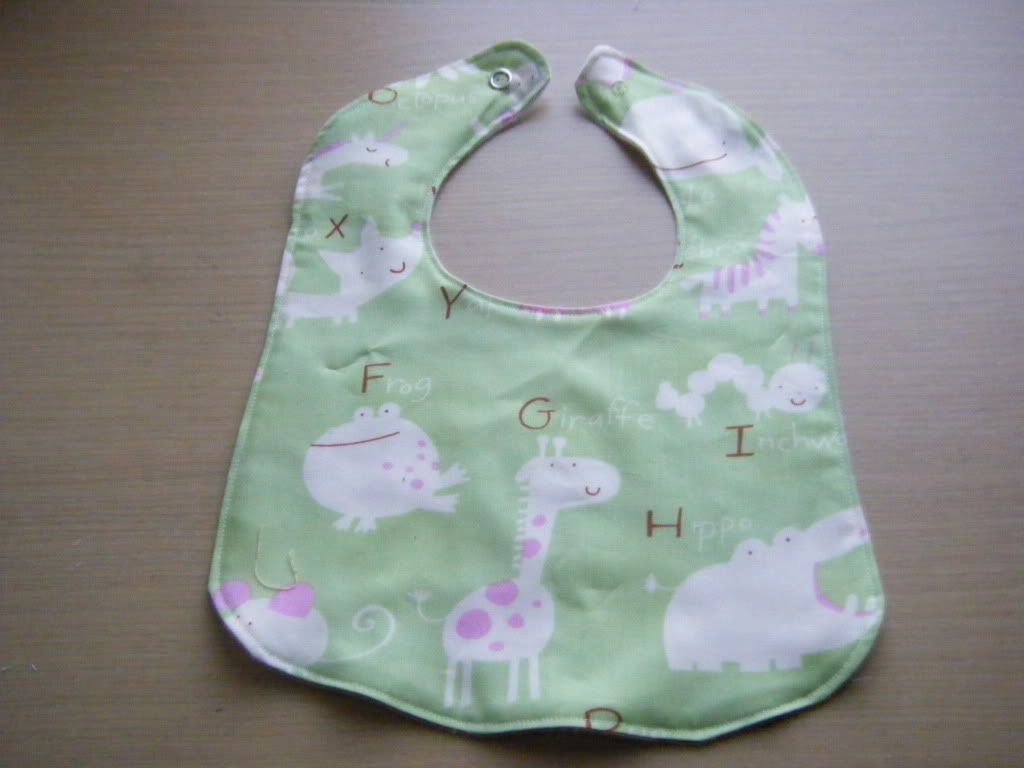 This pattern was excellent, I'm looking forward to making more stuff from this book, and the Fabric-by-Fabric sequel which I also own. I would have loved to have made this bib to match the baby grow and booties, but I'd wasted some on the failure booties, so I used this other Alphabet Soup fabric I'd bought with my nephew in mind. It's backed with flannel and the bottom edge isn't as jerky as it looks in the photo.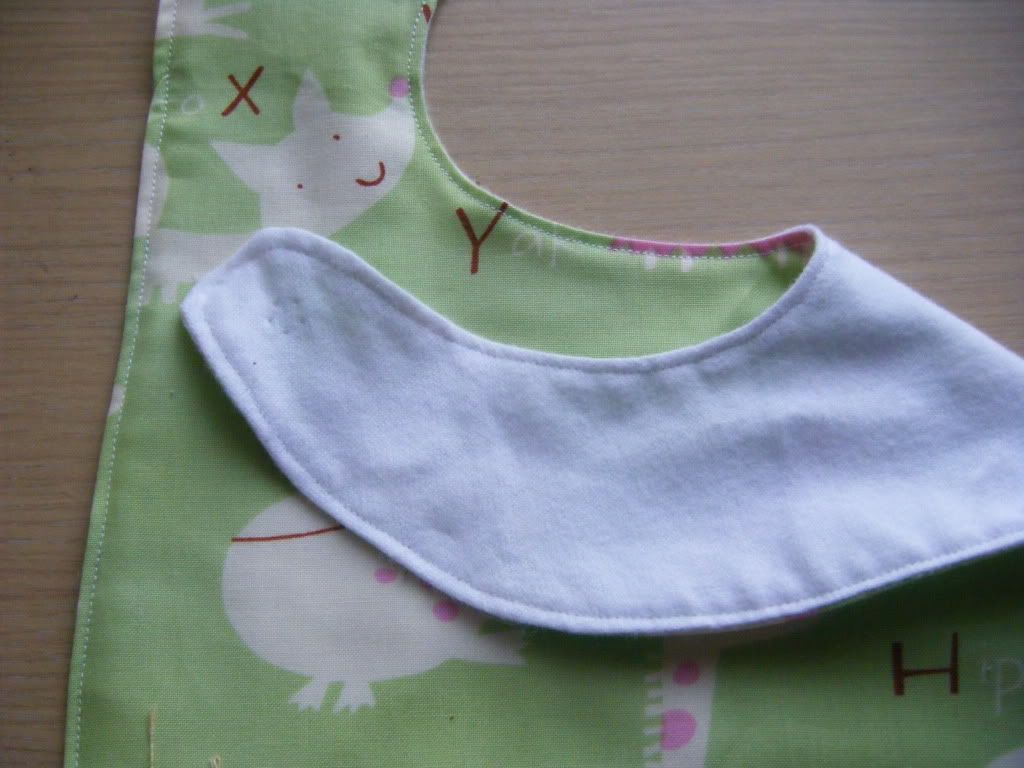 I got it cut and sewn in minutes, then disaster struck.
Bloody, sodding snaps. I hate them. I'd bought some white plastic snaps like these:
from Ebay ages ago. I assumed they worked with my snap setter, which looks like this: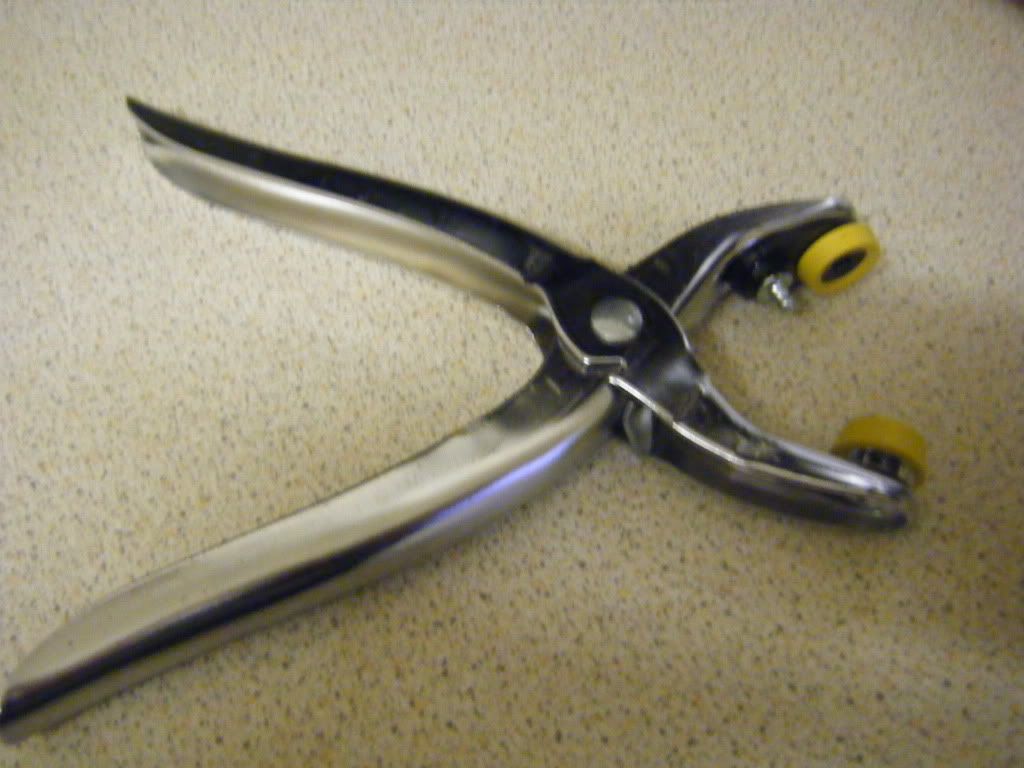 They don't. What they did do was leave a little hole in the fabric. I then had to use a standard metal snap which has an open ring, showing off the hole! I got one side in, but couldn't get the other side to set. I took it down for Mr CA to have a go and he couldn't get it to work - it turned out I'd put it in back-to-front and damaged the prongs. Although I have countless snaps left, I don't have any of the prongy bits as I've damaged them all.
Can anyone help? How do I set the white snaps? Is there a better tool for setting snaps in general?
That's it for the moment. I'll be back with pictures of the quilt after I see daylight, so Saturday at the earliest, though it does depend on when my nephew appears. If he gets here this week, I'll be going down to see him on Saturday (my brother lives 3 hours away), so may not get time to blog... oh, hang on, Mr CA takes about 3 hours in the bathroom every morning so I probably will have time to blog!
In the meantime, I've got some other crafty bits and bobs to show you. I'm still working on stuff for the baby, and probably will carry on until he's about 18... I am, however, looking forward to getting some non-baby items made, perhaps from One Yard Wonders (though after digging through my fabric pile recently to make something I'll show you later this week, I discovered that I mainly buy half yards of fabric... I might have to leave the baby for an hour at the weekend to go to Fabricland in Bristol...). I'm going to baby-craft like mad until I meet the little fella, then I'll start some other stuff.