Hello ladies. I've just finished the second week-from-hell at work and I'm looking forward to some weekend crafting and home prettifying. Oh yes, I have plans to paint the bathroom. Probably. Anyway, you may have forgotten (as it's been a while) but I joined up with Pretty Crafty Home at
Cherry Heart
and last weekend I did some PCHing. Not much, just a smidgen, but every smidgen counts.
We bought this house almost 5 years ago. Whilst huge and a great bargain, it had been a student house for 20 odd years and so basically everything had been spray painted white, repeatedly. The kitchen and bathroom are both from the 1970's. At the moment, we can't afford to remodel them, though it is on the list, so I'm going to have a go at smartening up what I've got. I started small. With the kitchen drawer.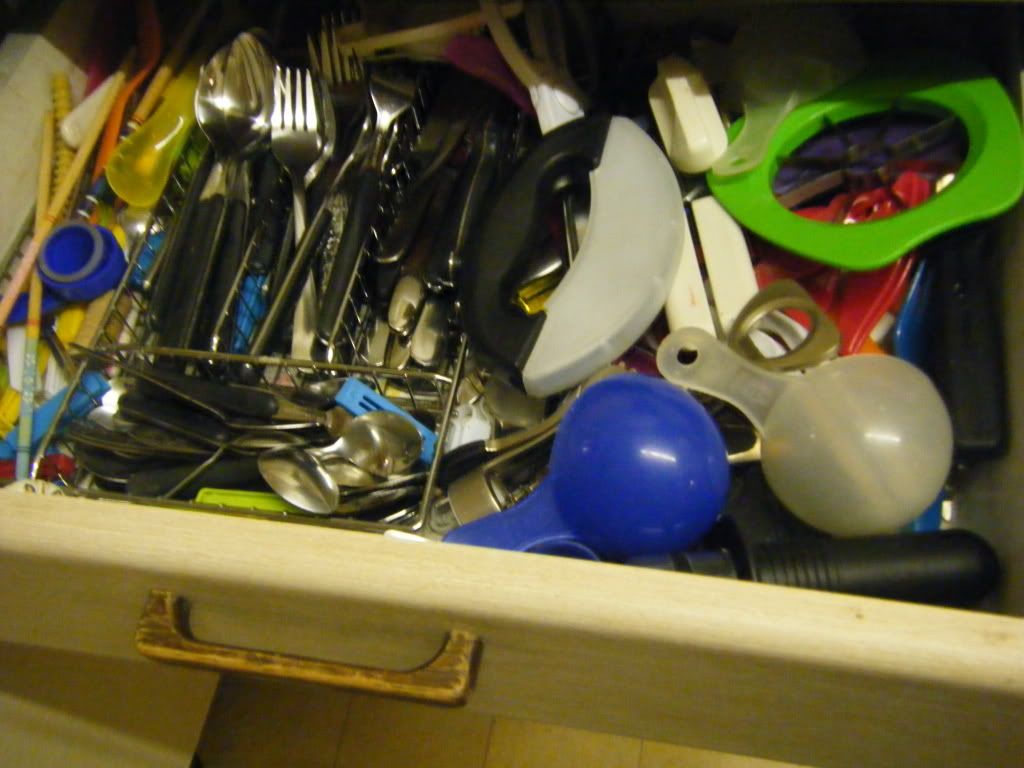 This was our cutlery drawer. We could never find what we wanted in there. So I decided to do something about it. I think I was avoiding doing something else I was supposed to be doing, but I can't remember what... painting the bathroom?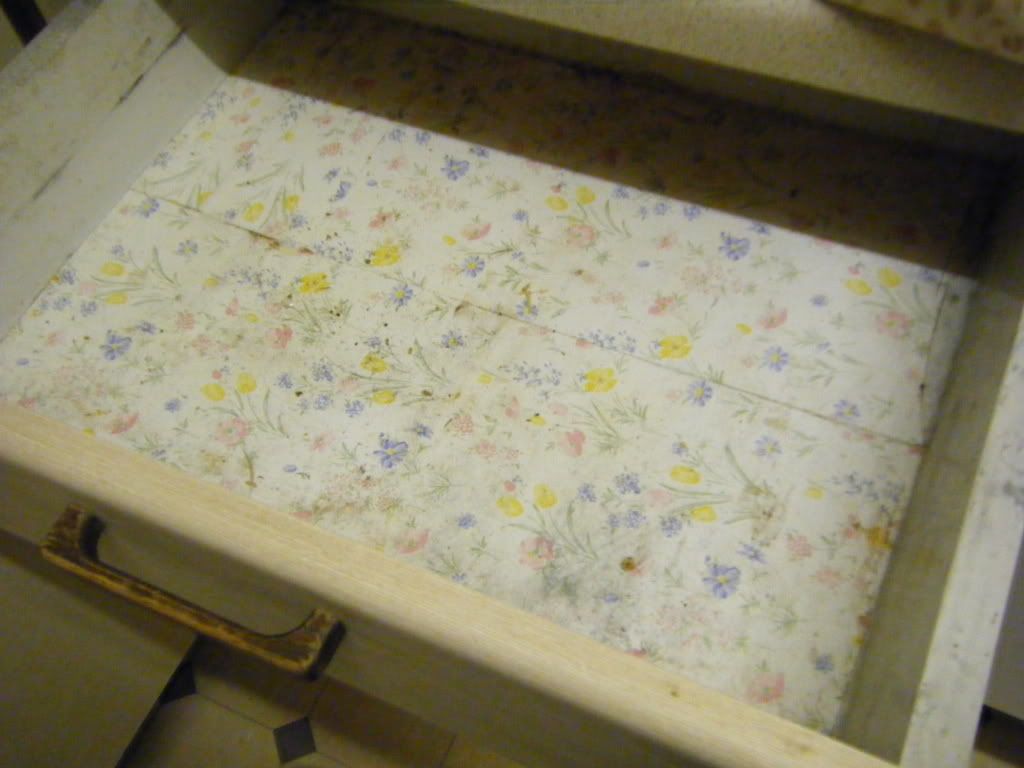 Yuck! How gross is that? I gave it a bloody good clean, peeled up that horrible drawer liner and sprayed the whole thing with bleach. Whilst it was marinating, I went upstairs to make some storage for the drawer.
Look what I made! Well actually, that's just the scraps... loads of 2.5 inch squares... they might be turned into something at some point. No, what I made was these:
The photos are appalling, I just couldn't get a good colour to them. I measured the drawer and then drafted up my own pattern. Due to a slight cutting error, it went from 3 fabric baskets to 4.
Each is slightly different, but all are made with co-ordinating fabrics.
Wow, look how messy my craft room is in the background! I have taken some "before" photos of that too, but it'll be a long time before I've done much "after" to it! I did tidy up though.
Anyway, enough about the fabric baskets, back to that drawer. I mod podges some scrapbook paper (leftovers from my wedding stationery) in place, then covered it with clear self-adhesive vinyl.
Much better already! I then loaded all the stuff back in, throwing some bits away at the same time.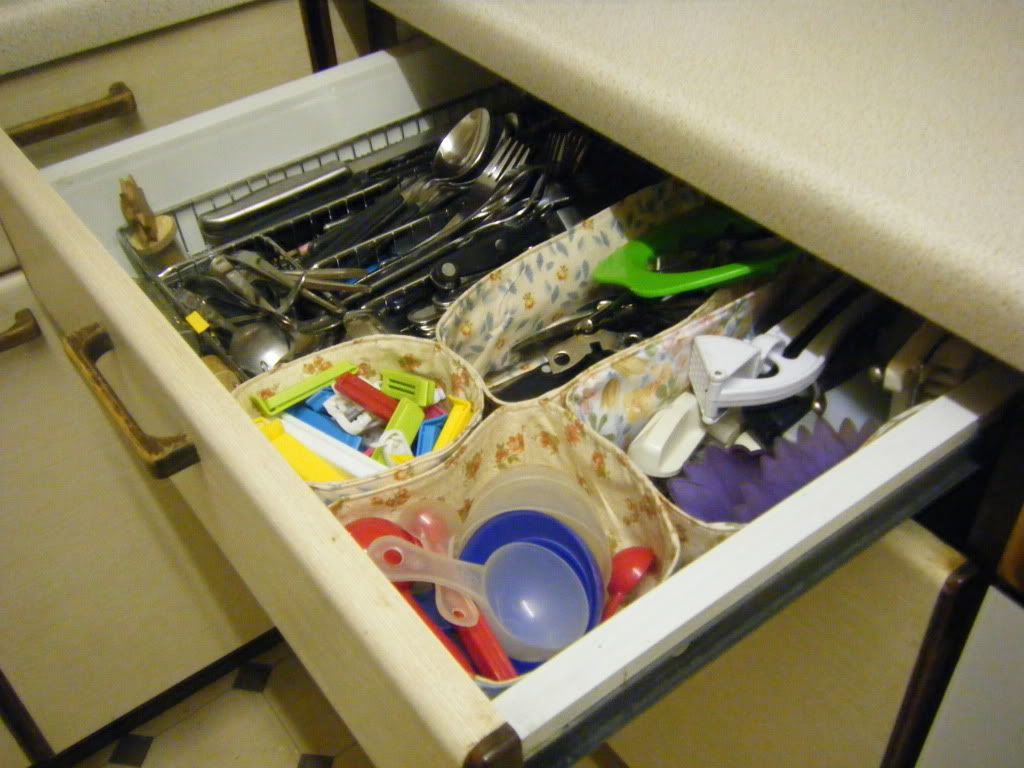 Ta dah! I have another drawer which houses the foil and the dreaded cling film and stuff which I'll have a go at soon, and then two large drawers with saucepans and the like in them, they're also in my sights!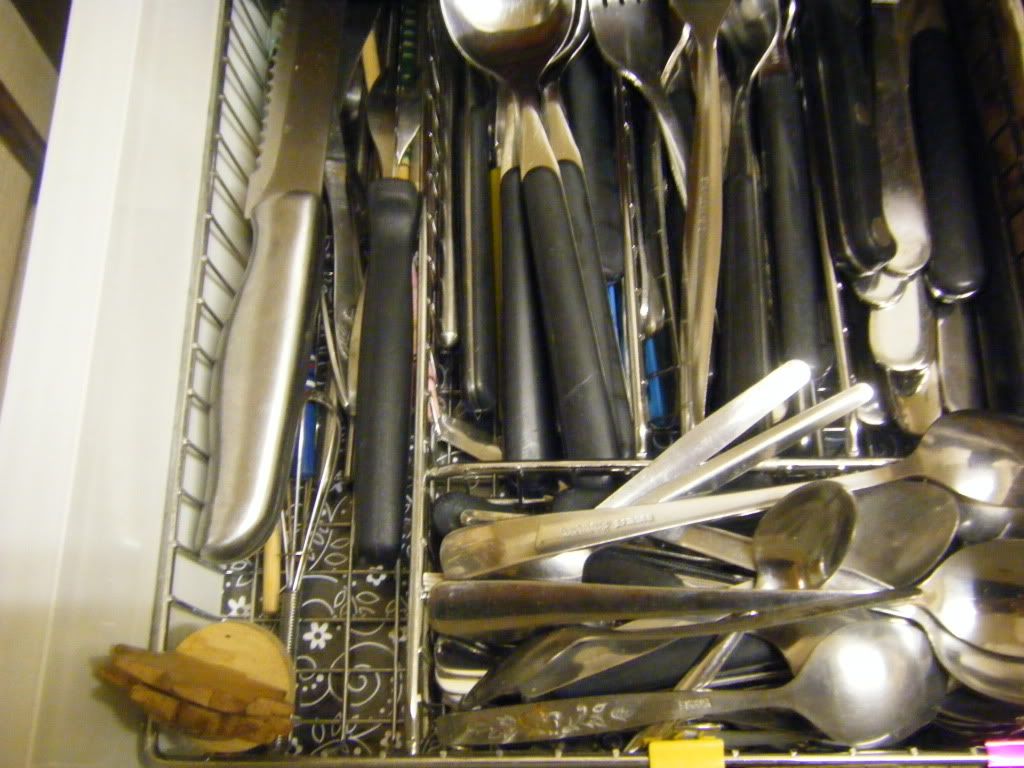 I do also have plans to paint the kitchen, wait until I show you shots of how it looks now and you'll see my reluctance to get started! I also bought some
Michael Miller, Put a Lid on It
today, I'm going to have a gorgeous cafe curtain! I did a little browsing for suitable material for the bathroom curtain, but to no avail so I'm going to try and use what I've got.
In other news, I washed and dried the baby quilt last night, I was so scared! It's come out intact and I'm madly in love with it! Photos tomorrow, light permitting.