Good afternoon ladies! Well, I've just had an afternoon's crash course in Screen Printing! No, I haven't had a day off, no I won't be writing a blog post about it... it was work! I do love my job sometimes. We do screen printing at work and I needed to know the technique (because it's a craft of course, but also for work) so I went down there for the afternoon. I'm rubbish at it. I blame being left handed (again). Anyway, that's not what I was going to write about, nor was I going to write about the fact I got lost on the way to work this morning... No, I haven't changed my job, no my work place hasn't moved, no I haven't moved house either...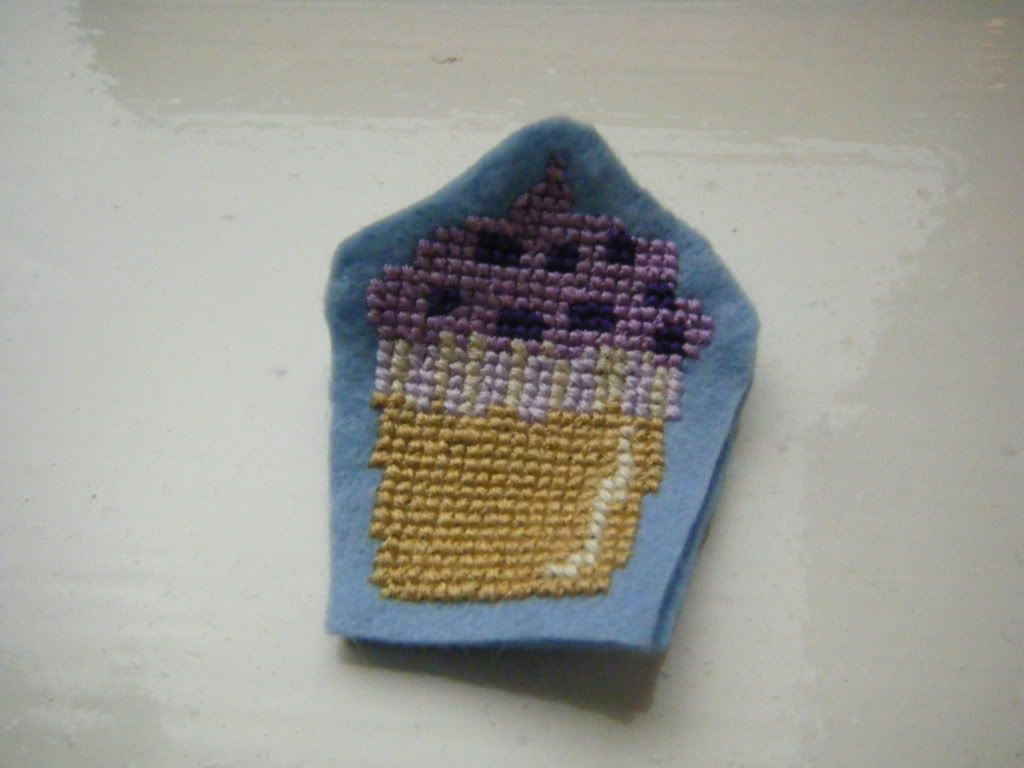 I actually asked my friend this morning if I'm a real person, or am I just a character in a TV comedy that hasn't noticed it yet... she seems to think I'm real. The photo above is the cross stitch design I showed you a glimpse of ages ago. As you can see, I finished the cross stitch and cut it out. It's an ice cream - did you get that? It's from the book Sweet Treats in Cross Stitch meaning it's another step towards my Craft Book Challenge. I want to make it into a brooch and have cut out another piece the same shape and attached the brooch back, now I don't know how to attach the two pieces together. I could use glue, but will it be boring? I'm not excited about the idea of a running stitch or blanket stitch... any ideas ladies?
I started the ice-cream brooch... hang on. It's not a bloody ice-cream! It's a cupcake... where is my brain today? So, I started the cupcake brooch back at the beginning of March. I have a coat with large collars, one of which likes to jump up and slap me in the face. I used to wear a gorgeous felt corsage which I won from someone's facebook page (can't remember who, sorry!) but it disappeared in Tunisia, so I was desperate for a replacement. That lead me to making the little brooch above. Alas, whilst I like it, it's too small for my coat lapel. I did wear it on my jumper the other day and got some strange looks! I can take strange looks, I'll wear it again. This is from 100 Flowers to Knit and Crochet.
That lead me to crochet some more flowers for another brooch. I'm thinking of a round felt brooch topped with different crochet flowers, and maybe some beads. I got this far and then didn't like the two colours together, nor any of the patterns in the book. It is a great book, but I want small flowers that go together. I've got loads pinned so I need to have a look through them.
Having abandonned two brooches within the space of two evenings, I decided one more WIP wouldn't hurt. I started this cross stitch. Can you tell what it is yet? Nope, not a cupcake, nor an ice cream! It's a BIG cross stitch and is part of the same series as this one I finished a long time ago. It's going to take a long time but I'm enjoying it already.
I didn't make this gorgeous star and tag. This was made for me by the lovely, generous and very talented
Jillayne.
If you don't know her blog A Fine Seam, go and visit her, she makes the most beautiful things. A while ago she offered to send anyone a handmade star with their choice of word. This was during a bit of a depressed period for me and I took her up on her lovely offer, asking for the word happy. Well it certainly made me happy when it arrived. Thanks Jillayne, your generosity and beautiful workmanship made my day!