Good afternoon everyone! I've got an hour and 20 minutes left of work, then it's off home to relax before heading down to see my beautiful baby nephew again. He'll be 6 weeks this Saturday and is now smiling so I can't wait.
A little while ago I showed you
these squares
and asked if you knew what they'd become. I was hoping to have a reveal last week, but disaster has struck. The 10
counting bean bags
I was making for my friend's little boy's first birthday somehow whittled themselves down to 6. I can't find the other four anywhere. I realised after filling and sewing up 4 and didn't have the heart to do the other 2. Oh dear. I really, really, really can't be bothered to start again...
I thought I'd share with you something I learned whilst appliquéing the numbers. They're just raw edge appliqué, done on the machine. I was struggling to see the edge, so I had a look through my little bag of machine feet and found this one!
Is it an appliqué foot do you think? Does such a thing exist? I've made a little more progress on my large cross stitch, from this: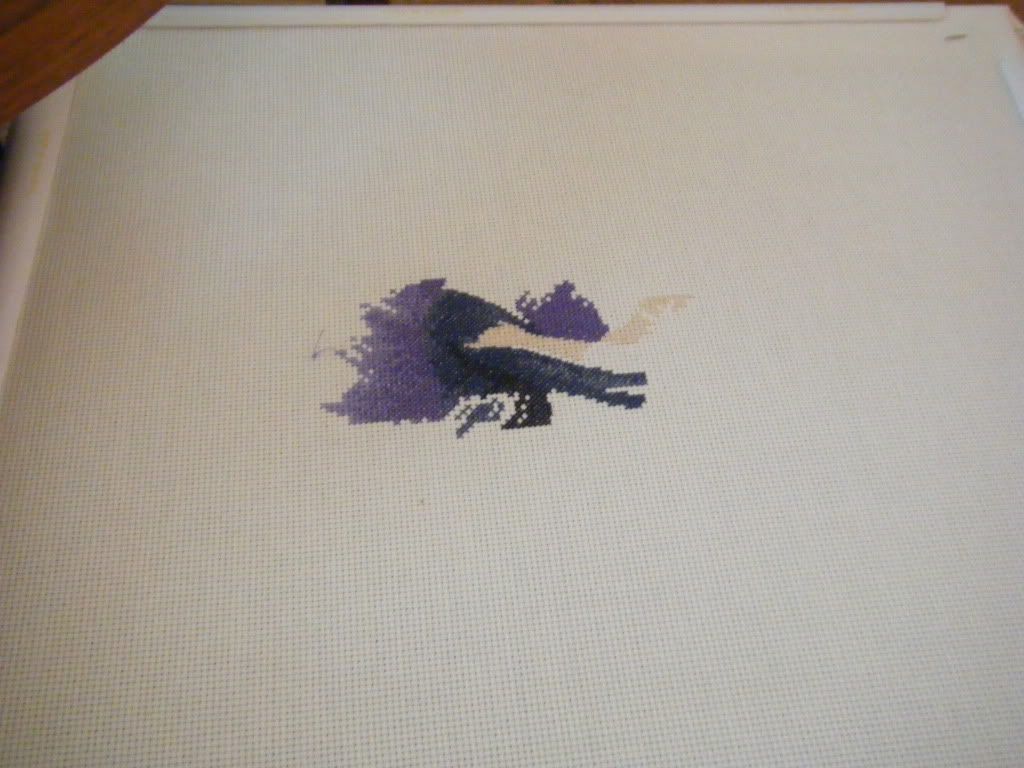 To this: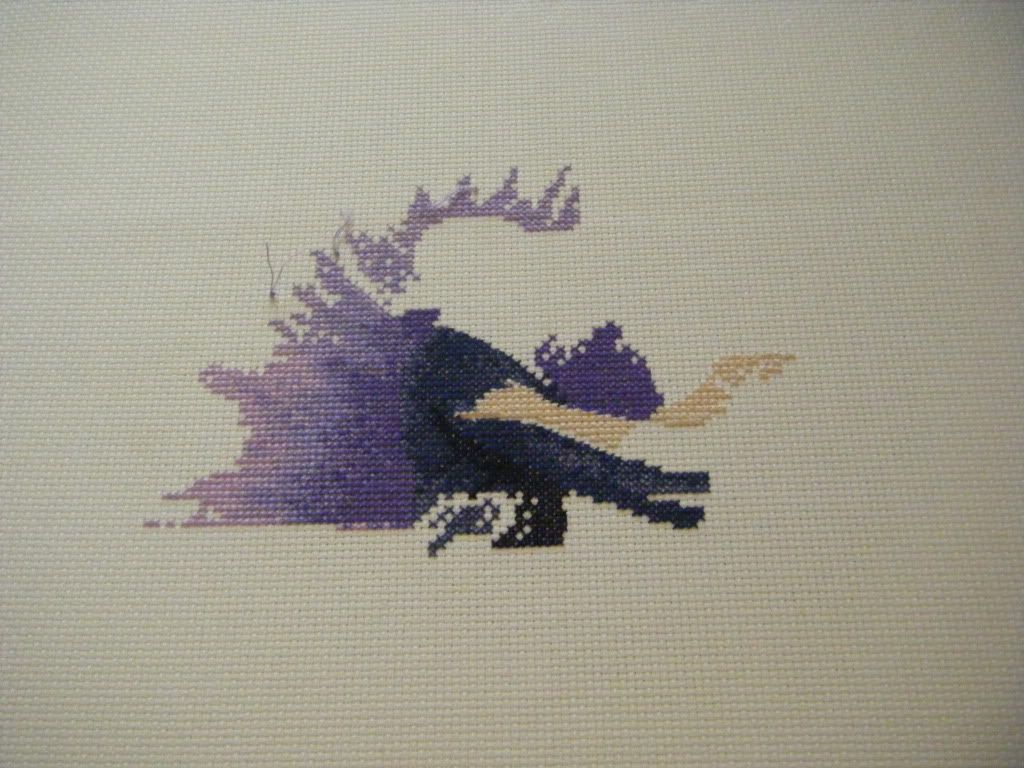 I like that you can see the shape of his head now! I also did some work on my giant doily rug. I had to stop as I'd run out of t-shirt yarn. It's expensive, and I know you can make your own, but this is for my living room and I love it so much already, so I ordered another 2 cones and I'm hoping that will be big enough. I do intend to try making my own t-shirt yarn, but I think I'll save it for a bathmat.

Saturday also saw me getting on with some granny blocks! I've seen these all over blogland, Katherine's in particular are really inspiring me, as did this finished quilt by Kaaren. Mine will not be a quilt, just a bathroom curtain, but who knows when I've finished? Finishing is a long way off right now as I realised I didn't have enough of any one white fabric and they all vary a bit, so I ordered some. It turned up yesterday and it's blue! I'm waiting to hear from the shop to see what happened. No granny blocks for me this weekend then.

As you might be able to see from this little pile of 2" squares, I decided to use ALL the fabrics I'd pulled out instead of trying to decide on just one set!
I also wanted to show you my blackwork piece in it's painted frame, hanging in my "gallery" but I couldn't get a decent picture so it'll have to wait.
It feels a bit quiet around blogland at the minute, I suspect some of you are taking an Easter break, I might not be back myself until next week as I'm not sure if I'll have much time to blog - or anything to blog about!