Morning ladies, I hope you all had a nice break. I went to see my lovely little nephew. He's gorgeous. Before I went, I got started on a new project. Now, I hate plastic bags. I don't know what the situation is in other countries, but over here in the UK the supermarkets give out flimsy plastic bags for your shopping for free. You can buy a sturdier one for about 10p. I've got a load of those "sturdier" ones as I can't bear the throw away ones, it's such a waste. The problem is, even the sturdier ones rip and I've been meaning to replace them with fabric ones for a while. This weekend, I did.
I won a Sew, Mama, Sew giveaway Day prize last year from The Green Bag Lady who sent me a fabric shopping bag and the fabric to make another one to pass on to a friend, which I did. I used her tutorial for all the bags below, I didn't really need a tutorial but it was handy to have the measurements to hand. First, I made three bags using an old sheet I'd bought from a charity shop. The scalloped edge meant I didn't have to hem the top.

See?
3 bags isn't enough. For our large shop, I generally use about 10 as I can't carry them if they're too heavy. My mum had given me an old double duvet cover and I set to work cutting it up. Ever wondered what 15 cut out shopping bags looks like? This:
I got 14 bags from the duvet cover (handles from the pillow case), and also I made one more from the sheet. I chain sewed. I sewed fast and sloppily and it really doesn't matter as it's a shopping bag. Or rather it's 18 shopping bags. (I'm not allowed to left-align this paragraph, don't know why - sorry, I know centred paragraphs are hard to read).
The duvet cover was spotty on one side and stripy on the other so some bags are spotty...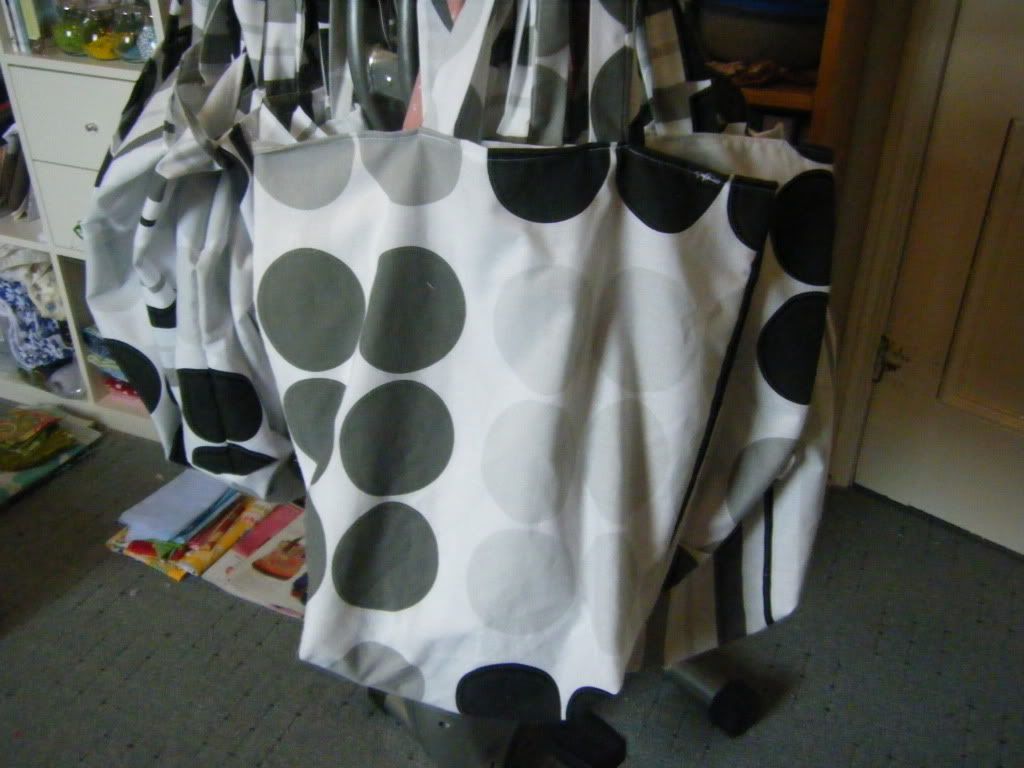 And some were cut from the edge so are both:
I'm going to have the funkiest shopping in Nottingham! These are just supermarket shopping bags, I have a fancy pants shopping bag that I keep in my handbag for craft shopping, or clothes shopping trips. These are purely for the supermarket.
If you currently use plastic bags, I beg you to make some of these. All 18 took me a total of about 5 hours I think, so they're quick and you probably don't need 18! We went shopping yesterday (nope, not with the bags, they weren't finished) and I was shocked, as I always am, by the amount of people who still use the flimsy, disposable bags. I'm no eco-warrier, but it's about time the government banned them. Make people pay for their plastic bags and it might encourage them to take them with them when they shop.
Eco-rant over, normal service will now be resumed.