Good morning ladies. What do you think of my incredibly clever, well thought-out and witty title?
Any ideas what I might have to show

you on this fine, sunny morning? Yes, it's sunny, sort of. OK, so it's not raining and that makes a big difference. Not to what I'm going to show you, but to my general well-being and happiness.
I think I told you that I'd done loads of sewing at the weekend, mainly sewing up stuff I'd cut out the weekend before? Well one of those items was for my brother. Last year, perhaps for Christmas?, I made him
these oven gloves.
I used a layer of InsulBrite, wadding which protects against heat. He loves them, but did complain that he sometimes got burnt wearing them so I thought it was about time I made him another set, using a double layer of InsulBrite this time.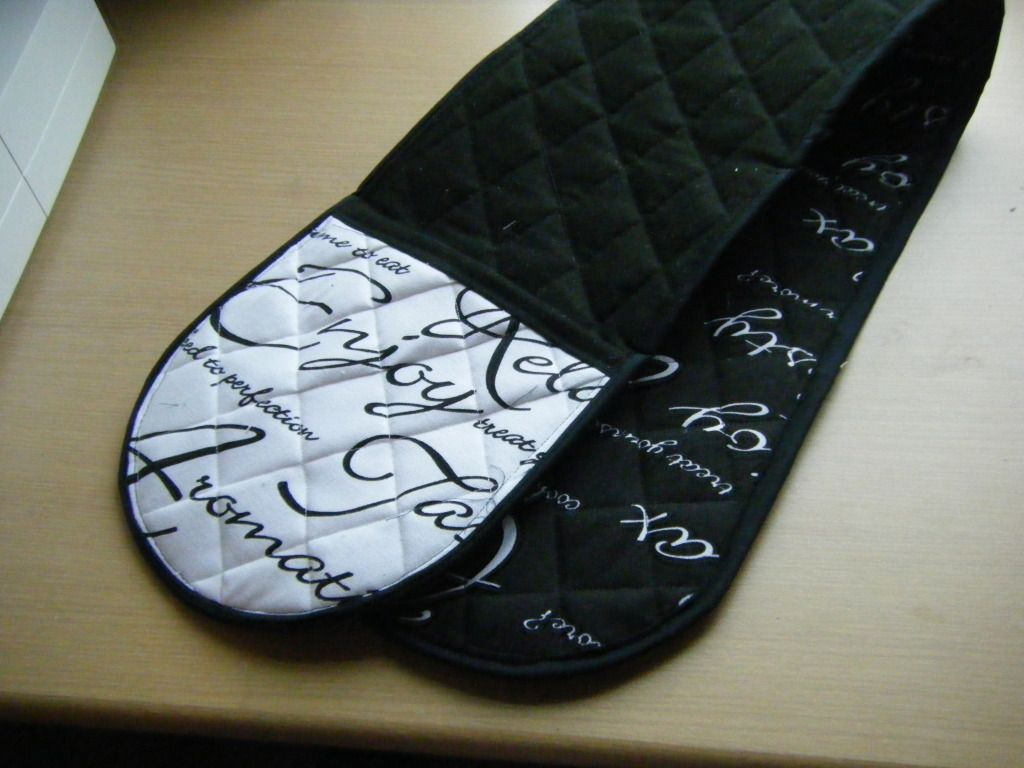 This was a pretty thrifty project as I used tea towels. I have to admit that I bought the tea towels for this end, but you could use tea towels you already have. If they've got a hole in them, or a stain, you could always appliqué over it. As it was, I think this little bundle of 3 co-ordinating tea towels cost me £3.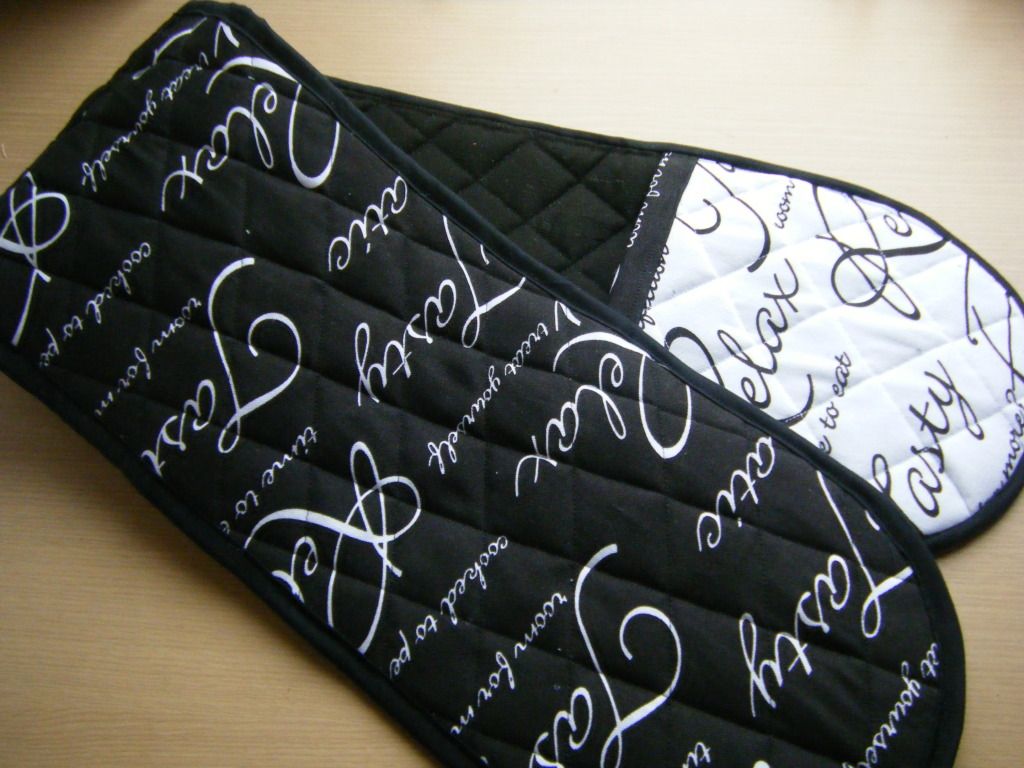 There was one black waffle-weave tea towel, a white cotton one with a black print and a black cotton one with a white print. I didn't think to take a "before" photo, but then it wouldn't have been that interesting anyway and I'm pretty sure you all know what a tea towel looks like, even three tew towels. Mind you, I have just had a thought - are they called something else in other countries? I'm trying to remember what I've seen bloggers in the US calling them and I can't remember. It's a towel that you use to dry dishes, hence the name "tea towel". Why on earth do we call them tea towels?? Anyway, I thought they went together pretty well. Last time I used this

pattern

, but this time I just used the end-rounding template and made the rest of it up as I went along.

For a start, they're much longer. I don't like my oven gloves to be too short or it restricts movement, and we all love to do arm stretching exercises whilst cooking... I cut the two black tea towels in half lengthways, then sliced off a piece about 4" from each, I swapped these two pieces between the two patterns and sewed them in the middle of the two long pieces. I used the other 2 slices for the binding of the top of the pockets. I decided to quilt them as I have a pair made from the original tutorial and they're very... fluffy. I'm not sure that's the right word, but I can't think of a better one!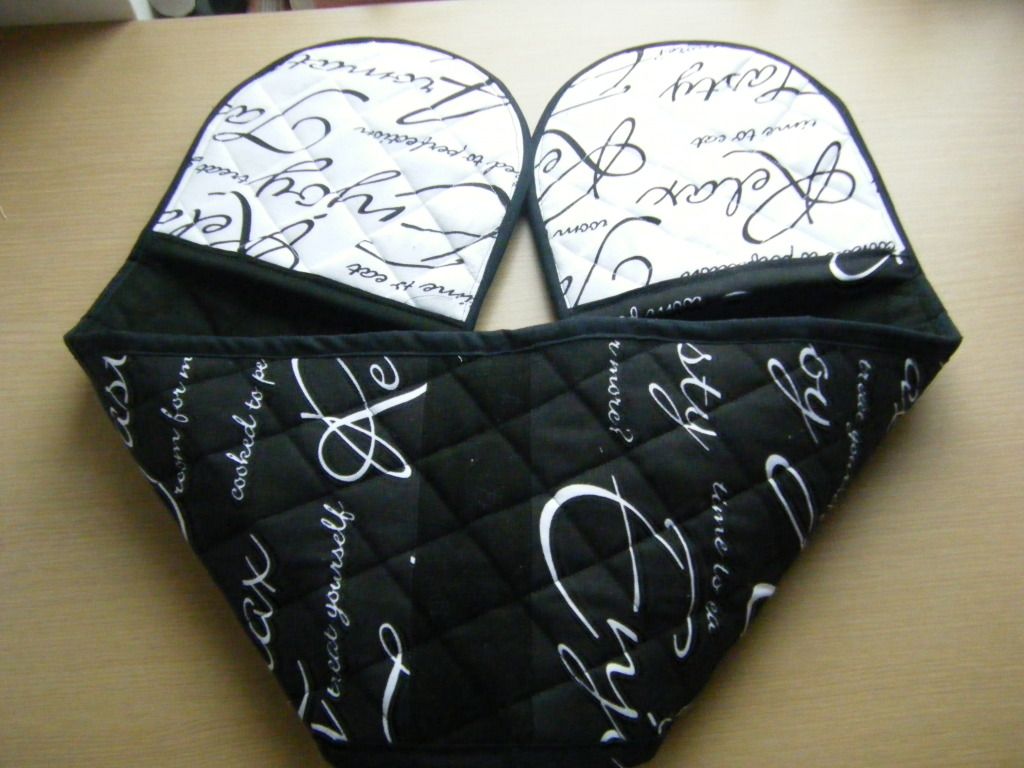 I even bound them! Now you know me and binding don't get on, but I thought it would be the best bet with quilted oven gloves and it was actually pretty easy. I used a piece of a black sheet for the binding and sewed it completely by machine. I have just realised that I omitted the hanging hook, he'll have to hang them over the oven handle.

I quilted white on the white parts and black on the black parts, just a simple cross hatch. I used my machine quilting needles that I bought when making my nephew's quilt (and completely forgot to use!) and managed to snap 2 of them! My machine was making a VERY strange noise just before they snapped, not sure what's going on there, but I just put in another needle and kept sewing until it stopped making the noise. I could be a machine repairer with my philosophy of "just keep sewing until it rights itself". I noticed absolutely no difference between the quilting needles and standard needles. Except that they seem to snap quite easily.

So there we go, oven gloves - done. Now, in the spirit of this thrifty kind of project, I have a challenge for you. I'm going to post more about it soon, but I wanted to find out if anyone would be interested. If so, I'm wondering about doing a competition with a prize. I have teamed up with UK fabric shop Abakhan to carry out a challenge myself and I was hoping I could persuade you to join in. The idea is this, you take something you have lying around, I don't mean your huge fabric stashes, I mean some old clothes, an old duvet cover, something thrifted and use a maximum of £10 worth of new supplies to make it over, do it up or turn it into something completely new. I'm envisioning a deadline of the end of May, giving everyone a month to get their projects done, probably with a linky party and a prize, but only if I can get enough interest. So what do you think? Would you join in? Would you help me spread the word?