Morning ladies. I wanted to post yesterday but my internet connection was playing up. It's Wifi and for some reason doesn't seem to like the washing machine being on! So, I've got up very late on this sunny bank holiday Monday - unheard of in this country! - tortured poor Colin and now I'm getting a post written.
I feel I should explain. For those that don't know, poor Colin is one of my rabbits. This one:
Poor Colin has had a bit of a dodgy tummy so I took him to the vets where he had a couple of injections. He's now on antibiotics which I have to give him twice a day. They're in liquid form and I put them in a type of syringe without the needle, get it into the side of his mouth (to avoid the teeth) and squirt. He does not like it. He hates it and fights me every step of the way. This is why I call it torturing him. For the record, I do not want to torture him or any of my rabbits - I'd never do anything to harm any of my lovely buns, but I have to do it for his own good. If only he understood!
So, anyway, I have another thrifty project to show you today.

Placemats from curtain off cuts. My mum got some new curtains in her dining room and had to shorten them to fit. Co-incidentally, the offcuts she gave me were exactly enough fabric for 4 placemats!


I considered doing some quilting on them, but she likes them plain so I didn't.

I was a bit shocked at just how crap my topstitching is! I should really have used the twin needle to make it look a bit better, though it would still be wonky, but I just couldn't be doing with the hassle of figuring it out! How lazy and un-crafter's-apprenticy of me!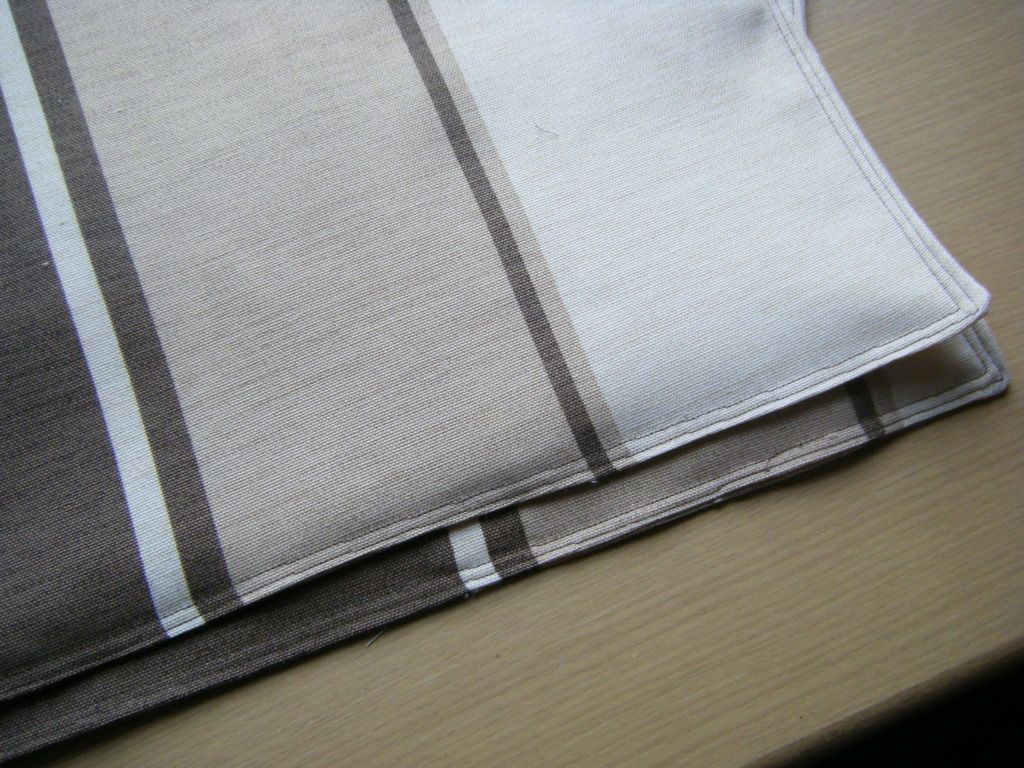 Speaking of which, a few posts ago I mentioned a little challenge, and I wanted to clarify a few things.

- It'll be a competition with a prize

- There'll be about a month from when I properly announce it to the dead line

- You have to use something you already own, NOT STASH. Old clothes, curtains, something you bought from a thrift shop...

- To this you add approx £10 worth of "new" goods. You do not have to buy them specifically, you can use approx £10 worth of your stash!

- It doesn't have to be sewn, it can be any kind of craft

- You can make anything

- The only rules are that it consists of something old and something new. Your stash is NEW, even if you bought it 3 years ago!

I'll announce the competition soon and I'll be asking for you to help me spread the word, so get your thinking caps on!!