It's time to show you what I made for Week 6 of the Zakka Style Sew Along. The link up can be found here and this week's host is Little Bluebell.
I took a quick picture after I'd finished piecing the teeny tiny squares as I had a hunch I'd destroy them when assembling them and I was right, I did! I was quite pleased with my piecing. OK so the points don't match perfectly, but the pieces are tiny.
And here they are all finished. So, do you want to know the pitfalls I encountered? Apart from the tiny pieces?
First of all, I should have backstitched at the end of each row when sewing the pieces together. I found that some of them split when I turned them through. Turning the corners was impossible. What you see above is really the best I could do.
I machine quilted as it was that same old thing, I can't be doing with stopping a machine project to hand sew, then starting to machine sew again. I'm sure they'd have looked better hand quilted but I don't really care!
Is that why I'm a rubbish sewer and even rubbisher quilter? Because I don't care about perfection enough? The second biggest problem I had was slip stitching the openings. Almost impossible. Trying to fold the top corners in and under... nightmare. It took me AGES. Others have suggested sewing all 4 sides WS together, then cutting a slit in the back to turn through. Good advice, I'd suggest you take it if you haven't made these magnets already!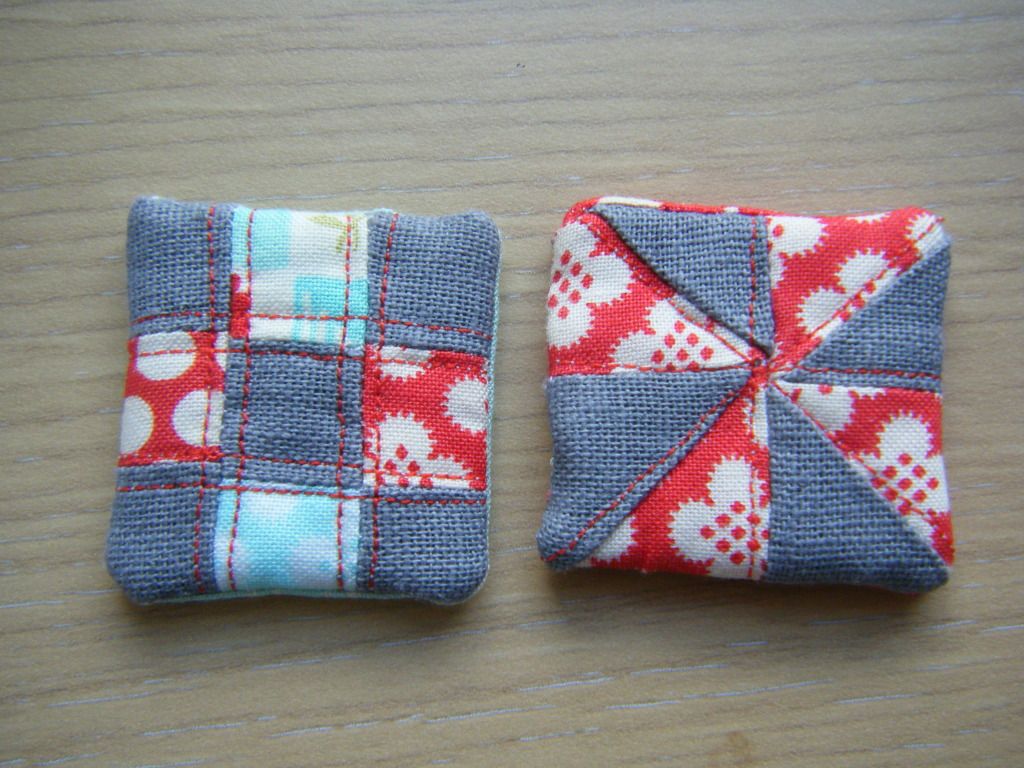 And finally, they don't bloody work! They're meant to be magnets but they won't stick. I used 2 layers of magnets as suggested and I made sure they were facing the right way, but the whole thing is just too heavy.
Fiona
, I'd advise using 4 layers of the sheet, there's enough in the pack to do that!
I won't be joining in the next two weeks of the Sew Along. Next week is a mug rug. It's cute enough, but I don't fancy making it. After that is a quilt. I was going to make it using leftovers from my Ruby and Bliss layer cakes, but it just doesn't excite me enough. The design is very simple and if I'm making something, I want to learn and be challenged. OK, so I could attempt to match my points, but... no, I'll wait until week 9.
Colin is still poorly and off his food. He's still hating taking his medicine. His grandparents are taking him to the vet for his check up later, so fingers crossed he's OK.