Wow, this week's project was HARD! This week we made a travel organiser, if you want to see the entries, go to the
link up here
, You can also visit
this week's host
who made 3 organisers! It must have taken her months...
I had some trouble with the cutting instructions, though I'm not really sure why they confused me. I couldn't understand why it was telling me to cut the pockets in three different fabrics. Looking back the issue was that the organiser in the book featured pockets in linen fabrics, just printed. Also, the instructions to cut these pockets were under the heading "linen".
I made my first mistake when preparing the inside. I misunderstood the use of the word "lining", assuming it meant my lining fabric. It didn't, it meant the linen. My organiser doesn't have a linen background inside. Ah well. Problem number two was the pen holder. Once again, it was either an issue of me not understanding the instructions, or our humungously large British pens... hmmm. I've got to get over to the States and see these tiny writing implements you all use.
Mistake number three was the left hand pockets. The book said to put the rear pocket in place and sew 1/4 inch from the long edge, put the second pocket in place and repeat. "Why?" I thought "why not place them all and sew them up along the sides?". Well Wendy, that's because they wont be attached at the bottom of the pocket. Idiot. Lots of unpicking later...
Having inserted my zip, I realised that the front was too small. Now, I have two bones to pick with the book here. First of all, the organiser shown had a pieced front. At no point was piecing mentioned but I didn't realise that until I'd got half of the zip put in place. I think she should have mentioned it for those of us who don't read ahead and go into a project blind. Secondly, we were told to take a linen and a lining piece 8 x 11inches, cut it into two about 3 3/4 along. These were sewn to either side of the zipper. We then put them in place over the other 8 x 11 inch lining piece. Well those zip seam allowances meant it didn't fit!! I added a piece of fabric to the edge...
Massive mistake number four: Yep, I sewed the whole 20inch zip upside down. Then did it up. And couldn't get it open. Much zip wrestling and unpicking later, I sewed it in the right way!
And here's the finished organiser. This is the front, below is the back. The pocket is lined with the same fabric I used for the background inside.
I still have a lot of unpicking to do, you can see a lot of my basting stitches, but that's one for this evening in front of the TV.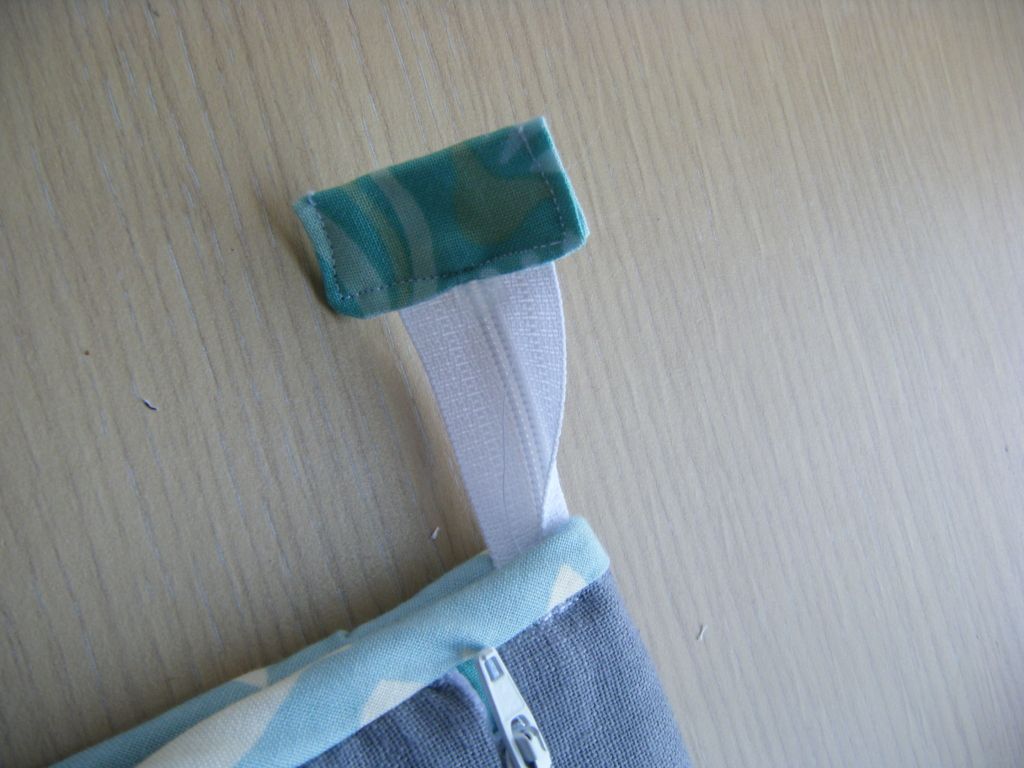 The zip end was a nightmare. This is attempt number 3, still not perfect but I was so fed up by then that it's staying. I found her instructions hard to follow, there were too many layers and my machine wouldn't sew over them without a big mess on the back.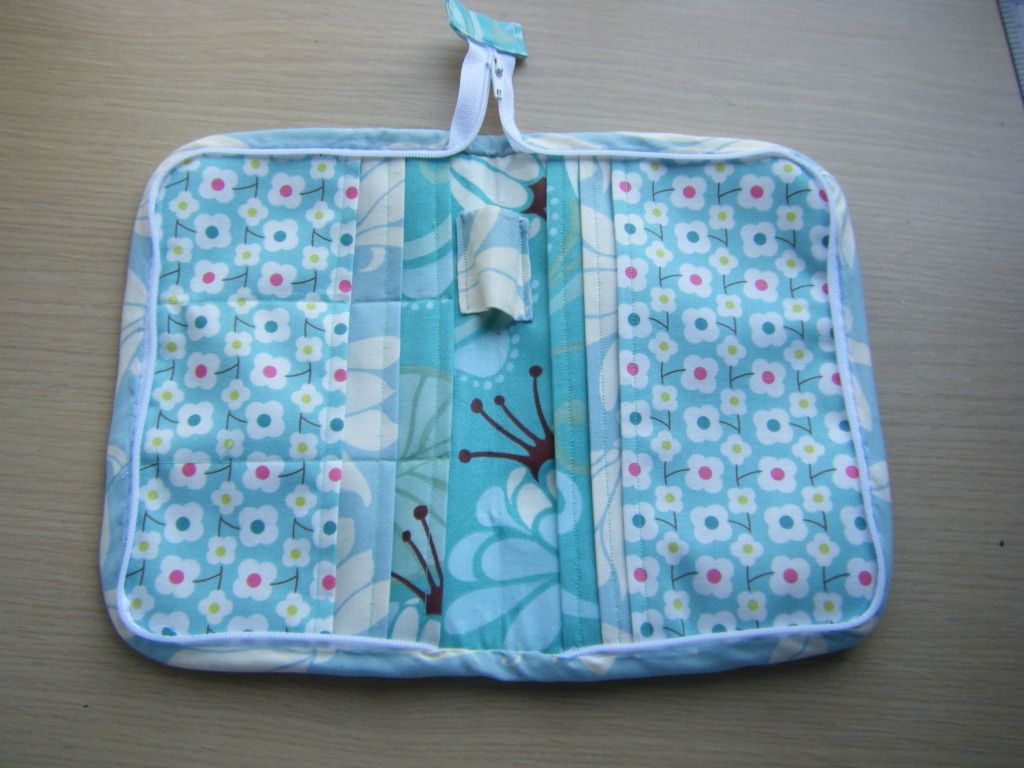 Here's the inside. I didn't take a close up, but the topstitching is a mess. For some reason, when I used that particular thread, my sewing machine abandons all pretense of tension. Tough, it's staying!
This organiser will be really handy when I go abroad with work so I'm glad I made it, though I'm not sure what I'll put in those 9 card slots!
I'm not joining in with the next two weeks. Next week is a zipper pouch and I have enough of them, the week after are handwarmers which I just don't like. I also don't really have time. Most of yesterday was spent painting the bathroom, I got upstairs to sew this at 6pm (I'd already done half of it thankfully!) and we're up for the final round today. I had a little panic as I realised I only have one more completed project and one that's nearly finished to show you. I could show you WIPs but they haven't progressed since I last showed you. But then I thought, "hang on, no-one's going to care if you don't post!" so I might not post much the next couple of weeks.
Added to my massive (non-crafting for pleasure) to-do list, work is a bit of a nightmare right now so I also think I'm going to have to push my competition deadline back. I'm thinking end of July. That means there's plenty of time for more entries!
Have a lovely week ladies, I'll be back as and when I can. The same goes for commenting and replying to emails, I hope you'll bear with me.