I'm back! Maybe only briefly though... the pressure isn't off yet. I've had a nightmare week at work, including a migraine on Wednesday that made me miss my glass class. My doctor was incredibly helpful about my migraine situation, offering me more drugs... hmmm, not going to solve the problem, is it love? Anyway, I'm not here to rant about the NHS, though I might rant briefly about the 2-hour traffic jam tonight on my way home from work. Apparently a tree fell on a bus (I have no idea if anyone was hurt) several miles from the road I was on. The entire city was gridlocked. It was also chucking it down. Not pleasant driving, though I should be thankful I wasn't on that bus...
Right, back to the matter at hand. I
pinned
this tutorial for baby soft blocks at Zaaberry
a while ago and decided to make them (instead of finishing the million and one WIPs I have going on or even starting on the bathroom curtains) last weekend. Or was it the weekend before that? It might have been.
Choosing the fabric involved creating a massive mess in my craft room which I did actually get round to tidying it up. Throwing it all in a cupboard and closing the door is tidying up, isn't it? I took a progress shot after I'd sewed the squares together.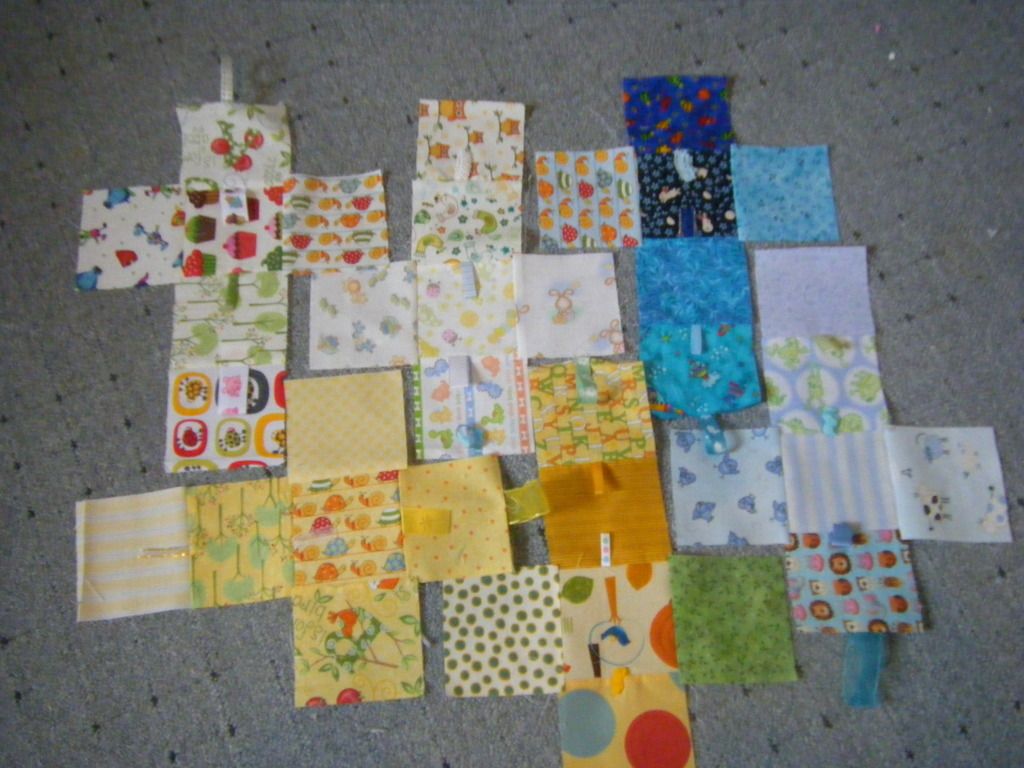 Yep, that's right, I decided to make 6. You know by now what I'm like. Why make anything easy for myself?
I'd seen somewhere a method of making jingle bells work in a rattle was to put them in a plastic container. Having searched my craft room and, you've guessed it, made a right mess, I found a single solitary jingle bell. I improvised. Some tubs are filled with beads, others with sequins and one with bottle caps. The long thin tubes are for another project that I will show you when it's finished (so about February 2015 then).
Sewing them up was fairly easy. The machine bit anyway. As ever my seams were off which made the corners a little tricky, but hey, my nephew is 14 weeks old, he's not likely to criticise my sewing. Not until he's at least 3 anyway.
Above are the blue blocks and below are the white blocks. Most of my novelty fabrics seem to be white.

Each and every single one of the 36 panels and each and every one of the 20 ribbons is different. All the fabrics are cotton though. I decided to stick with different patterns and a riot of colour rather than varying textures.

One of these blocks was supposed to be green. As I was sewing it up I realised only 2 panels were green and the others were yellow. I sense a new project coming on... The most difficult bit about this project is knowing how much to stuff them and sewing the final seam. It's hand stitched of course and none of the corners met at all!

Right then my dears, I shall bore you no more. I'm going to spend the next couple of hours reading what people blogged about last week (yes, I'm behind!) whilst hubby shouts at the TV. England are playing Sweden. I don't give a flying monkey but I'm being subjected to it anyway. Oh no, I've just realised that I'm probably expected to cook dinner. Damn! I hate cooking. Anyone want to bring me some food??