... that's what I've been up to. I had a really productive weekend. I started out on Saturday with a little trouser hemming for a colleague. News has spread around my office that I'm handy with a sewing machine and so those ladies of my generation who don't have a mum nearby have been asking me to sew fallen-down hems, turn up trousers, repair ripped seams and stitch the top of dresses to make them more modest (you know the kind, two triangles to put your boobs in, gapes open in the middle showing off both boobs or, in my case, just the left one. Not sure why. The left one isn't even the larger one). I have to say, I'm more than happy to do it, but my offers of sewing lessons are being studiously ignored!
After the mending, I decided I really had to sew up the granny block that's been cut out and floating around my craft room for ages, moving from floor to cutting table to sofa to floor to ironing board - always in the way!

My bathroom curtain has definitely stalled, but only through lack of time, not inclination. I also seem to be far too lazy to take the tape measure to the window and find out how many blocks I actually need!
Next up, more wiggly bags. I still have more cut out and I will send them off, if you have time and you live in the UK, can you spare a few scraps of fabric to help? Click on the link above to find out more.

I managed four on Saturday. Despite everyone else saying they really only take a few minutes, it still took me an hour to make four production line style. Am I really the slowest sewer in the world? Well no, the slowest sewer would be the one under my house that keeps getting blocked...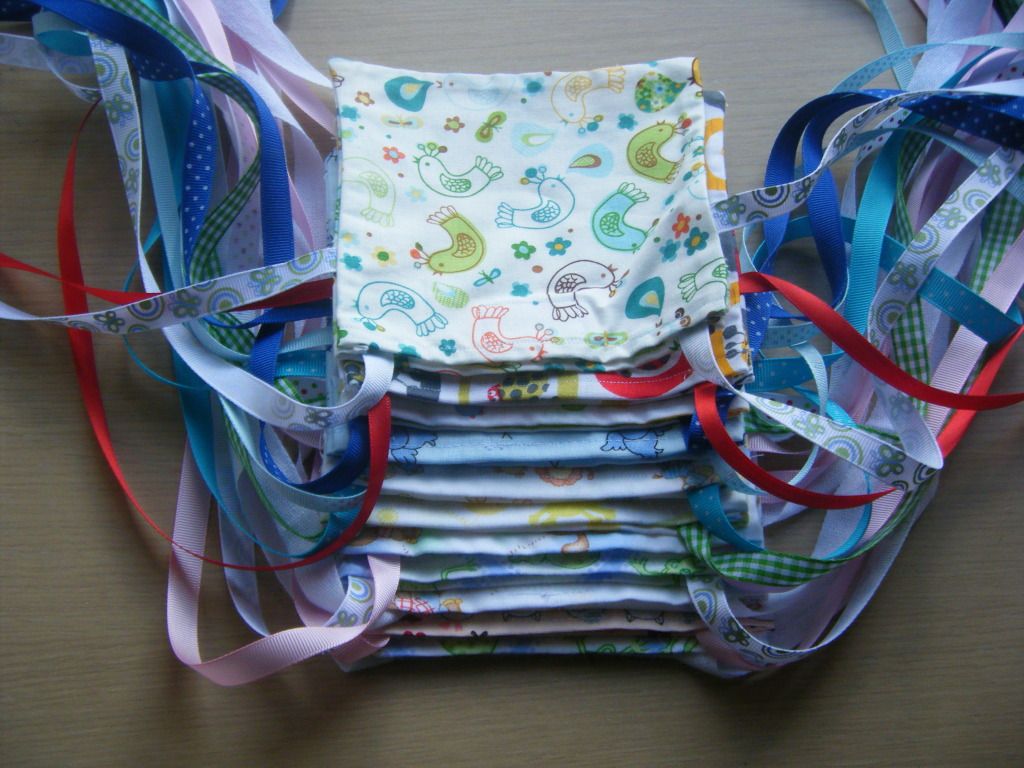 My total so far - 11. I WILL make more. I acheived a lot more on Saturday, including some Zakka sewing and some jewellery making before heading out to a wedding. Sunday wasn't quite as productive, some more zakka sewing and a bit of Jacob sewing, oh and the start of a new Jacob crochet project. But I'm not telling you now, you'll have to wait and see. Yes, yes, I know you're all chomping at the bit to see my FASCINATING projects, but you'll have to wait or I'll have nothing to post about later!