I was recently asked to pattern test a new crochet hat pattern by the lovely
Hanni at HanniCraft
. You can find
her Etsy shop here.
I'm not sure if the pattern is up for sale yet, but it should be soon. (Edited to add - you can buy the pattern on Ravelry). Oh, it's called The Twisted Beanie.
I was asked to do the testing just before my holiday, so I went to buy some yarn so I could whip one up sitting by the beach (yeah, in my dreams, I do live in England!). The pattern called for Worsted Yarn which isn't available in this country, having checked the internet, most people said to substitute it with DK. Hobbycraft had a sale on and I bought some Sidar Soft Spun for less than £2. Wow, this yarn is gorgeous. So soft, just lovely. It was black with a sliver of silver running through.
Halfway through the pattern, I realised it was too small. As in FAR too small. It might even be too small for Jacob! I didn't want it to get longer, so I abruptly finished halfway down the twisted pattern.
So sweet! I know the photos aren't amazing, it was very hard to shoot as the yarn is glossy and light reactive, I'm pretty pleased with these "floating photos" though.
I tried to get a close up of the colour as in the top photo it looks more silver than it actually is, the above photo is more accurate. I emailed Hanni about the size issue and she said her other testers had used Aran weight, so back to Hobbycraft for me! The selection of Aran was rubbish, a handful of variegated yarns basically. I didn't want to use variegated for this project as I feel the texture would be lost in the mix of colour. I finally found Patons Wool Blend Aran. The wool is 63% which was a concern as this beanie is for me and I find wool very itchy, but it's not, so that's good!
Here's the finished item, proudly modelled by the small globe that sits on my windowsill!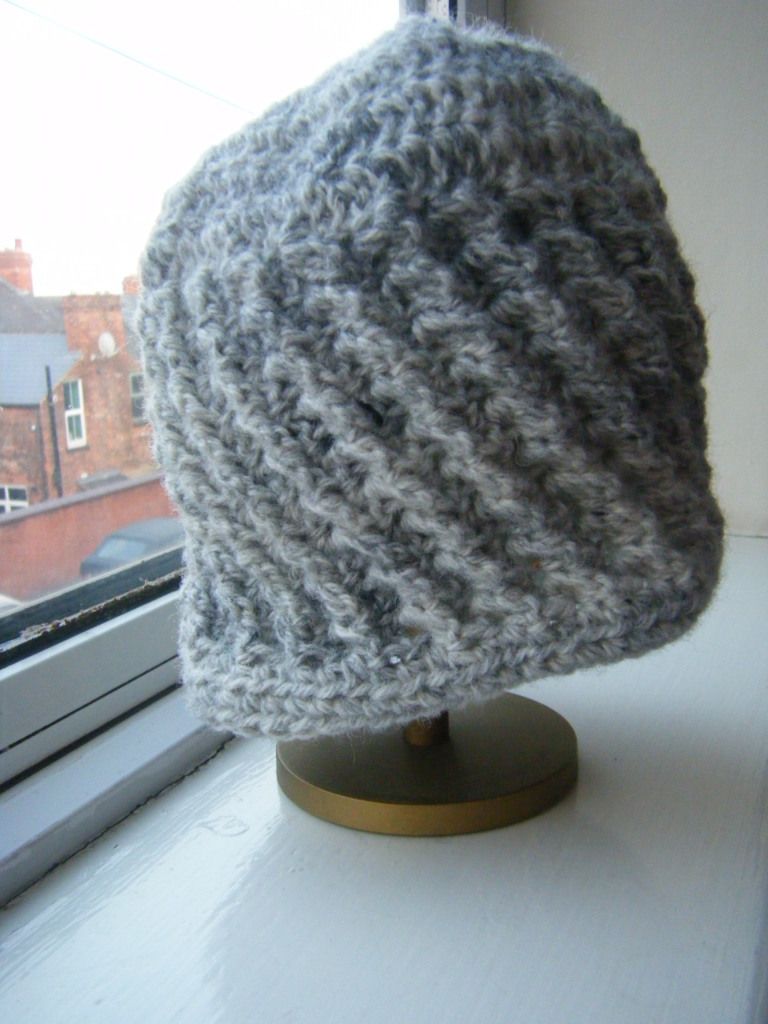 I LOVE the pattern and if I can find some black aran, I'll crochet up another. As far as my pattern testing job went, I didn't have to correct the pattern at all, it was very well written.