Do you remember a piece of
needlepoint I'd started
? I was calling this tapestry as that's what we'd call it in the UK, but I've since found out that it's not correct as a true tapestry is woven. Anyway, I was working the
Mini Mystery
needlepoint design from
Laura at Two Handed Stitcher
, a free needlepoint design presented to us in 3 parts.
While I was ill, and broadbandless I set to work on part two. It was obvious by this point that I'd made some major mistakes with my counting - I'm pretty sure the zigzag stitches should have been 4 threads wide and I only did them 3, but I blundered on regardless.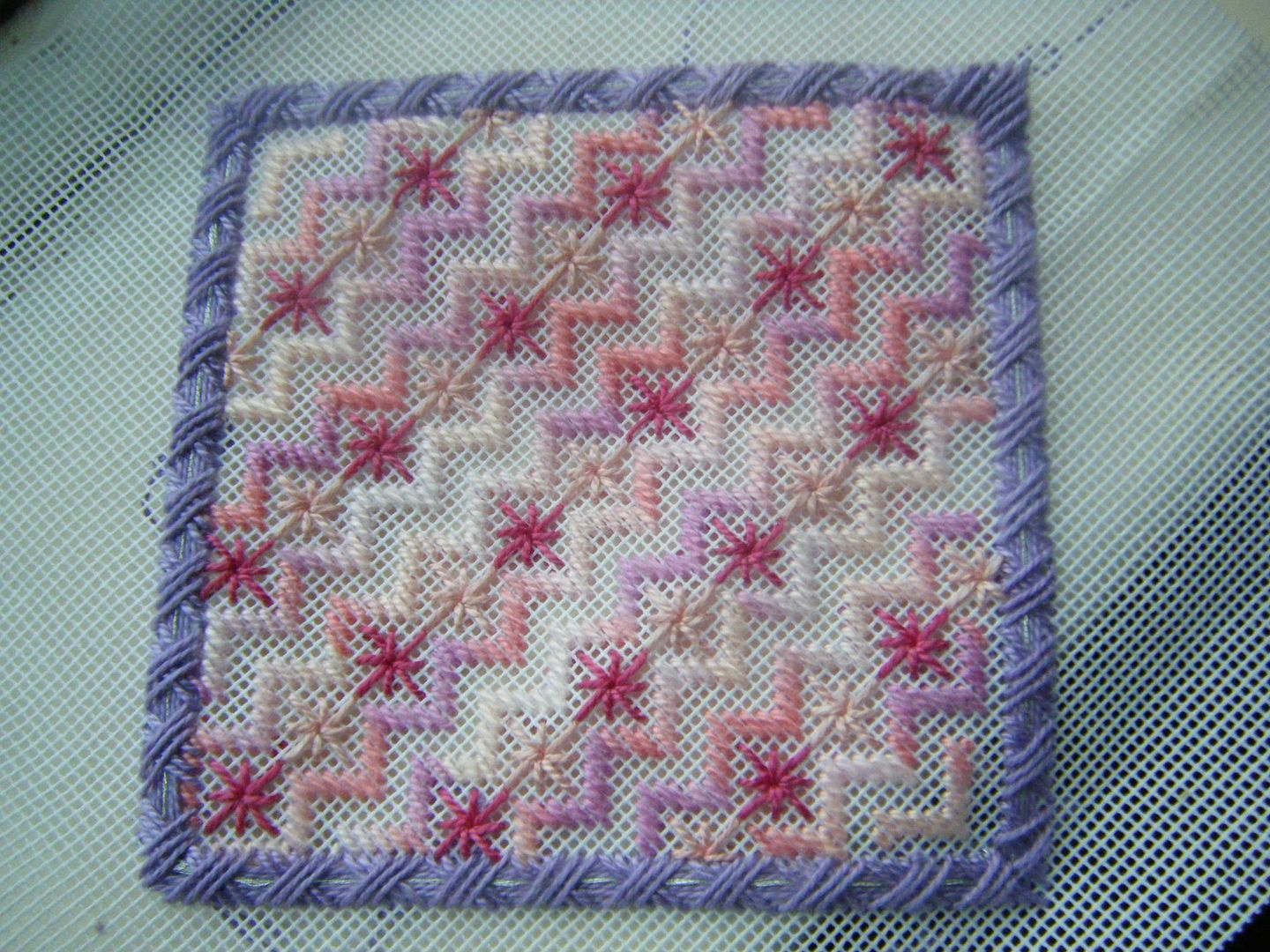 I filled in the rows between zigzags with the eyelet stitch. I was a bit disappointed it didn't make more of a hole, but maybe I wasn't pulling tight enough.
My stitching looks dreadful close up, I think my canvas was also too big, but I'm not sure! The silver line in the border was supposed to be a narrow ribbon, but I went with what I had and used a silver "lamé" which is basically a 6-stranded metallic thread that is an absolute BUGGER to sew with. Everything else is Perle 5, a mixture of DMC and Anchor. I love Perle cottons. When I was almost finished stitching this, I had the urge to sort out my threads. The stranded cottons have 3 thread boxes - blue/green/purple, yellow/orange/red/pink and black/brown/grey/white. I now also have a box of Perle cotton, sizes 5 and 8, and a box of assorted other threads including tapestry wools, crewel wools, metallics, and blending filament. If I keep up this embroidery obsession, I'm going to need a bigger house...
For part 3 I added the white zigzaggy-type line. I had a job chosing a colour as I think I truly messed the piece up with the purple! Never mind, this is a practice piece, it's not destined for a show! I loved this stitch method, the line looks fab close up, it really has depth to it.
It's couched down at the intersections with a Madeira metallic thread. Oh, the other type of thread I have is silk thread. It is luscious! I want to buy some more then just sleep on a bed of silk thread...
Anyway, needlepoint finished. Much practice is definitely needed! I really enjoyed it and have only scratched the surface of all the stitches there are out there. I have a book - Stitchopedia with some needlepoint in it so that might be my next point of call. I perhaps also have to do some more research as I don't like all the canvas on view for this piece but suspect it's the canvas size I used rather than the design as Laura's stitching is gorgeous.