Remember the
red scarf
which I couldn't photograph properly? Well here it is again, still not the correct colour! So why am I showing you again? Because I've added a beaded fringe to it.
I was going to use a pattern from The Beaded Edge 2 - a truly beautiful book with gorgeous crocheted and beaded edgings that I got for my birthday. Alas, it may have to stay a gorgeous book as I could not make head nor tale of the instructions. Instead I used a pattern from Simple Glass Beading by Dorothy Wood.
As this is part of my craft book challenge, I can also link up over at
Heart of Charnwood
who's doing a monthly Craft Book Challenge too. If you want to join in too, and be in the running for the prize, simply complete a project from a craft book and link up, see the post
here
for all the details.
You can just see a strip of the fabric at the top, and that is probably the truest colour. I used a selection of different shades of red seed beads, sizes 10 and 11, some white pearls, clear AB crystals and some lovely opaque drops I bought a while ago by mistake and had no idea how to use. The whole fringe was beading using nymo thread and a beading needle.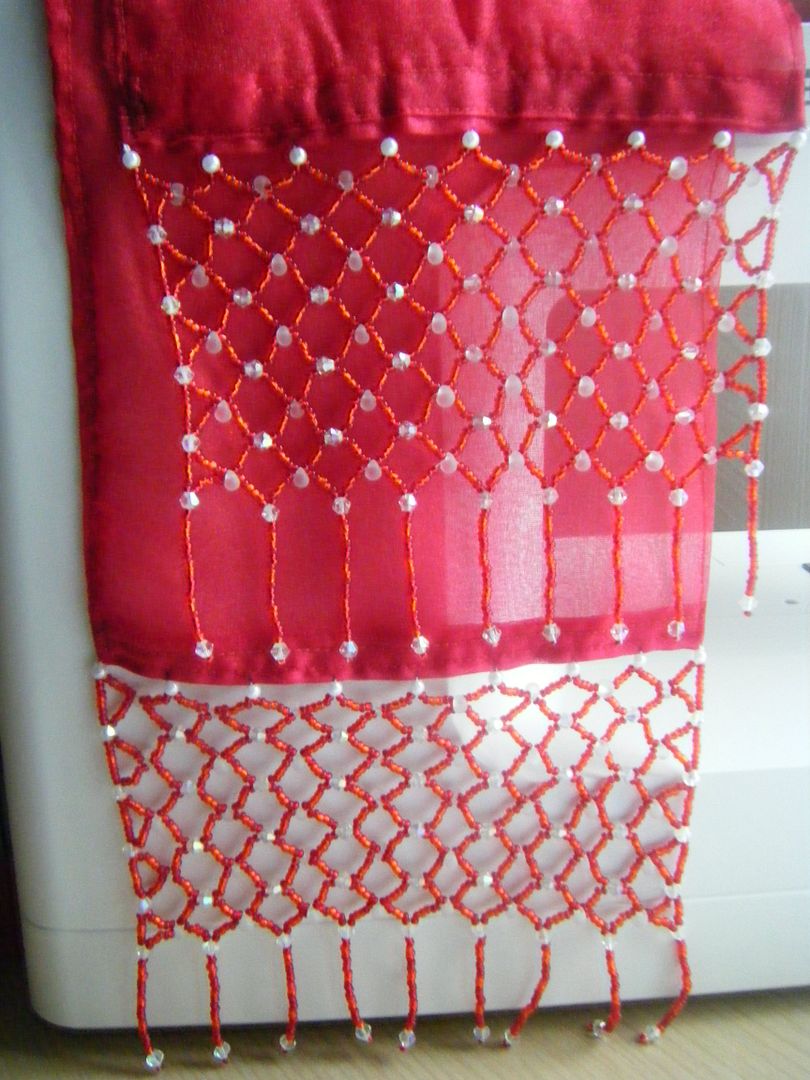 It took me HOURS. Really, I didn't think it would take that long, but it did. One issue I had with the pattern was that no photos were shown of the side of the fringe, so when I got to the bottom bead vertically (the fourth bead at that time), I really couldn't see where to go. I did figure it out but not until I'd added 2 extra rows and done half the fringe. It's staying as it is!
Well ladies, I finished the scarf last week and work something red the very next day so I could wear it to work. Around lunchtime I noticed a long thread hanging off one of the fringes, an entire row had dropped out! I had a quick scout round the office and there are tiny red beads everywhere! It's now sitting waiting for me to fix it. I'll rethread the row that dropped out, then I'm going to put dobs of beading glue on each join, I don't want the whole thing falling off!!