I'd geared myself up for a ta-dah post on the window.
2 problems:
1. I can't get a decent picture of it...
2. It's not finished.
Yes, you read that correctly. I know, I know, I said it would be finished this week and it would have... except my teacher remembered that I need to blacken the lead!
Let's back up a bit. Wednesday night the window came off its board and I took the opportunity of a photo.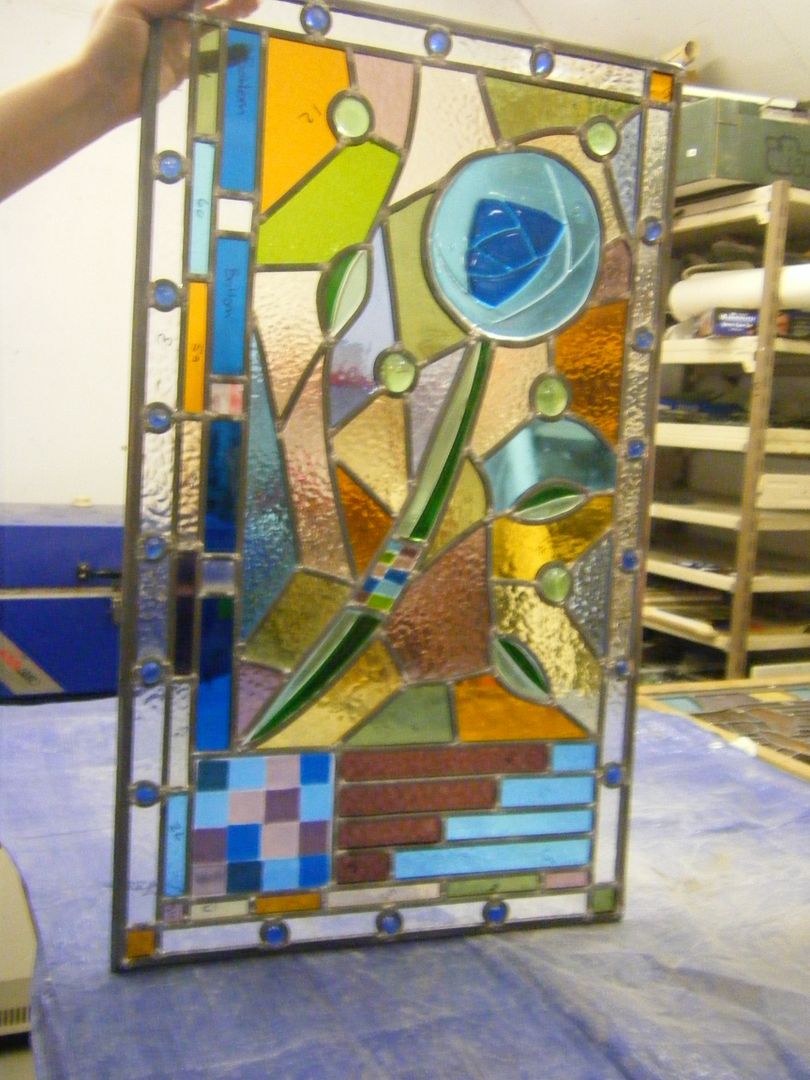 It's on it's side, it'll be landscape above the door when it's fitted. Quite a few people have asked me if I know where I'm going to put it. When making something like this, you have to know where it's going before you start as it has to fit exactly, to the exact millimetre, so the location above the front door was chosen at the beginning.
Next I covered it in cement. No photos of this as my hands were filthy, as you can imagine. It was then sprinkled with white cement.
Of course, I had to do this process front and back. My teacher turned it over and I nearly had a heart attack. I think it looks really pretty with the white in it!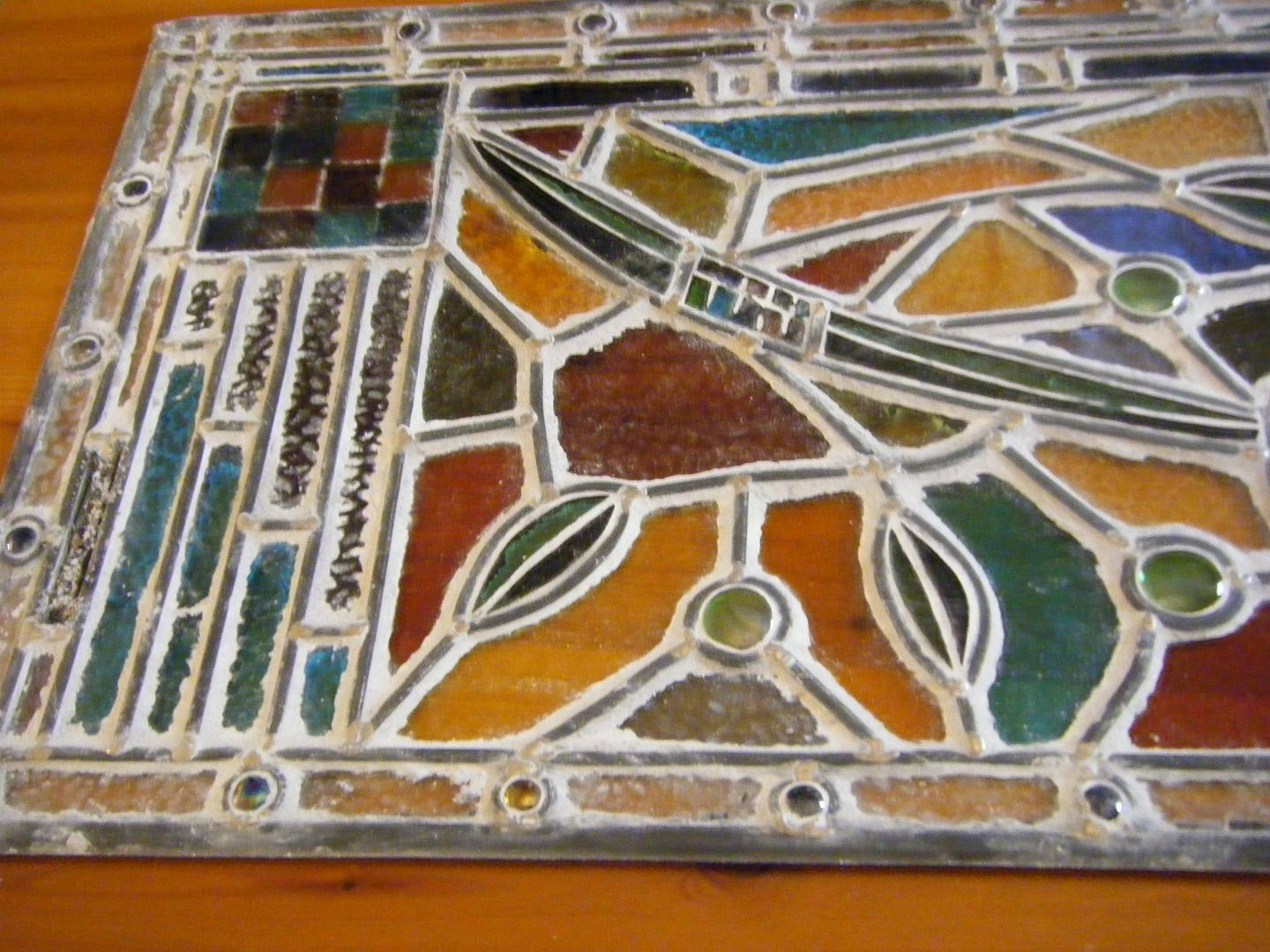 Yesterday afternoon I left work at lunch time and came home to clean the cement off before it dried permanently. I thought I'd hate it (I hated cementing it), but I really enjoyed it. First I ran an upright knitting needle along each piece of lead to remove the cement, then brushed it over with a stiff brush.
Can you see the gray bits of cement? I'd cleaned the straight rectangular pieces at this point, you can see above that all the cement still in place. I struggled to get photos as it was on the dining room table which has an electric light directly above it. Clearly I can't go carting this about to get photos!
That's all the cement dust that came from one side! I then had to turn it over. My heart was in my mouth but it was much easier than my practise runs at class. I think it's because our dining room table is lower and I had more control.
It took me three hours to clean it, front and back.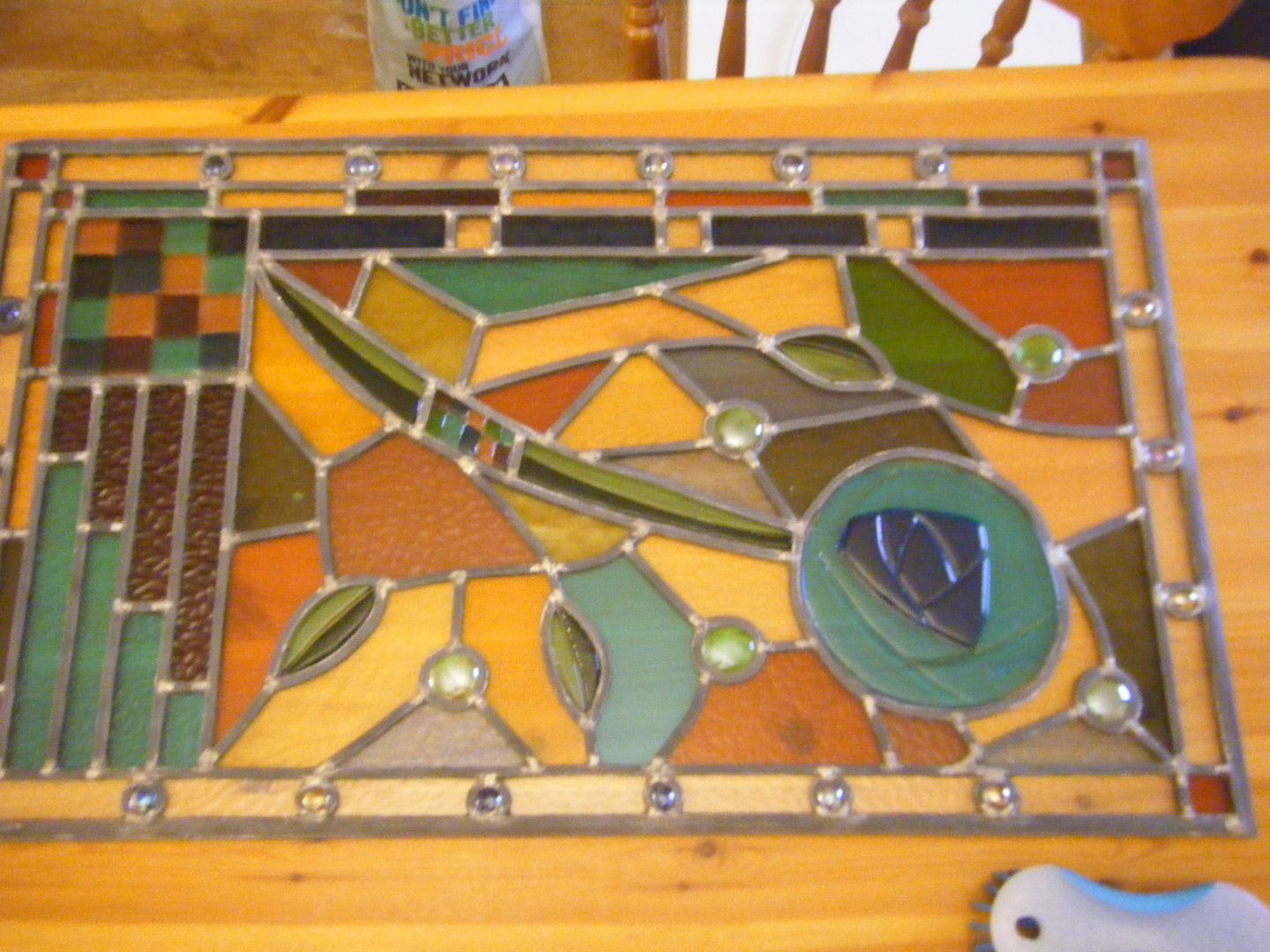 The teacher is putting on an extra session next week so I'll be going along to blacken the lead and make it look all luscious.
I tried to get a photo of the cement between lead and glass. Didn't really work out but I like this arty shot!
I think I'll do my final window post when it's installed, so that will be a few weeks away. Nothing like keeping you in suspense!
Related posts
fused glass elements
glass cutting complete
beginning the leading
leading the nuggets
more leading
leading the rose and stem
main panel complete
right hand panel finished
leading finished
all soldered and an actual window