I'm sitting here on Saturday afternoon, in my craft room but not sewing. I'm a little paralysed by the news we've just been given. If you're not into real-life disaster stories, scroll down, there is some sewing.
A week ago we had to clean out the kitchen as we're having a new kitchen fitted. Exciting? It was. The reality is eating ready meals cooked in the microwave which is perched on a table in the living room, not being able to get to anything because there are half-built kitchen units everywhere and one un-holy mess. But that's not all.
Last week I got a call from my uncle (who happens to be a builder and so is doing the refit). Where he thought the plaster on one wall had blown (expanded outwards away from the bricks), it seems the problem might be more serious.
So this afternoon a structural engineer came round. Our house is 3 stories, it was built in 1884. Where the kitchen meets the rest of the house - dining room and entrance to the cellar - the wall is bulging. It's not attached to the 1st story (2nd story for you ladies in the US) floor. It is, in fact, falling down. This could possibly have been caused by the leaking sewage pipe we had under the house, I don't know if you recall my stories of having a burst sewage pipe, cellar and garden filled with poo?
I'll leave you to digest that, that's what I'm currently trying to do. Want to hear what else is going on in my life? My cute little bunny Harry lives with fat Tiffany. Fat Tiffany is dominant, very dominant. We recently noticed a bald patch in Tiff's fur, so off to the vet we went. Nothing. She's fine, no mites, not worms, nothing like that. The bunnies all moved to their holiday homes (i.e. my parents' back garden) last weekend so they were out of the way for the kitchen refit. My parents spend a lot of time in the garden with the buns, so they found the cause of the bald patch. It's Harry. He's literally chewing Tiff's fur off. It's called barbering and is usually done to assert dominance. Harry never has been and never will be a dominant bunny, especially with Tiff. I have no idea what to do.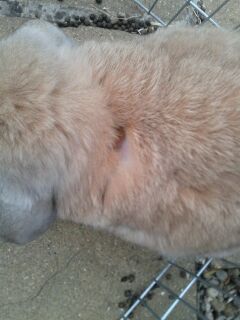 In order to take my mind off it (after all, there's nothing I can do right now and the work trip to Turkey on Monday couldn't have been more badly timed...) I'll post some photos of my latest block in the And Sew On BOM hosted and designed by the lovely Kristy at Quiet Play .
April's block is called "Snip it Real Good" and snip it I did!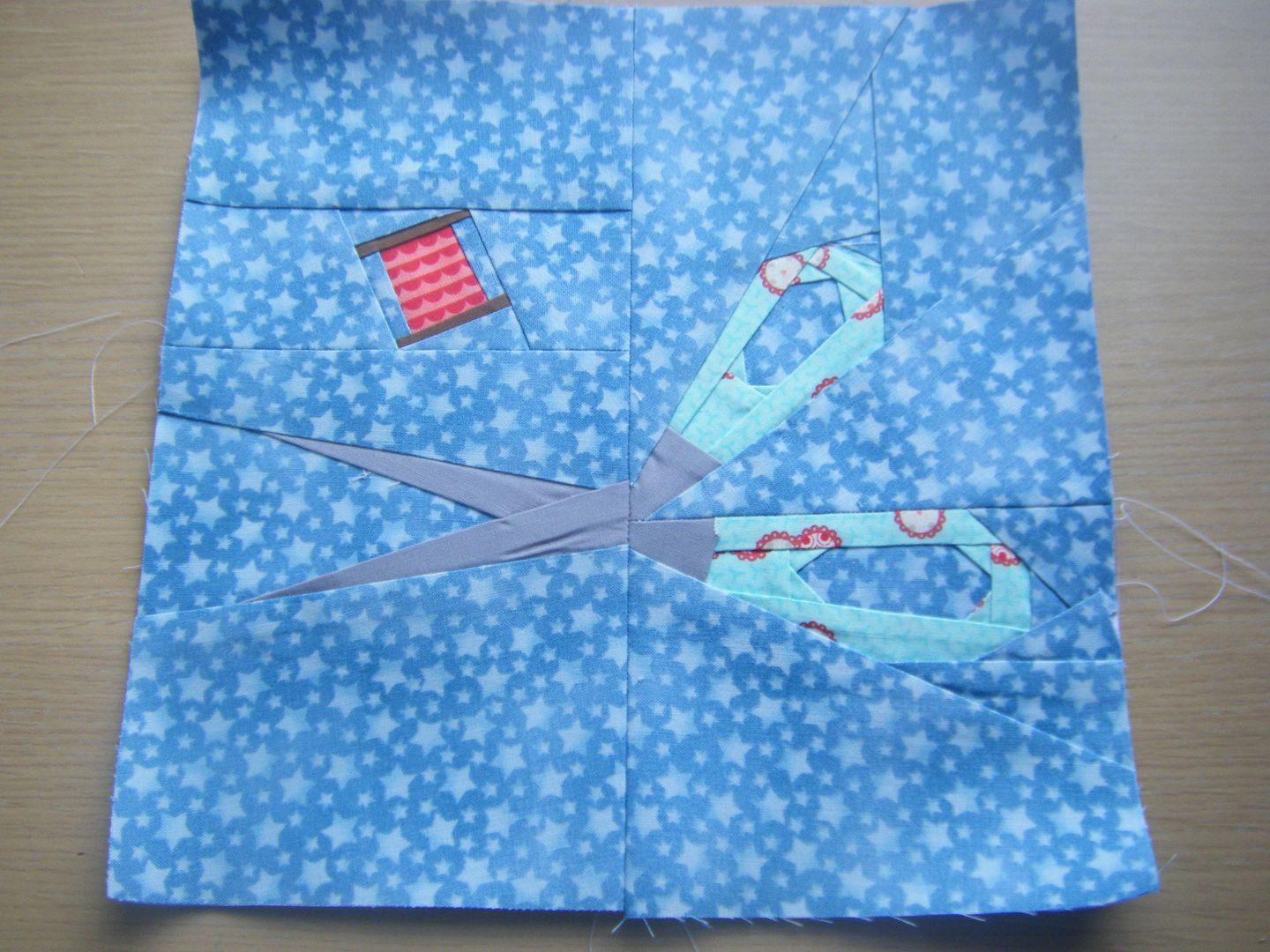 I did the section with the spool first. You would not believe the problems I had. Pieces in the wrong place (wooden parts of the spool on the sides!), pieces pieced in the wrong order, fabric upside down, scraps that didn't fit. I unpicked so many times, I had to start again as my paper was completely shredded. With the other 3 sections, I had just the on piece put on wrong way round. I haven't added the thread coming off the spool yet, I'm planning on doing the embroidered parts when I've pieced all the blocks together and removed the paper.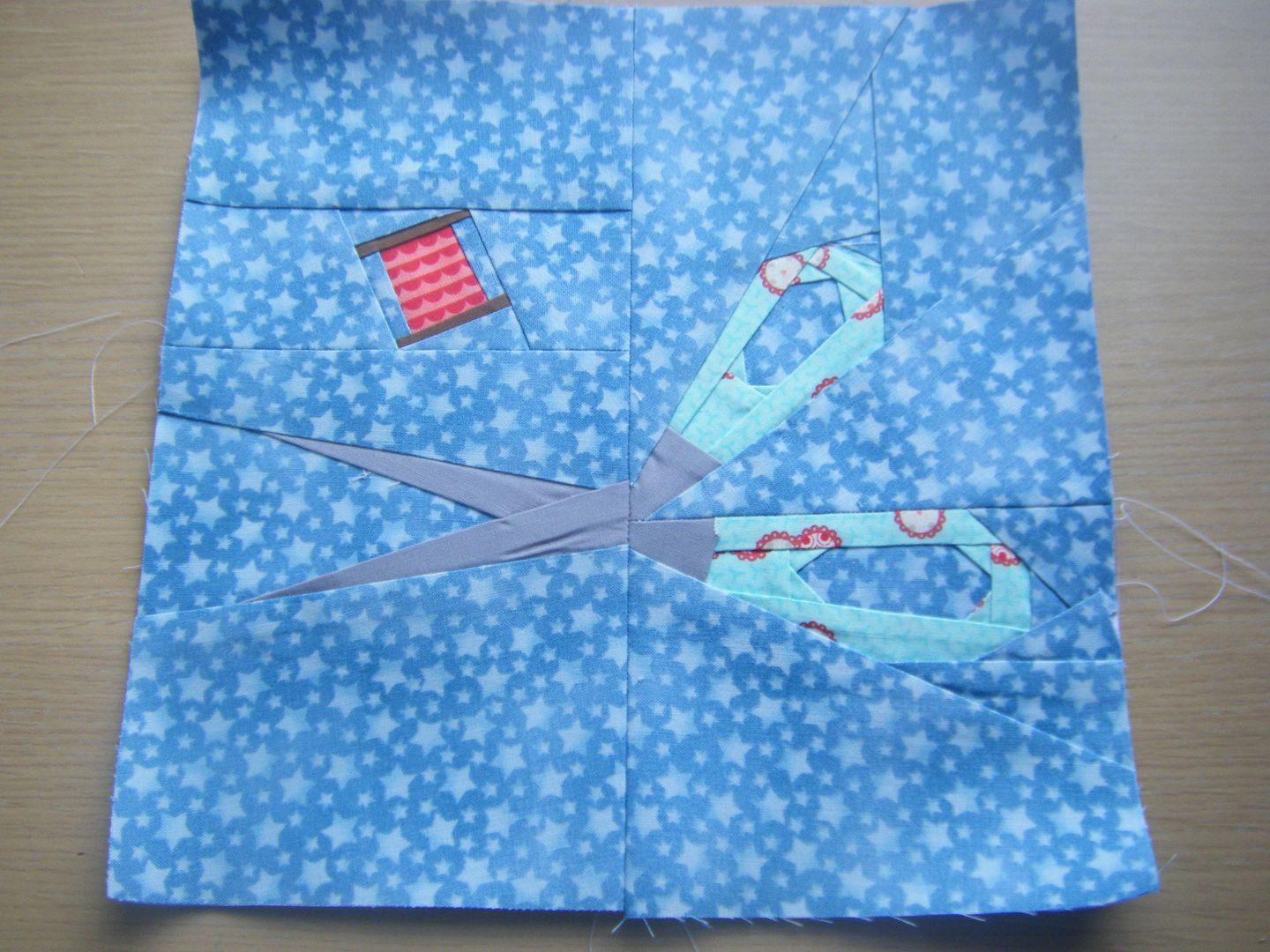 Right, gotta go, I've got a Weekender bag to finish before Monday morning and it's 4pm now... I've got half the parts cut out and tomorrow I'm going to my parents' to see those naughty bunnies...
Related posts
block 1 - Measure Twice
block 2 - disaster
block 2 - You little ripper