I made the Amy Butler Weekend Bag. In a day. Yes, I'm crazy, it's something you don't want to try at home. Sure, make the bag, but not in a day.
The East Midland's Modern Quilt Guild had a sew-in session a few weeks ago where we were to begin our bags, a group challenge. I couldn't go in the end due to my interfacing not arriving and the fact I had to dismantle an entire kitchen, but I resolved to make the bag anyway. When I found out I was going to Turkey on the 29th April, I had my deadline. Unfortunately, I didn't start it until the 28th April...
I bought the pocket fabric at the Hobbycrafts show in March with this bag in mind. It's a Coats and Coats fabric and at £10 a metre wasn't particularly cheap, though it is heavy weight so it was a good deal. I only bought a metre as I knew I needed 3 for the bag and panicked at the cost, so just bought one?!? Where is the logic in that?? I later went to the shop I'd bought it from's webshop and it was crap, so I bought the rest of the fabric elsewhere. Sorry, no idea where! There are three different prints that I used - you can just make out the tiny roses on the handles, this is the same fabric as the piping. In hindsight, it might have been better with the lining fabric as the piping as required in the instructions...
If you've seen this bag around, you might think mine looks a little sloppy and floppy. It didn't, but I didn't take these photos until the bag had been dragged to Luton airport, around Luton airport, on a plane for 4 hours, to a hotel in Istanbul, to the office each day, out to diner, through a tear gas cloud and back again. It held up really well!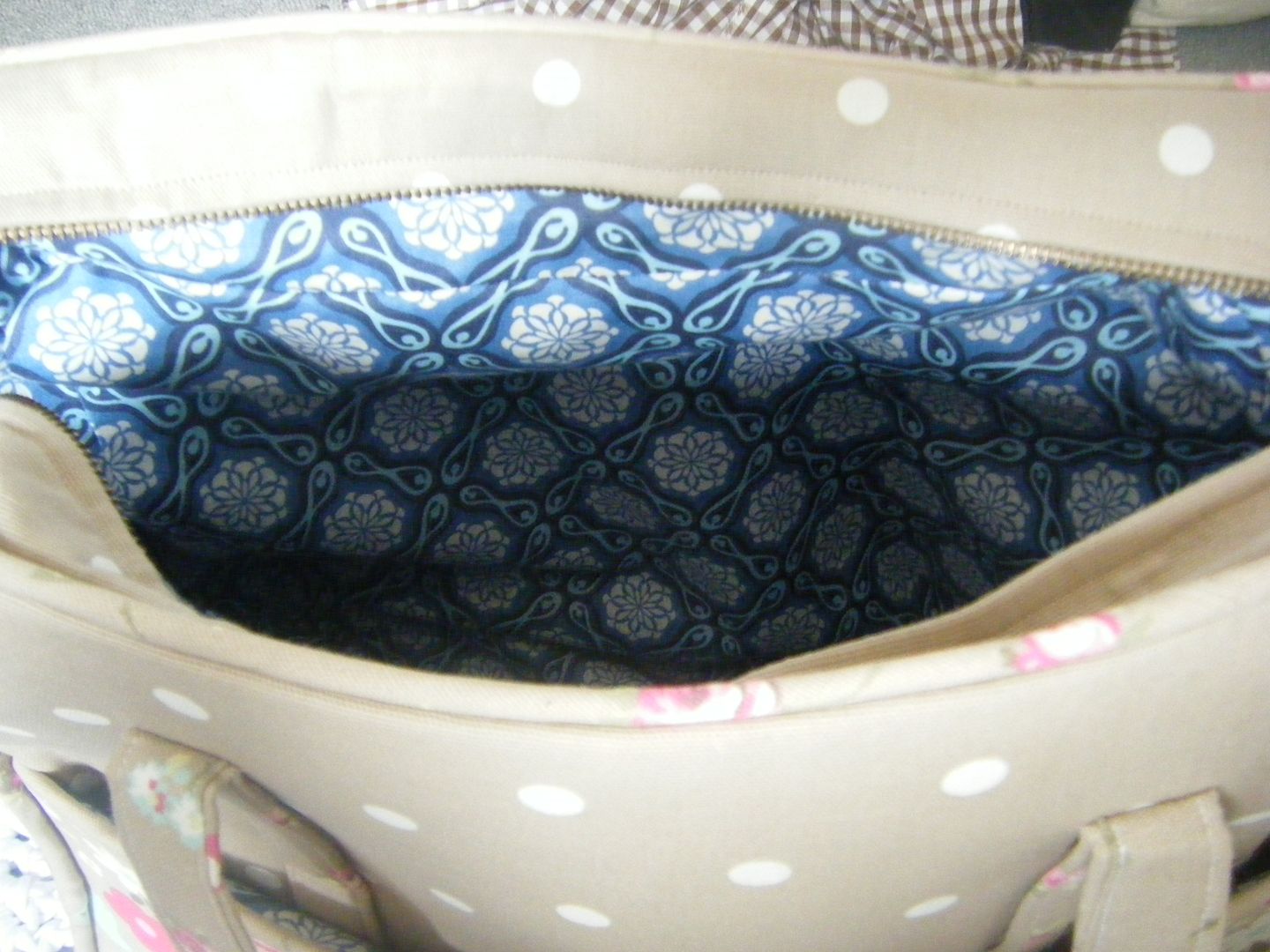 I used Kate Spain's Cuzco for the lining, bought from The Village Haberdashery using the £10 voucher I'd won. It helped lessen the sting of buying 3 metres. Of course, I hadn't used this fabric for the piping, so I have over a metre left... I'm thinking skirt... I suppose that's my first criticism of the pattern, it calls for 54" wide fabric for both outer and lining and when I tried to convert that to 44" fabric I came up with 6 metres total. I've used about 4, maybe even less. I suppose that could be a criticism of my maths rather than the pattern but I think they should tell you the fabric requirements for 44" fabric too.
I added the zipper pocket using the pattern from Lisa Lam's Bag Making Bible that I always turn to for fully-lined zip pockets set into the lining. On hindsight, I'd have also added a couple of slip pockets. Oh hindsight is a wonderful thing! No inner pockets at all are mentioned in the pattern so I'd suggest adding some before you make up the lining.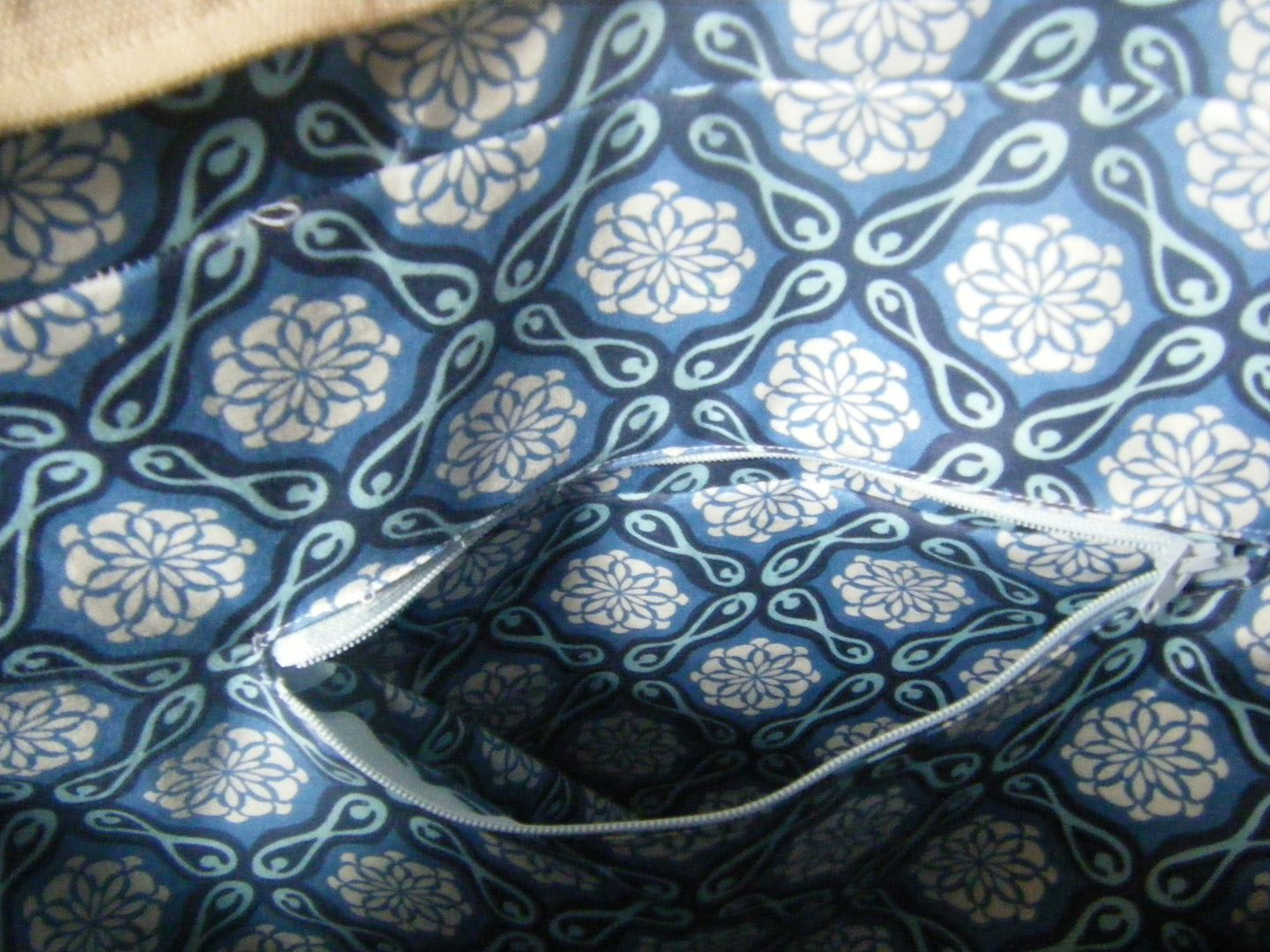 So, what did I think of the pattern? I'd heard horror stories about Amy Butler's patterns being very hard to follow, I didn't have that problem. I found the pattern really easy to follow, my only mistake was sewing the side pockets upside down, she perhaps could have mentioned which was the top in the instructions, but then it was marked on the pattern piece, I just didn't check. Apart from that, it all made sense. I had a nightmare sewing the base/sides/top onto the first side, I must have sewn round the entire thing at least 4 times, but the other side was easier. I did have to go over spots where I hadn't got close enough to the piping, but it worked out in the end.
I didn't like the way we did the lining. The pattern said to use the outer pattern pieces, but sew with a 3/4" seam. Not a good idea on curves, my inner curves are dire, but it was too late to go back. It would have made much more sense to reduce the lining by 1/2" and sewing with a 1/4" seam to get neat inner corners.
I had to finish with some hand sewing, and I should have sewn the top front and back edges to the lining as the lining droops when I open it, but it's too late now! I also didn't do the false bottom as I ran out of time. I don't think I really needed it though.
A word of warning? Don't put anything in those outer pockets! I lost my sunglasses on the plane, then lost my phone in Tesco... they're not secure at all and things wiggle up and out of them.
BUT, it's done. Weekender bag, conquered!