Good morning ladies. I've got the day off work today and I'm trying to avoid doing any housework, so I'm starting with a blog post, then I'll get on with the thing that needs doing that I took the day off for... more about that later in the week. Hopefully.
I didn't tell you about the last meeting of the East Midland's Modern Quilt Guild. The lovely Moira booked us a church hall in a location halfway between my house and my work. I set off on the Saturday morning, all smug as I couldn't get lost this week as I usually do. Then I found myself nearly at work. I had to turn around and drive back! I was late anyway as I was waiting for a man to come and fix our dishwasher following the letter we got telling us our dishwasher is likely to blow up and burn the house down. Great, thanks for that Hotpoint. When I arrived the other ladies were steaming through their projects.
Some of us were making Noodlehead's Divided basket. Moira had suggested the pattern and as I'd been umming and ahhing about buying it anyway, I went for it. You can buy the pattern here.
Now, I had a little problem. Looking through my supplies prior to going to the meeting, I didn't seem to have enough fusible fleece. I grabbed some interfacing, thinking that would do.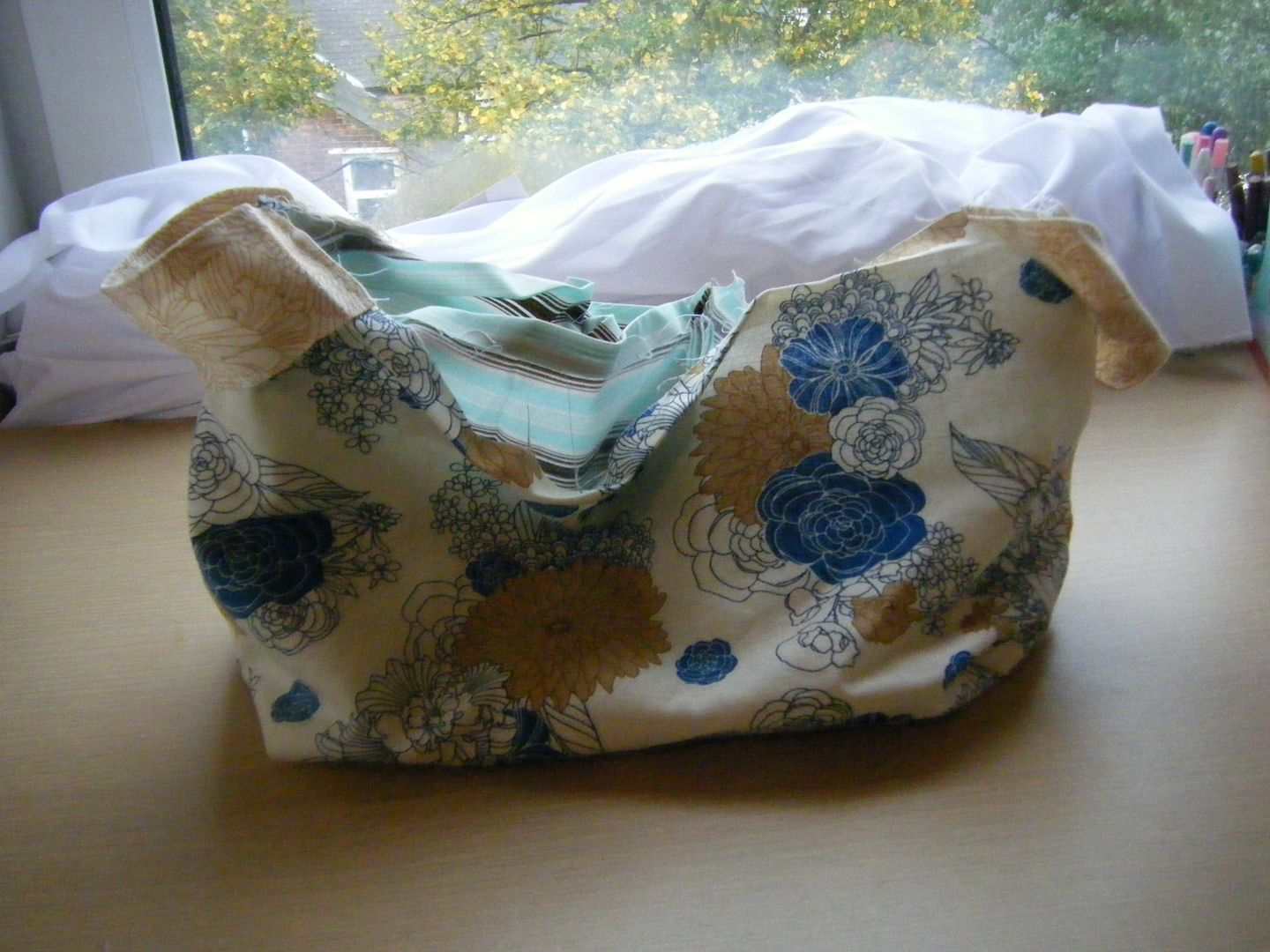 It didn't! How hilarious is that floppy mess?? I chose not to sew the lining inside the outer, but to try and do something with it when I got home. Strangely for me, I set to the very next day.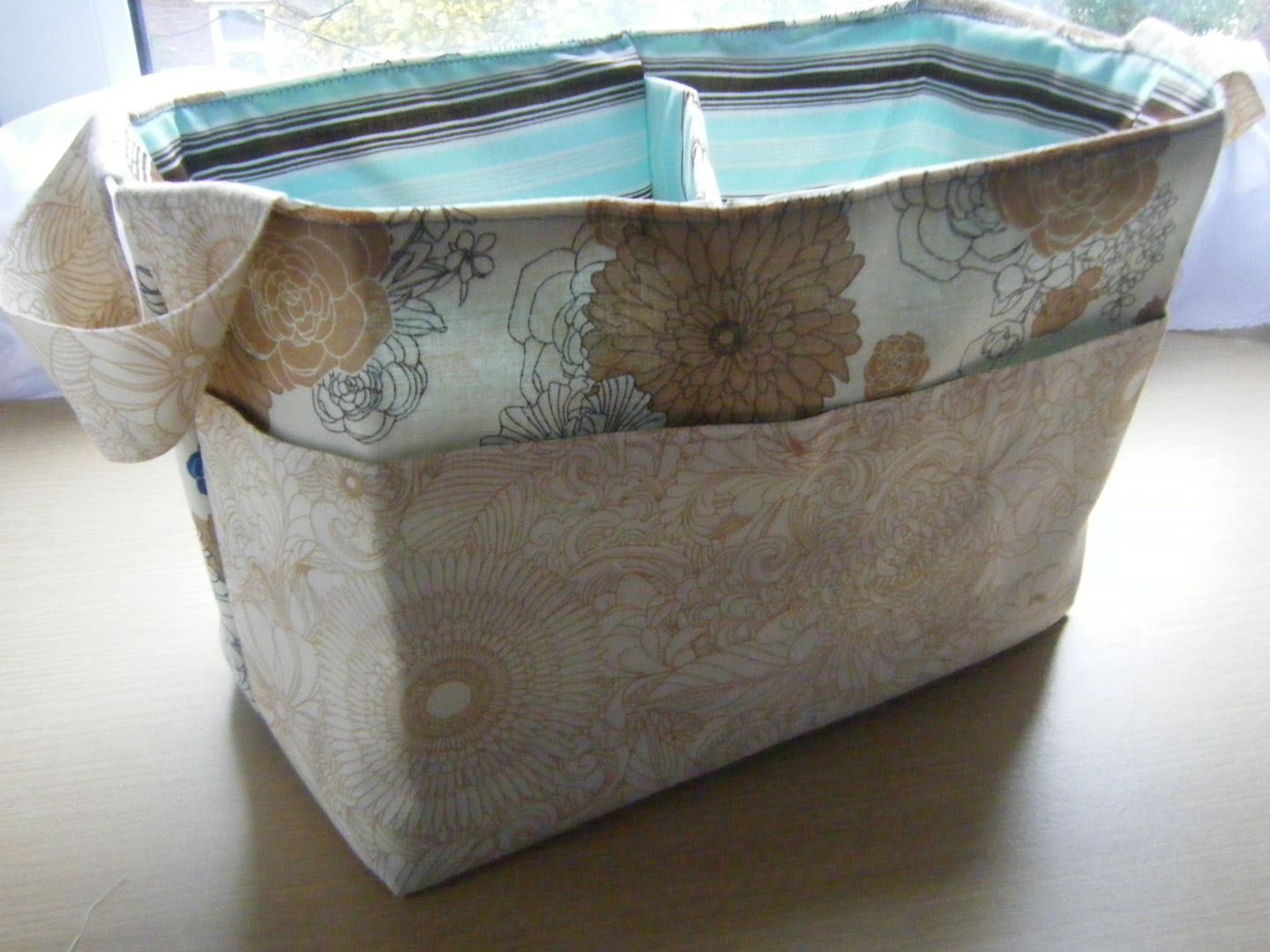 Turns out I did have enough fusible fleece, it was just in 4 pieces, but that's not really a problem as it was fused in place, then sewn. The fleece still wasn't really thick enough. I think for future baskets I'd want a very firm interfacing and maybe some thicker fleece too.
The outer is some of the Femme FQs I won a while ago, they're linen-cotton mix which I thought would give it more body (clearly not). The lining is some stripy fabric, I'm pretty sure someone designed it and manufactured it, but I don't know who.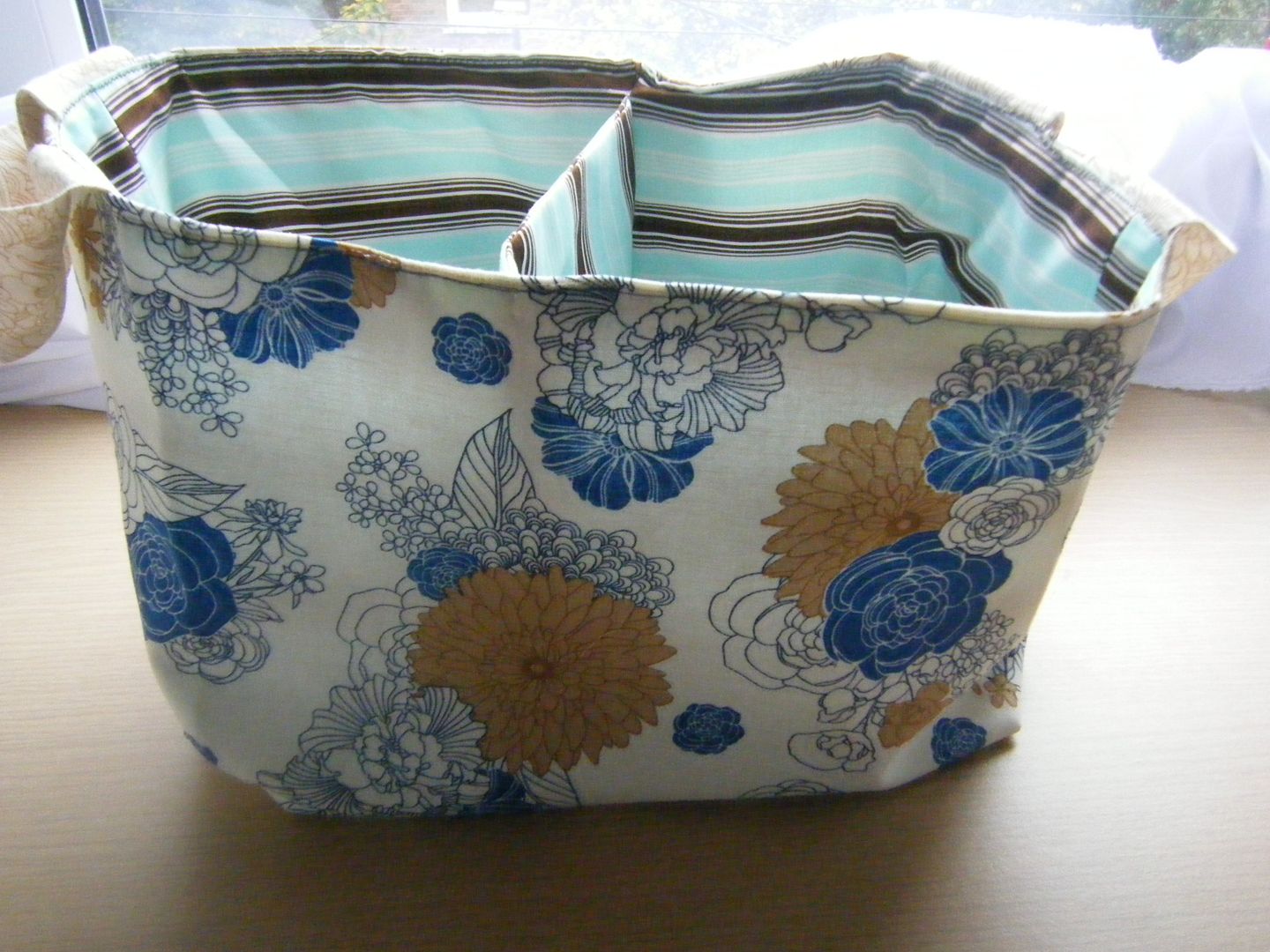 Sewing in the divider was tricky and I struggled with it, but the rest was a breeze... until it came to sewing the lining to the outer. The lining was a bit too small. I'm not sure if it was the fault of my crap sewing or my crap cutting! I fudged it eventually and don't have any huge puckers or tucks.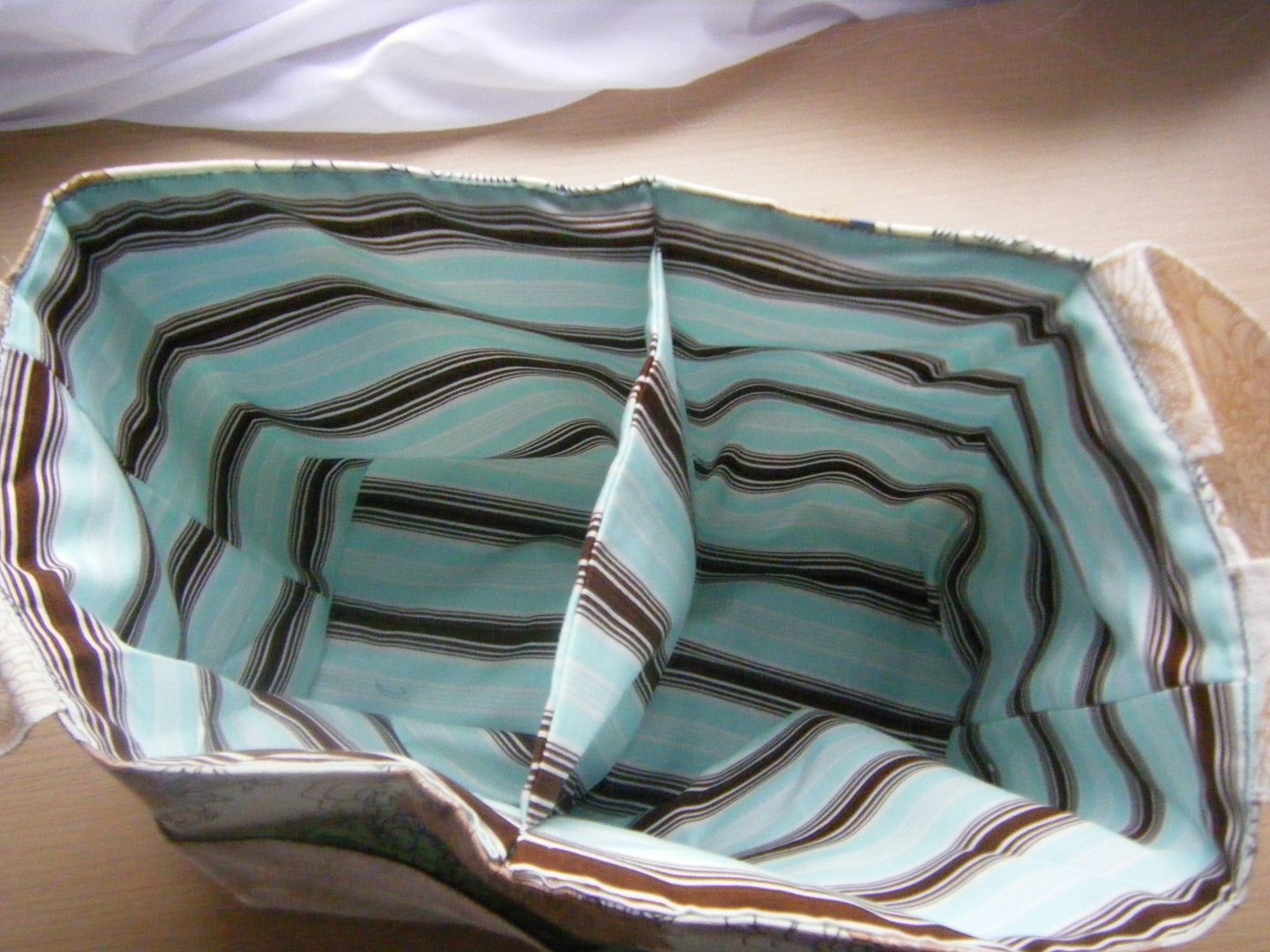 It's currently living in the bathroom holding cleaning supplies and the centres of toilet rolls (I give them to the bunnies who love them), but it mocks me every time I go to the loo, so I might have to make another and relegate this one to my craft room where there are dozens of uses for it.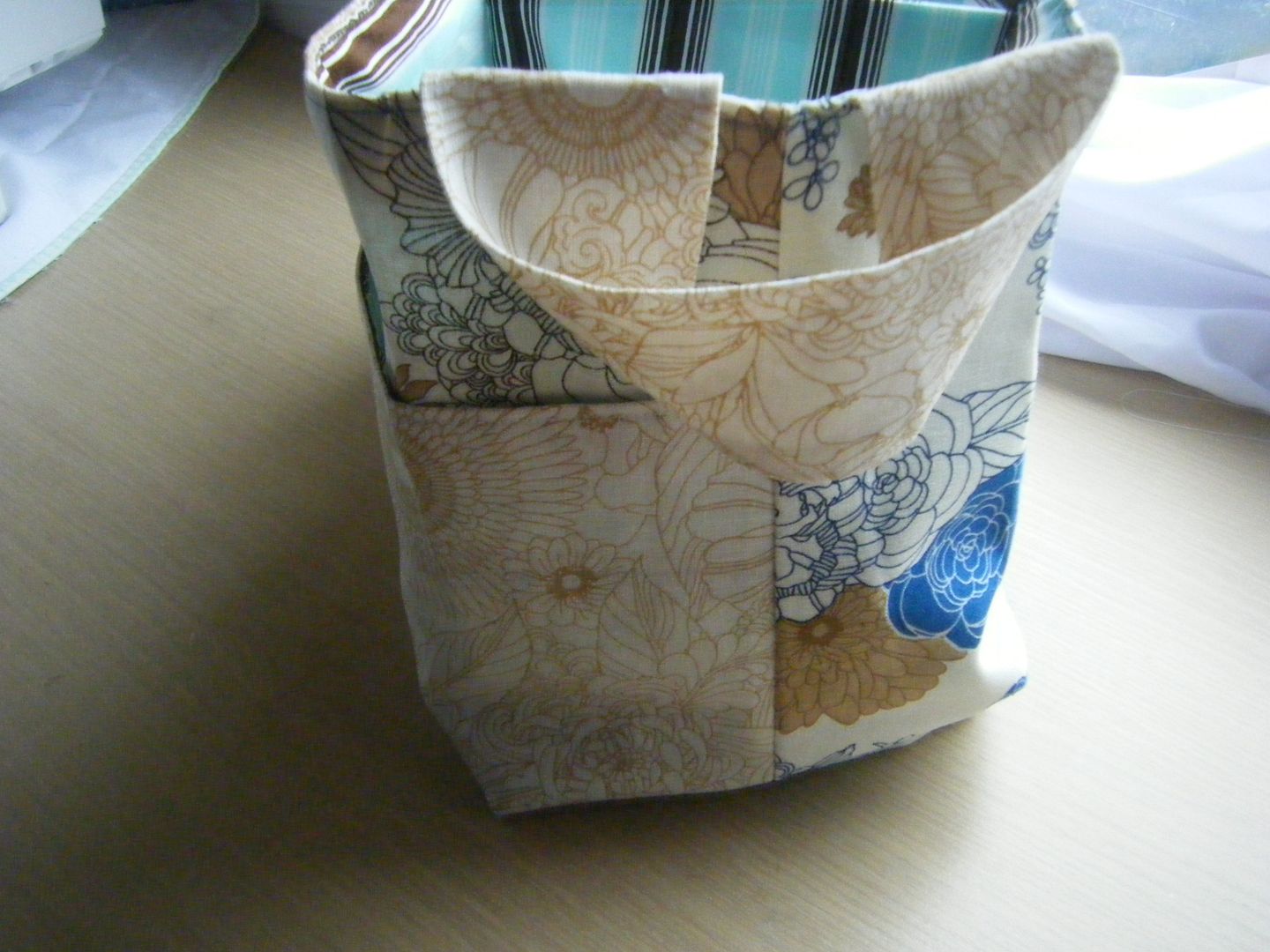 Oh, forgot to mention my handles. Yeah, they definitely need some interfacing!
The pocket is lined with the lining fabric.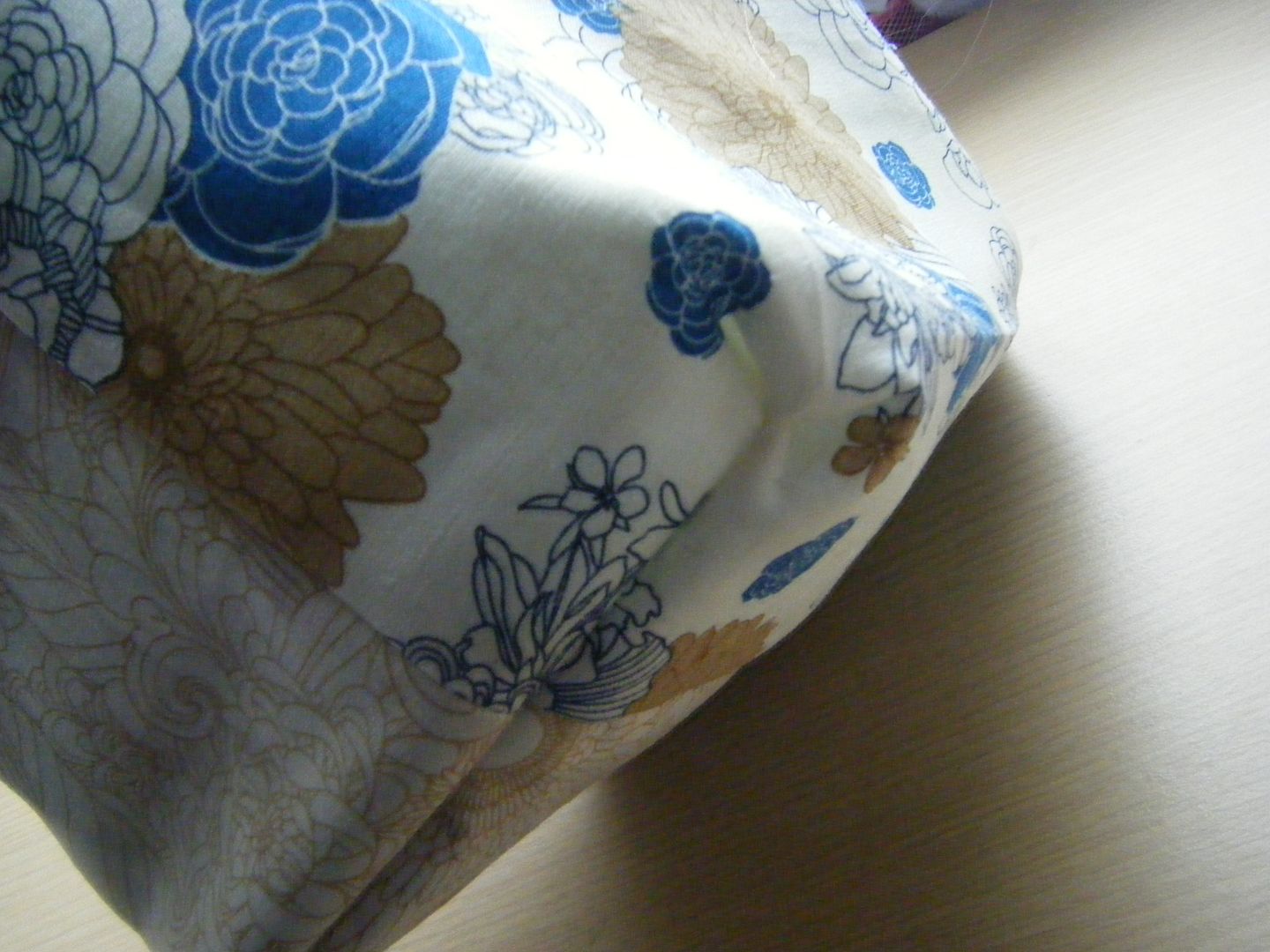 I think I took this photo to show you the hideous pucker in one of the corners that I didn't notice until it was all sewn up. But maybe my camera just went off, it doesn't look like the kind of photo you'd deliberately take...
Coming up this week, something completely knew and a some tiny little crochet items. Maybe the afore-mentioned project that I've taken today off for too.