I was a member of the Bag of the Month Club, we were sent a new bag pattern every month. I have intentions to make some of the other bags, but as soon as I saw June's bag, I knew it was to be my new handbag.
It's called the City Slicker and is by ChrisW Designs. If you click on that link, you'll see her bag and a link to buy the pattern. June's EMMQG meeting saw me cutting out all the pieces. It took the entire session, there were a lot of pieces. Last time I showed you this project, I'd got as far as basting the Bump (which I used instead of Soft and Stable as I can't afford to remortgage my house right now) to the outer pieces.
Finishing this bag was my entry for July's A Lovely Year of Finishes. It didn't happen. I also wanted it done by the 15th July so I could enter it in the Bag Of the Month Club competition. It didn't happen. I did, however, finish it on Thursday. Ta dah!
Oh, there seems to be a problem here! I am such an idiot, really, a massive twat. I'd also sewn a rectangle with a cross inside on each strap end, then gone over it 3 times... lots of unpicking.
So here are 35 million pictures of the finished bag. Above shows the front which features a twist lock. This was my first time putting in a twist lock and it wasn't that hard. The biggest problem was that I couldn't find my Fray Stoppa, but I just used a bit of fabric glue.
The fabric is Kate Spain's Daydream. I'd bought a metre of each with the intention of making a bag, but before I found this pattern. I adore this fabric.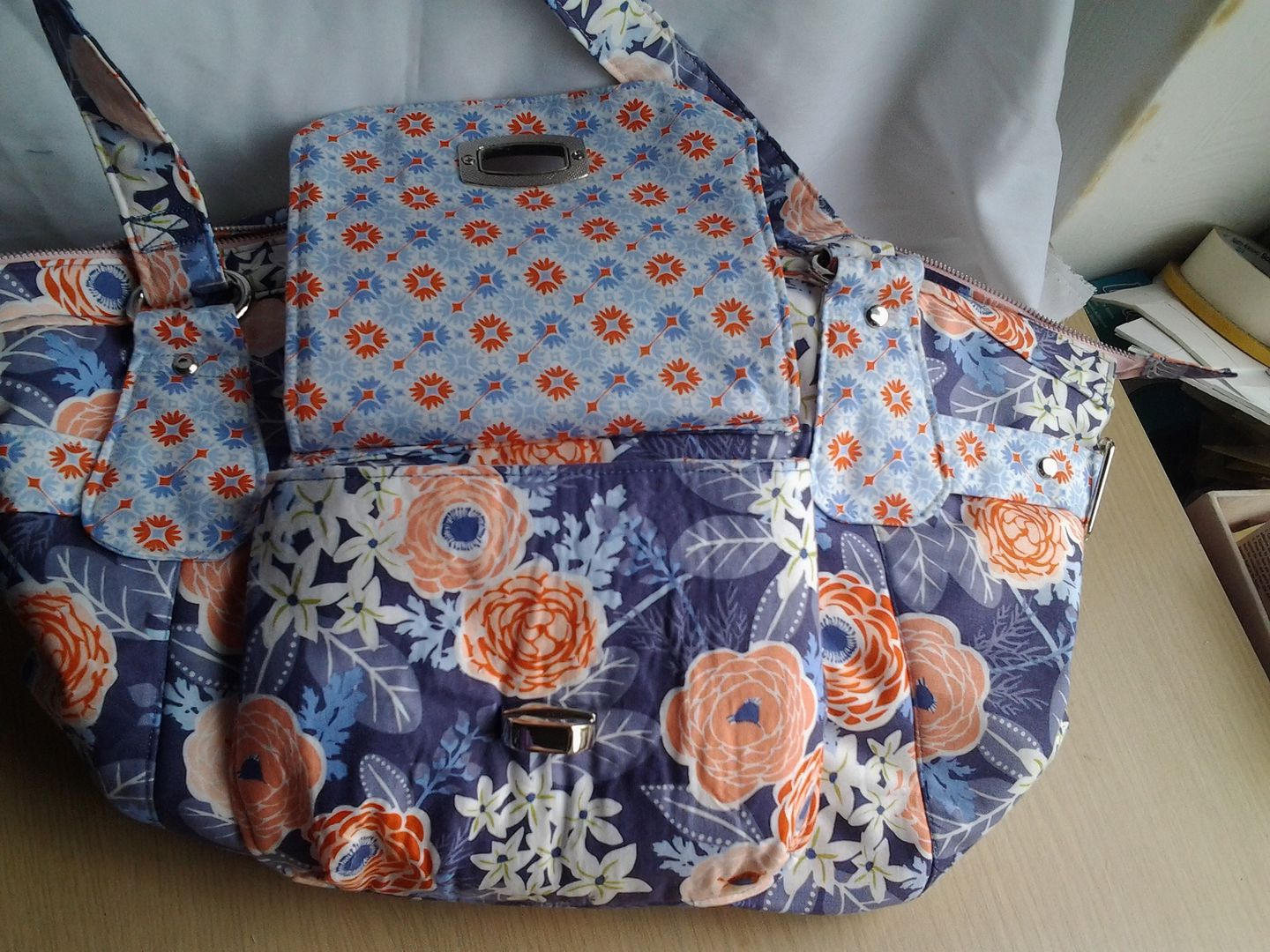 The front pocket has fusible interfacing and fleece on it and it did this - see that above? Ah well, the pocket is usually closed anyway.
This is the back, that's a welt pocket, my first one! Oh, I get to link this up to Something New for 2014!
See? There's a pocket in there.
It has LOTS of inside pockets. These were all in the pattern which is great, if they hadn't have been, I would have added them. There's a double slip pocket on one side, featuring a pleated pocket for bulkier items. There are also a couple of pen slots in the back pocket (you see the strip of fake piping? That's the top of the pocket).
The other side has a zip pocket and another slip pocket. I didn't divide it in half as suggested in the pattern, I made one side the right size for my phone.
The sides have these buckles which are just for show, and the rivets. How much do I hate rivets?!? They're up there with snaps for me. They bent, they broke, they fell out... damn things. There were supposed to be rivets on the straps to hold them together, but I didn't fancy them falling off!
Overall, this bag was hard... it was harder than the Weekender by far - there's no way I could have made this bag in a day. So many pieces, so many fiddly processes. I tried to follow the printable pattern but gave up and had to follow the full pattern on my tablet - at 77 pages there was no way I was printing it out, but the photos were vital as instructions such as whether something is right sides together or which way up to put something were not stated in the written instructions!
All said and done, I love this bag and it's a great alternative to my current bucket which is starting to fray and looks very worn. I just hope this bag will be big enough for me...
Oh, and it's my first goal for Q3 of the FAL!
Linking up to:
2014 FAL
Something New for 2014