Tuesday was a busy day at The Manor House Hotel. After a morning of pottery, a buffet lunch and a quick trip back to the pottery studio to take the pieces out of the moulds, we headed to a silk painting class.
I have had a silk painting kit for many years, but for some reason I'd never tried it. It's now been dug out and is on the dining room table waiting for me as I loved silk painting. The class was only an hour and a half, and although you can stay after class and use the facilities for as long as you like, we had another class to get to, so I chose something simple.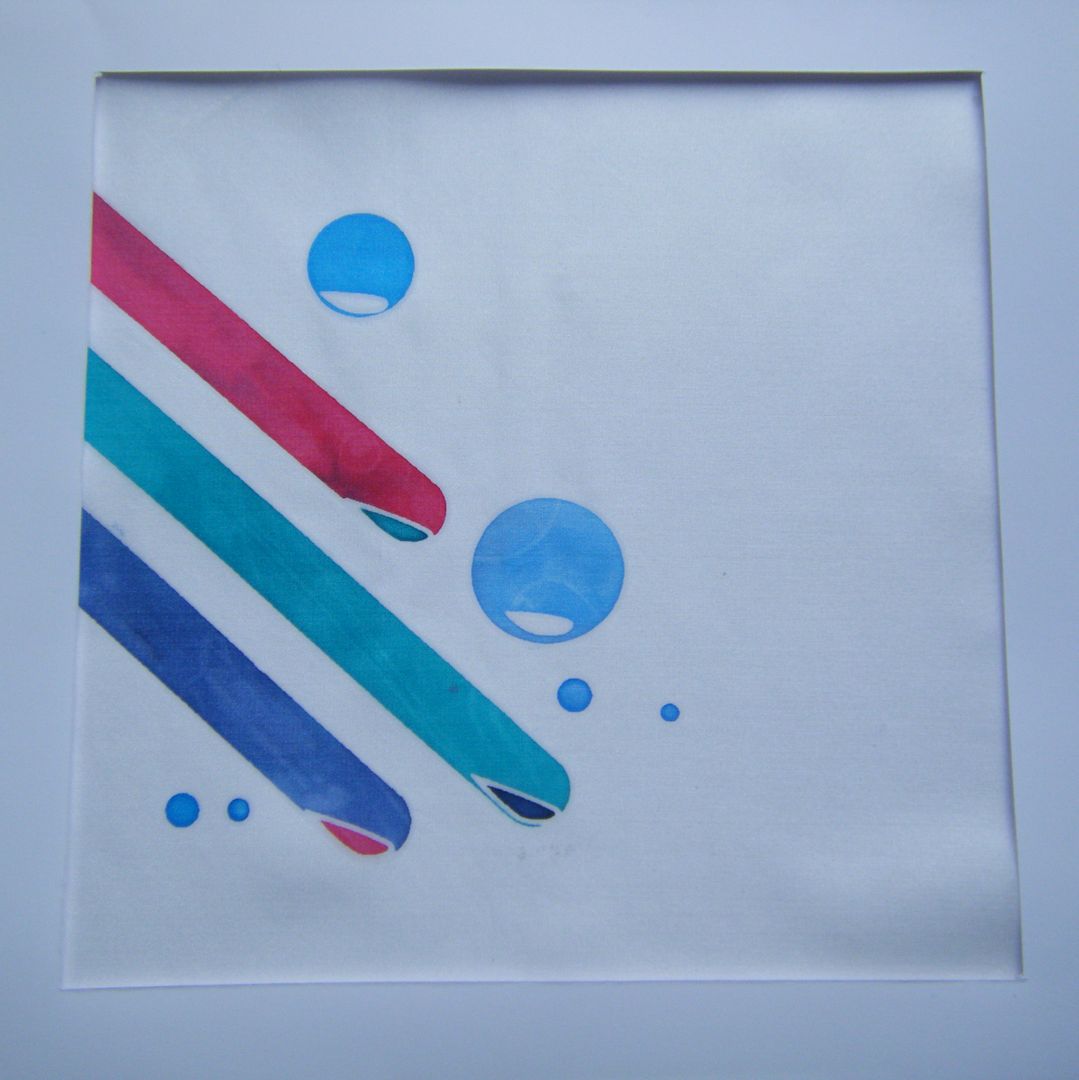 This was a set of 3 pre-gutta cards. Gutta is a thick liquid in a tube which is applied over the design lines. It dries flat and acts as a barrier to the paint. It comes in various colours, but these cards used clear gutta. The paint comes in gorgeous jewel-like colours and is easy to work with. You apply a little to the silk with a brush and it expands and spreads right up to the gutta lines. It doesn't go over the lines, that only happens if you put on a second coat and paint too close to the edge.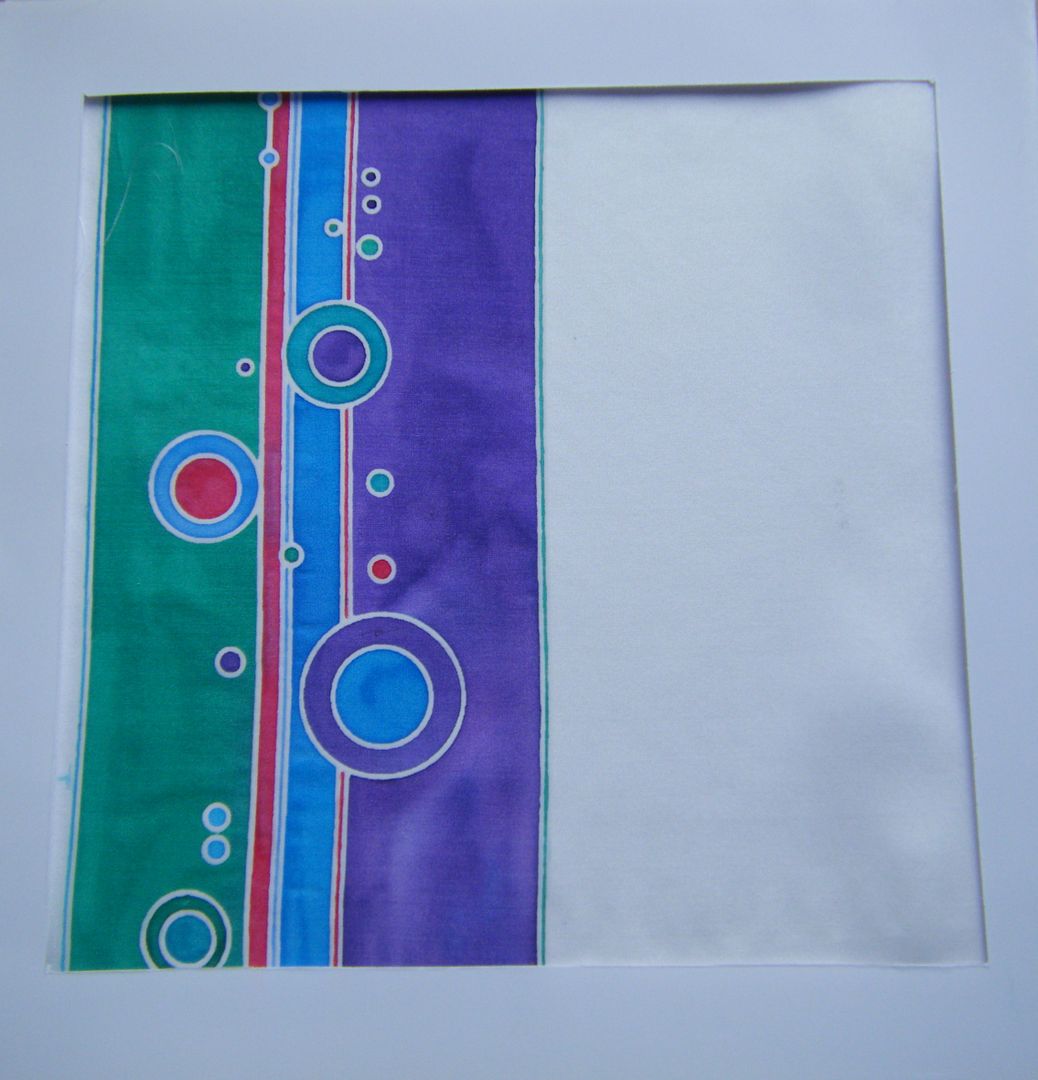 The gutta lines are easier to see in these two cards, they are the white areas. I chose my favourite pallet of Mackintosh-esque colours and I love the way they work together. These photos are close ups so where the paint looks mottled, that's just a trick of the camera.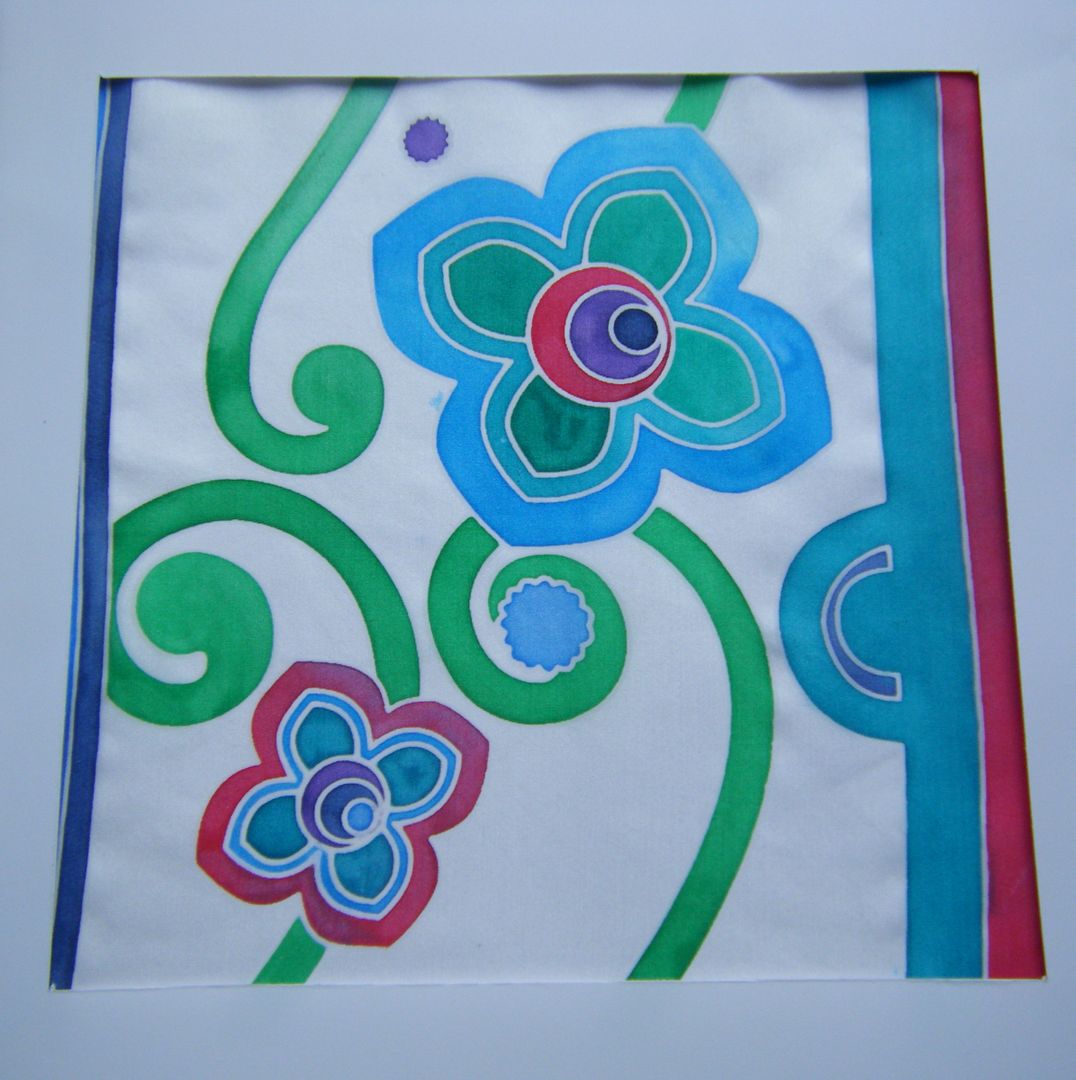 Although they were sold as cards, they are 20cm squared and so I think I'll frame them and hang them up somewhere in a little group. I'm that taken with them!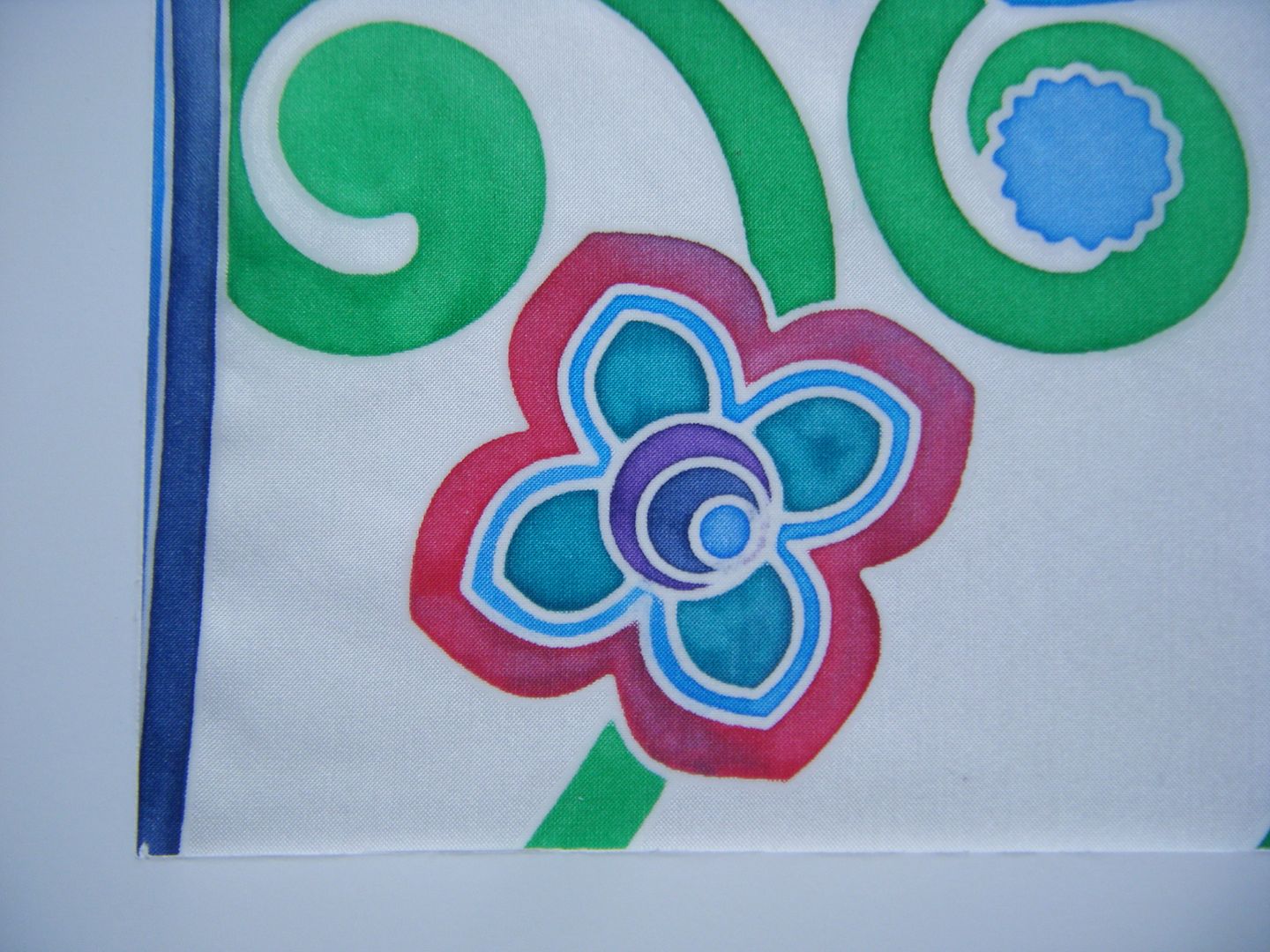 On Thursday we had a bit of time in our schedule so we went to another silk painting class. The rooms and the paints are available at any time, but the silk items are put away so you can only get them during a class. The way it works is that you only pay for materials, and they are quite cheap, so you could paint whatever you like and you just pay for the cost of the silk item, all the paints and equipment are free of charge. I'm sure if we'd asked we could have taken some items to paint from the cabinet too. Anyway, I chose a plain item this time. I chose invisible gutta again as I love the effect.
This is what it looks like. If you've ever done any glass painting, it looks just like Cerne Relief, though it is a little different. I chose a 20cm plain suncatcher and, based on a design on one of the examples, I drew in free hand flowers. I was very chuffed with them.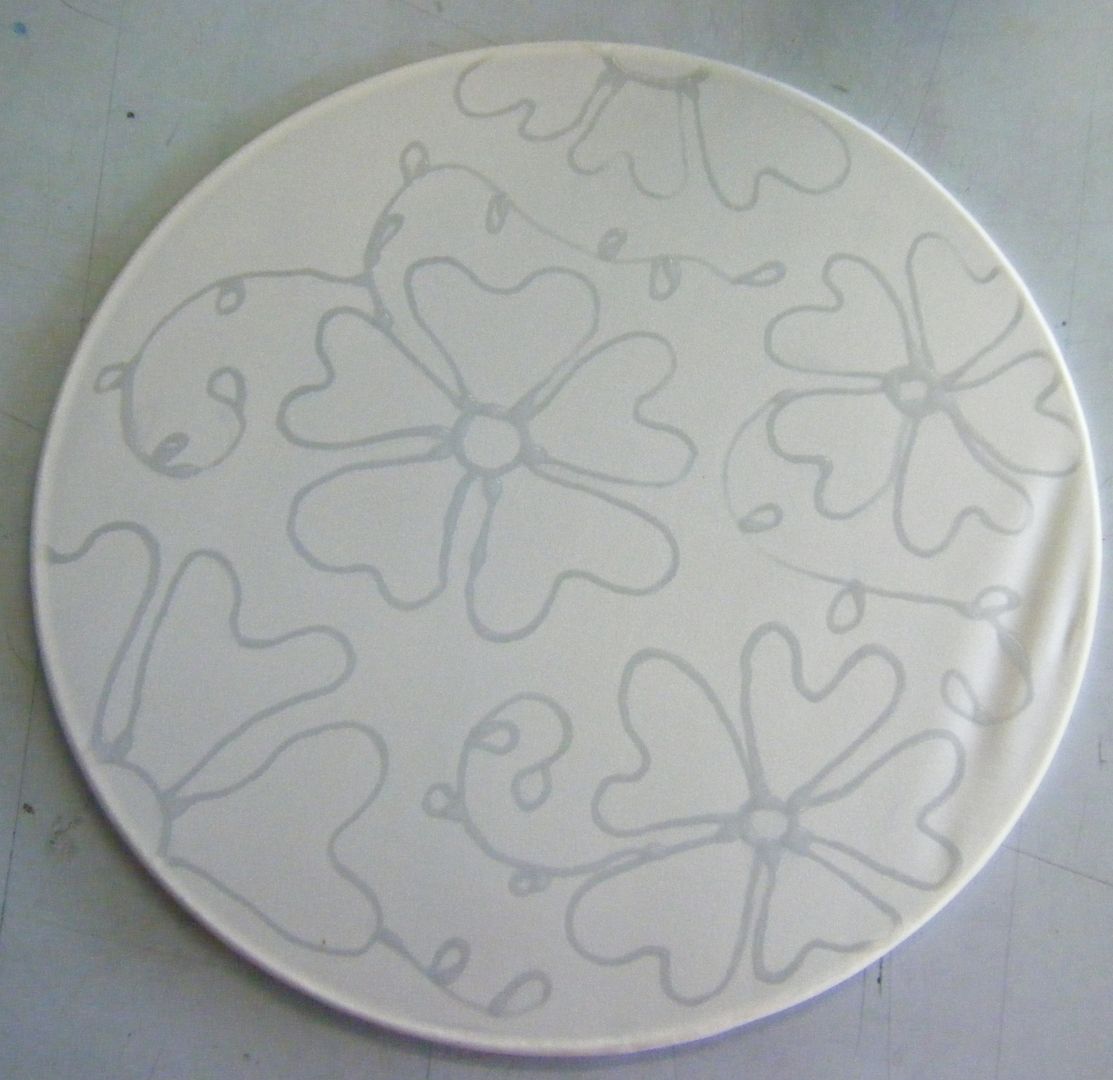 We went off at that point for a massage and came back later in the day after our last class to finish them off. I chose the same pallet as it really is my favourite, and if you see the glass painting post later in the week, you'll see I got hooked on this design and pallet!
I did two coats of the grey. It dries so very fast that by the time I got back to an area I'd already painted, the paint was bone dry and so a line formed. I thought this would be a problem, but actually, when held up to the light you can't see it and it looks good.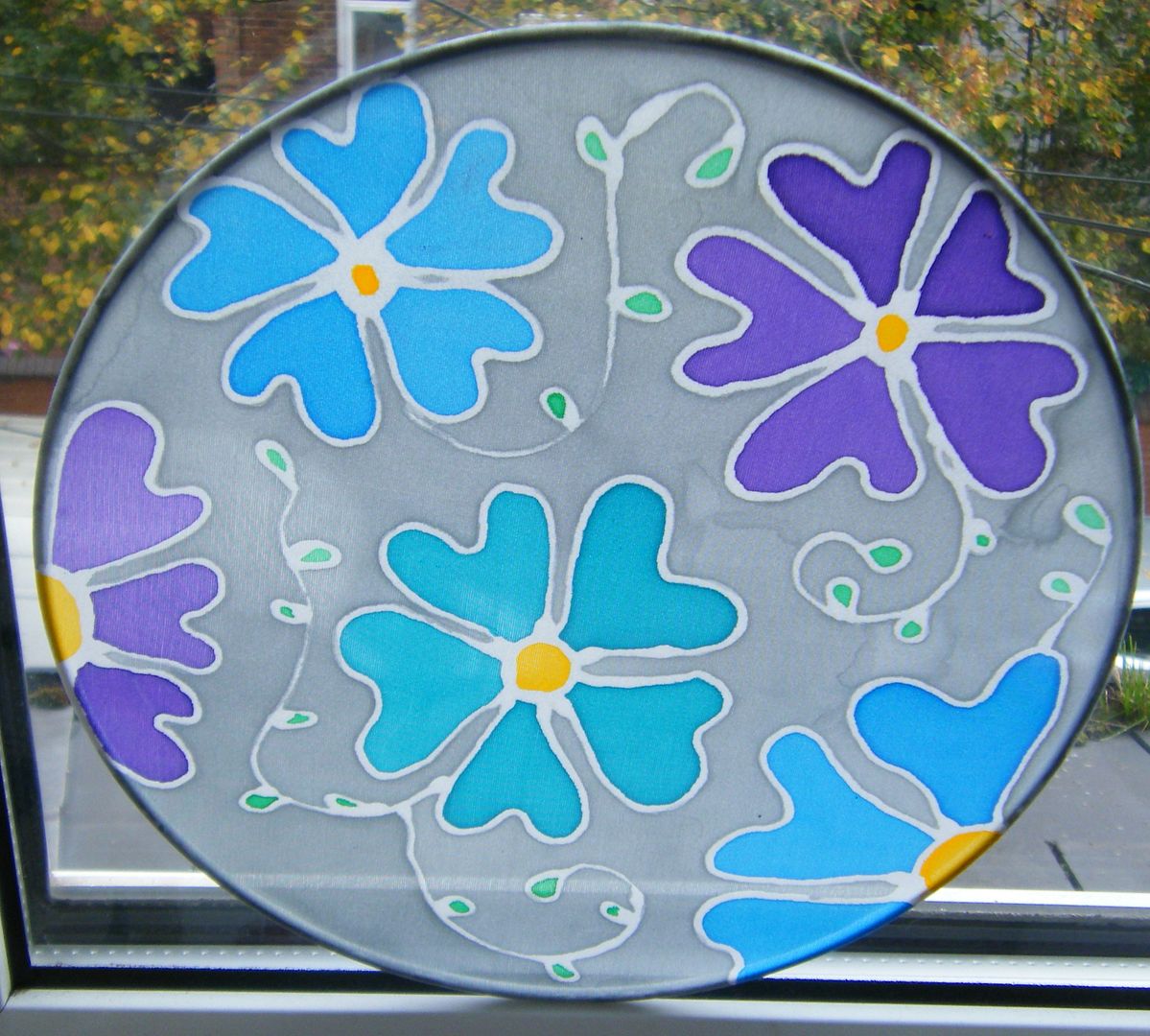 I really enjoyed silk painting, you will be seeing more of it on this blog!
The next class, and the subject of my next post is woodwork using a scroll saw.
Yep, another link for Something New for 2014