This story begins a long time ago and is a long time waiting to be told. When we bought our house in 2007 it had been a student house for 20 years and it showed. The plan was to do it up, which is taking a lot of time as we don't have the cash, time or inclination to spend every weekend plastering and sanding!
This is how our kitchen looked.
See the 80s kitchen cupboards? The big patch on the wall where the boiler used to be? The burnt oven which must have been 30 years old at least?
There was a nice bit to the kitchen, my white painted shelves with the bunting! The open door is the door to the dining room, the closed door is the door to the cellar, it was a real squeeze to get down there!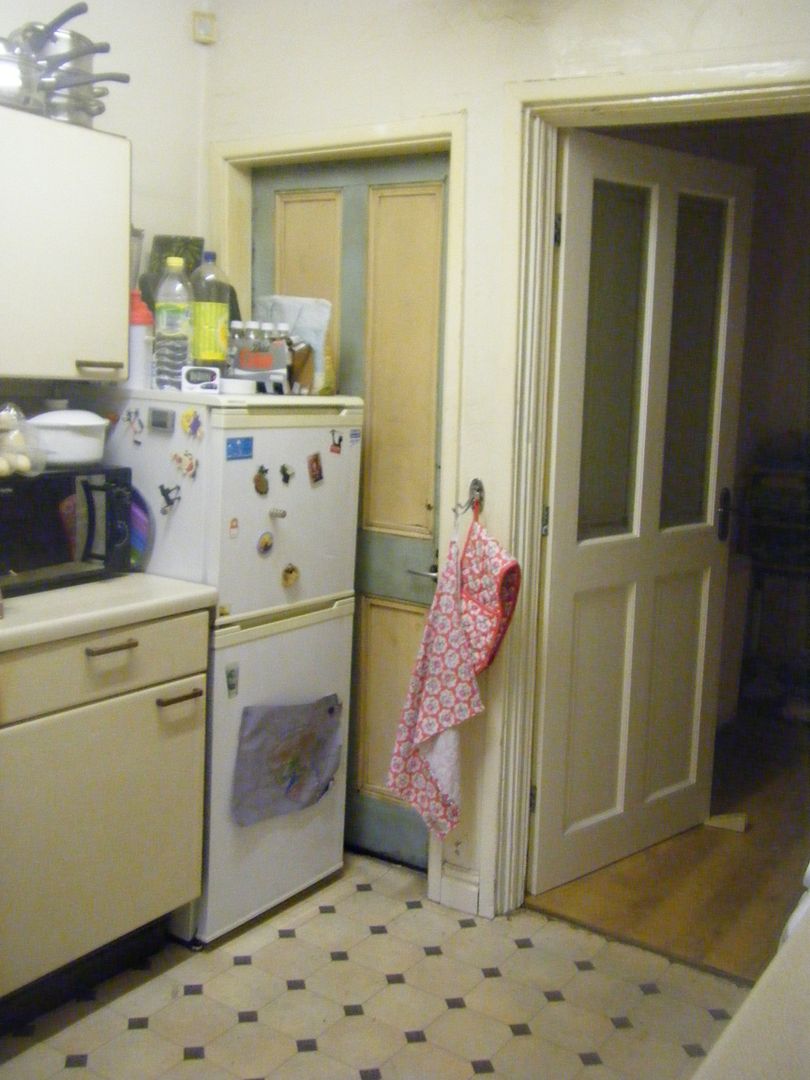 That's the back door with the lovely exposed pipes and the wide drawers which were too big to be organised.
Not forgetting the gorgeous lino, torn and stained all over.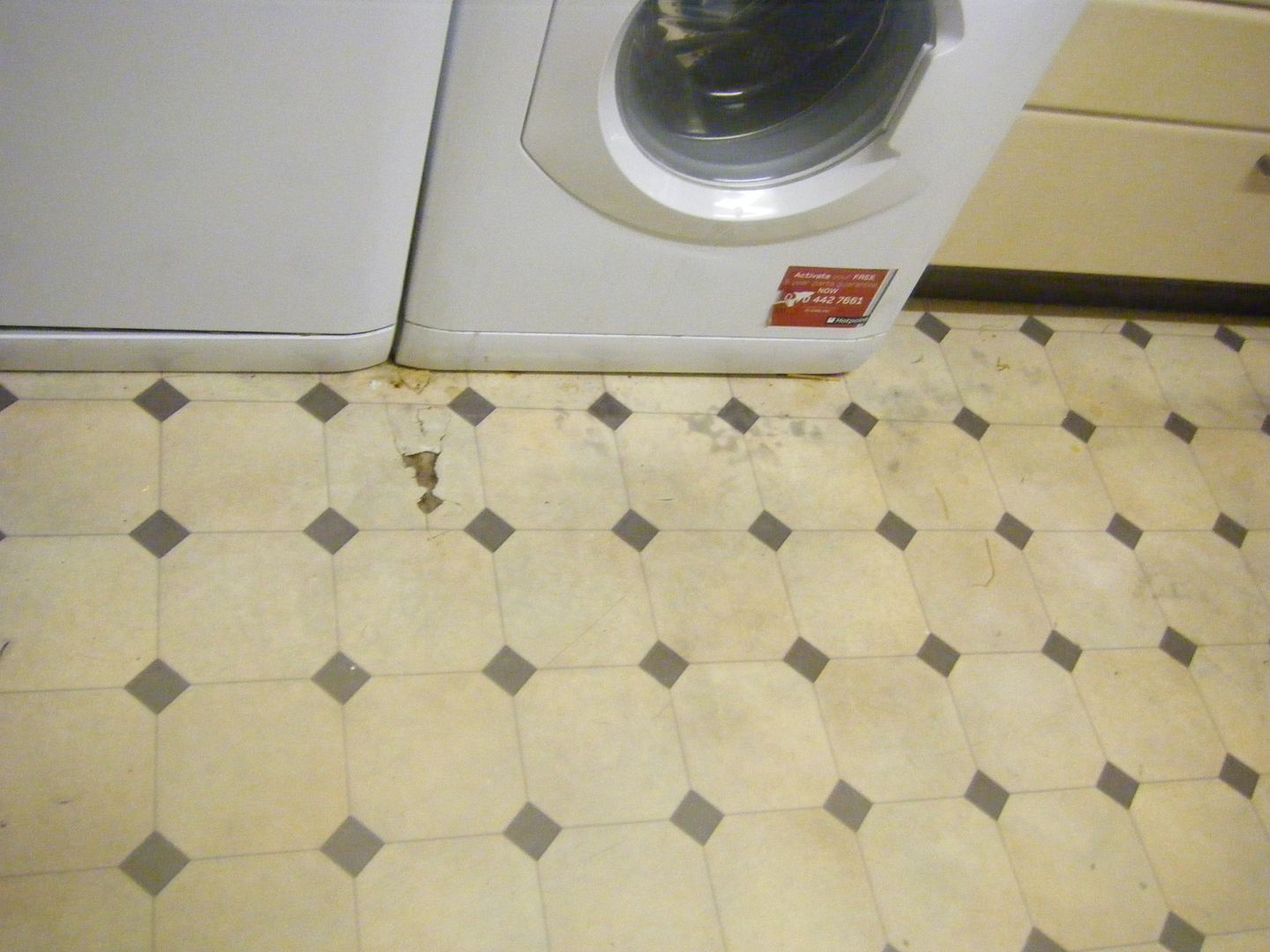 And then, in April 2013 it was time for a new kitchen. The dining room was full of the new cabinets, delivered and waiting to be fitted, so we moved our kitchen into the living room. This was day one when it all seemed like an adventure.
Slowly the kitchen started coming apart. Appliances removed.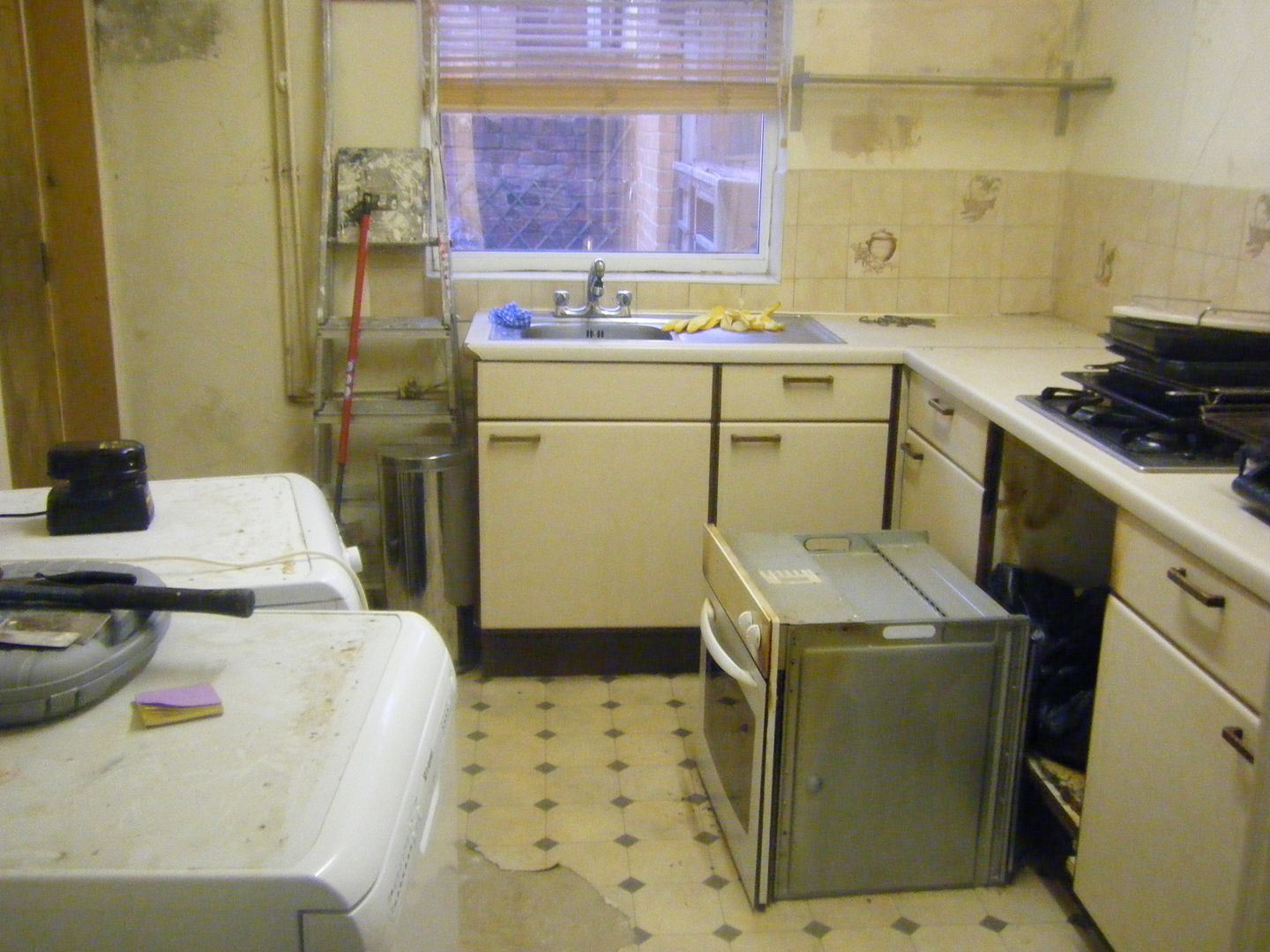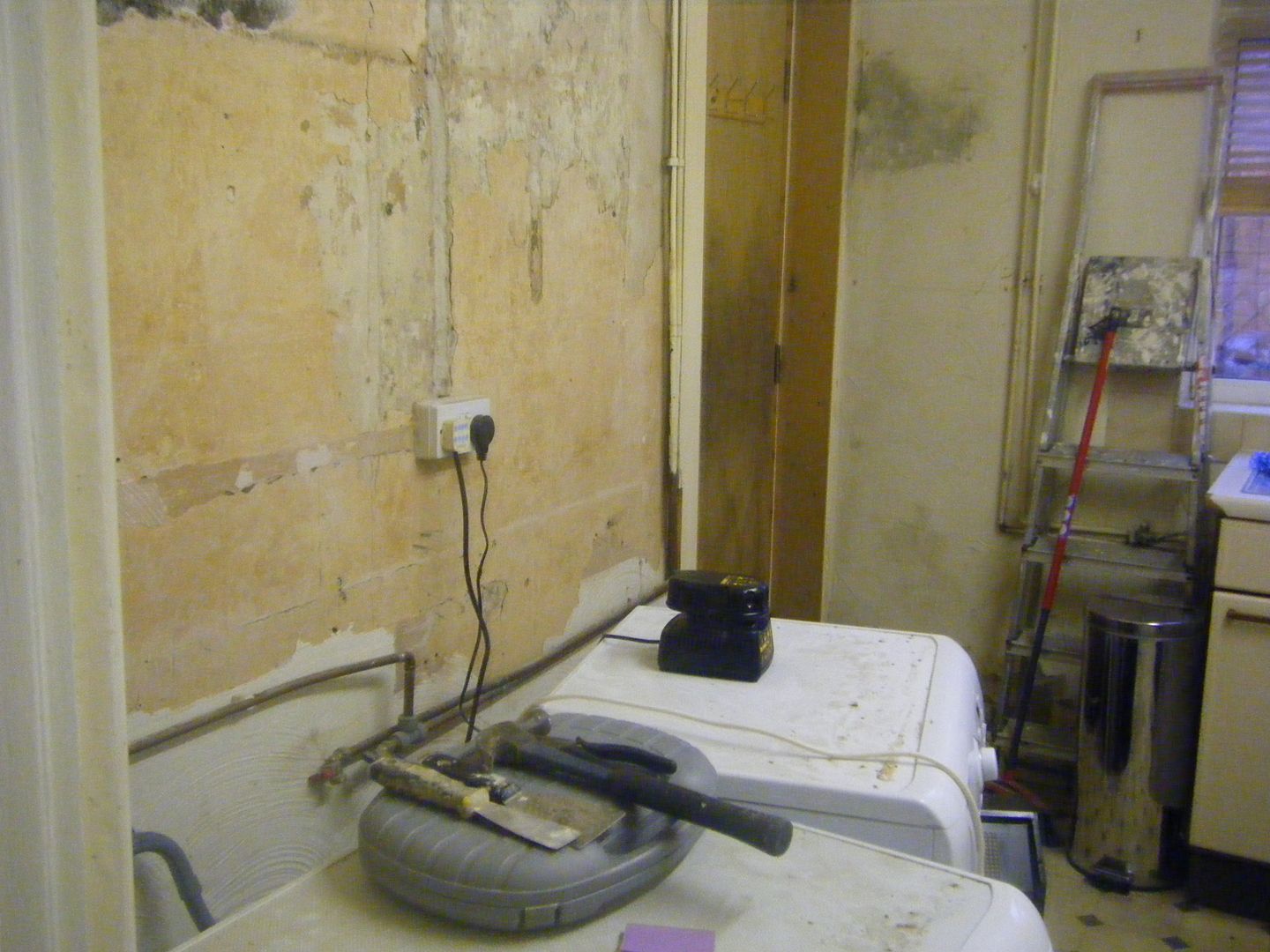 On day two all the units were removed and the kitchen in all its beauty was exposed.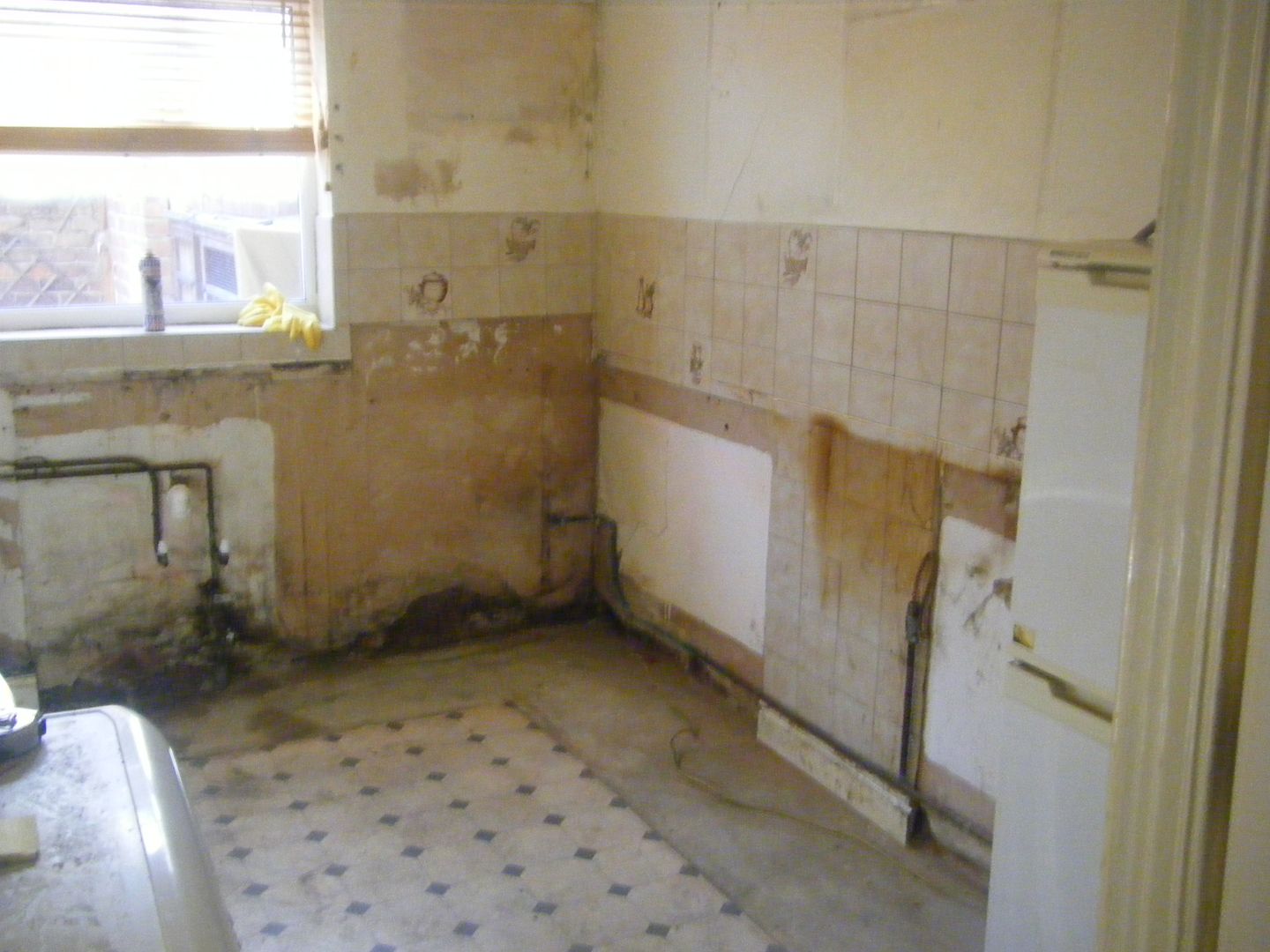 And that's when the discovery was made. The plaster wasn't coming away from the wall above the door, the wall of the house was falling down. Marvellous. What followed was months of hell arguing with the insurance company, who in the end refused to pay up, then full building works for 2 weeks whilst our house was put back together. The entire time we lived without a kitchen. I will never ever eat another ready meal. This was also the catalyst for my depression, so it sparked an extra year or so (please don't let it go on much longer) of hell. All because of this innocent looking patch of bricks.
November 2013 the new kitchen was finally fitted. So why am I showing you this over a year later? Because I'd been waiting for kitchen curtains! It turned out that they weren't going to sew themselves from the fabric I bought back in November 2013 and I had to do it.
We went with white units, black counter top, black floor, then injected colour with the multi-coloured tiles. That meant I could use any of the colours in the tiles (all colours except purple) for accents. I chose yellow for the curtains.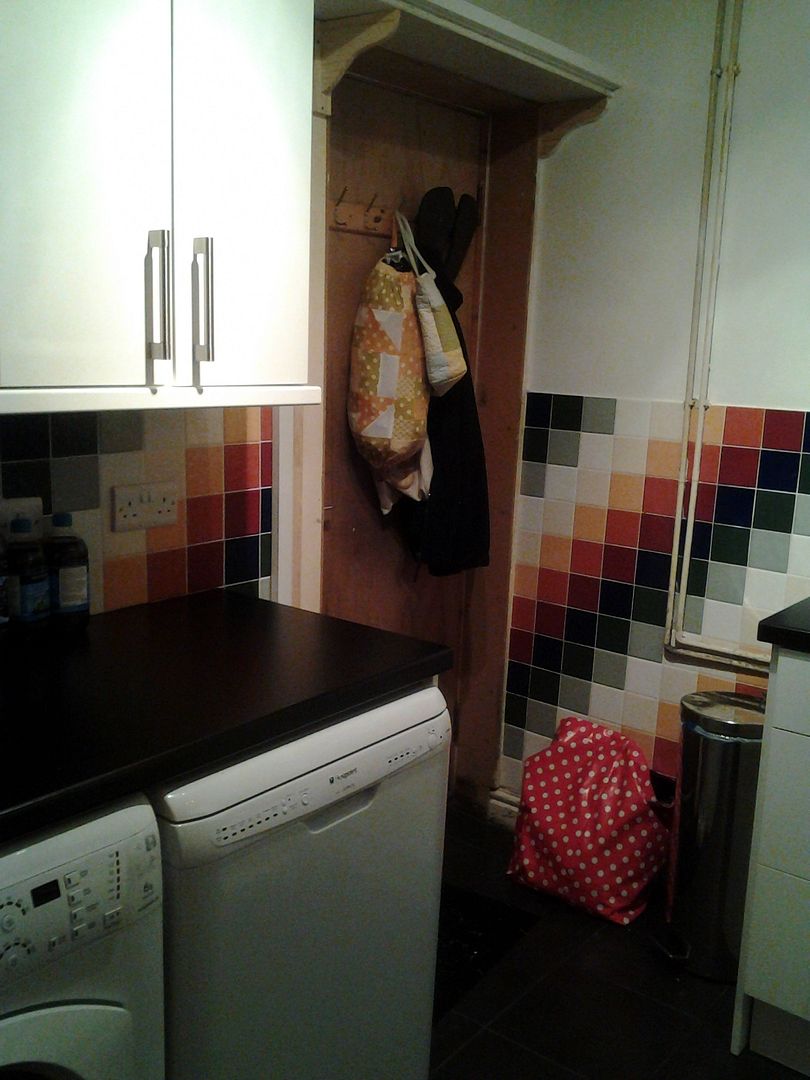 Unfortunately the exposed pipes remain, a year later I'm still waiting for them to be boxed in!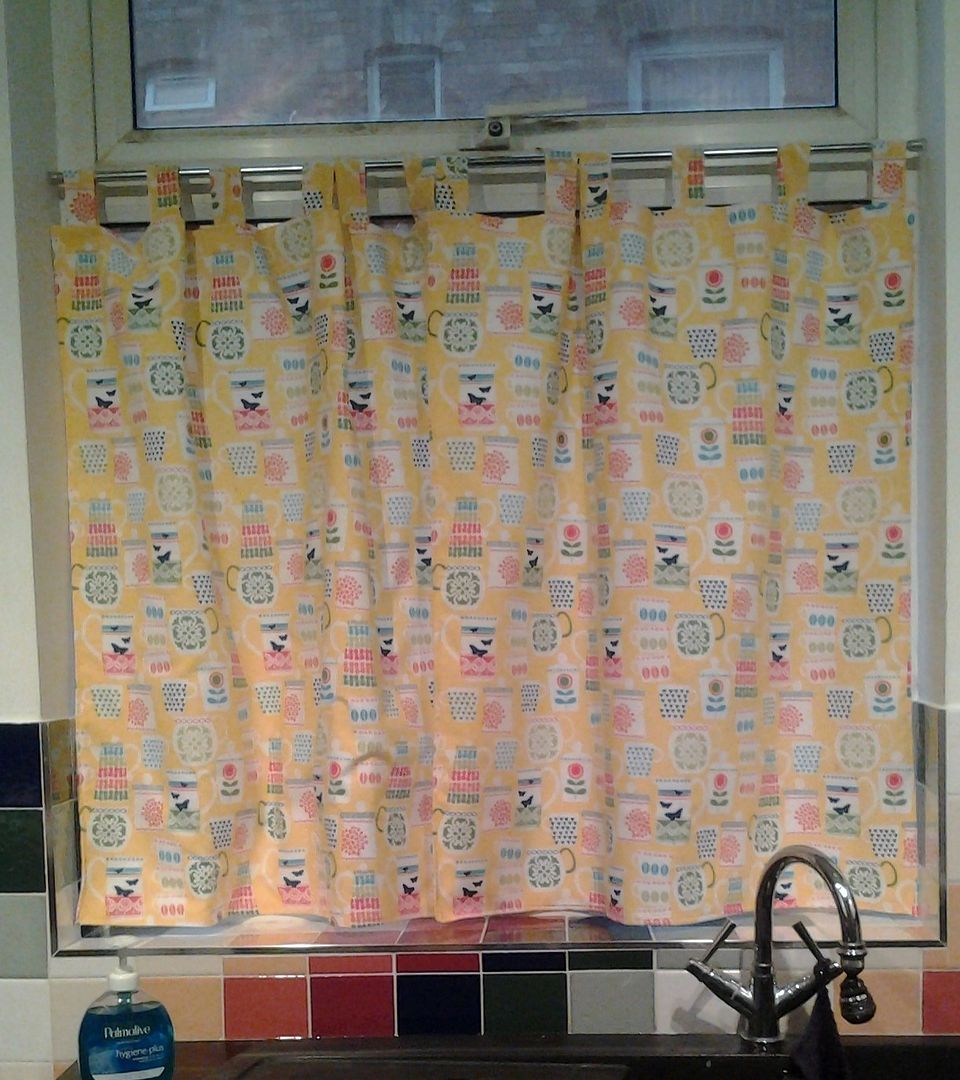 So ta-dah! These cafe-style curtains herald the end of the nightmare that was our house falling down. I love my new kitchen.