I joined in A Time To Stitch 5, so jumped at the chance to join the next round. The challenge was to create a piece of beadweaving following a chart. If you're not sure what a beadweaving chart looks like, take a look at my Pinterest board here. The charts on that board are for the peyote stitch and that's where I began, thinking it would be easy.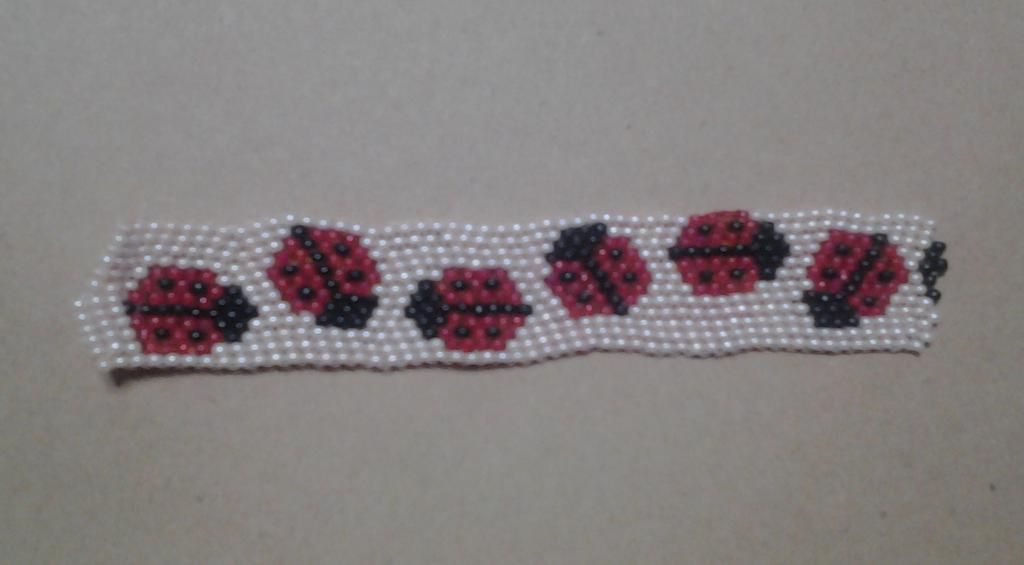 It wasn't. The up and down nature of the stitch meant that I struggled to follow the chart! You can find this particular free pattern here. I made quite a few mistakes which had to be ripped out and it took me forever! I stitched this using various size 11/0 seed beads. It is supposed to be a bookmark but it's too short, has one raggedy edge and my attempt at a point was a massive failure!
I have collected a lot of free charts for cross stitch over the years (check out my Pinterest boards) and had always wanted to try one in beads. I realised I'd have to learn how to do square stitch, but that was pretty easy. I chose a pattern and got working.
The free chart is from Matryoshka Biscornue, though I can't find the actual chart now. It's a great blog though, full of free small cross stitch charts. It turned out a lot taller and thinner than I was expecting, but I suppose that makes sense. It's stitched using size 11/0 seed beads and the slight waviness at the edges is due to using 2 different brands of seed bead. The white beads are Miyukis which are very regular in size and shape. The blue were a cheaper brand and lots of different sizes and shapes.
My apologies for the dreadful photos. I'm at the East Midlands Quilting Group of Moderners today and I only realised I hadn't taken photos on Friday morning which meant a quick photo shoot with my tablet and daylight lamp on an envelope before work, rather than with the camera in my lightbox in daylight! What's that, you see no difference from my usual crappy photos? Yeah, OK!
I really enjoyed this challenge. I found out that following a Peyote chart is quite tricky but that you can use any of the millions of cross stitch charts out there to square stitch a piece. I probably should have tried brick stitch. It's like peyote stitch, but on its side, so I could have followed the chart a lot more easily.
If you'd like to see what the other participants in this challenge got up to, you can find them below.