A year or more ago I signed up to a newsletter from a local polymer clay group, but never found the courage to go along and join a session. Then a couple of months ago the newsletter stated that there would be a workshop with Cara Jane for a bargain price. When she was still blogging, I always read her blog and think she's a real master at polymer clay, so I got mum to agree to come along too!
The class was in polymer clay faux marquetry. You can see Cara Jane's pieces here.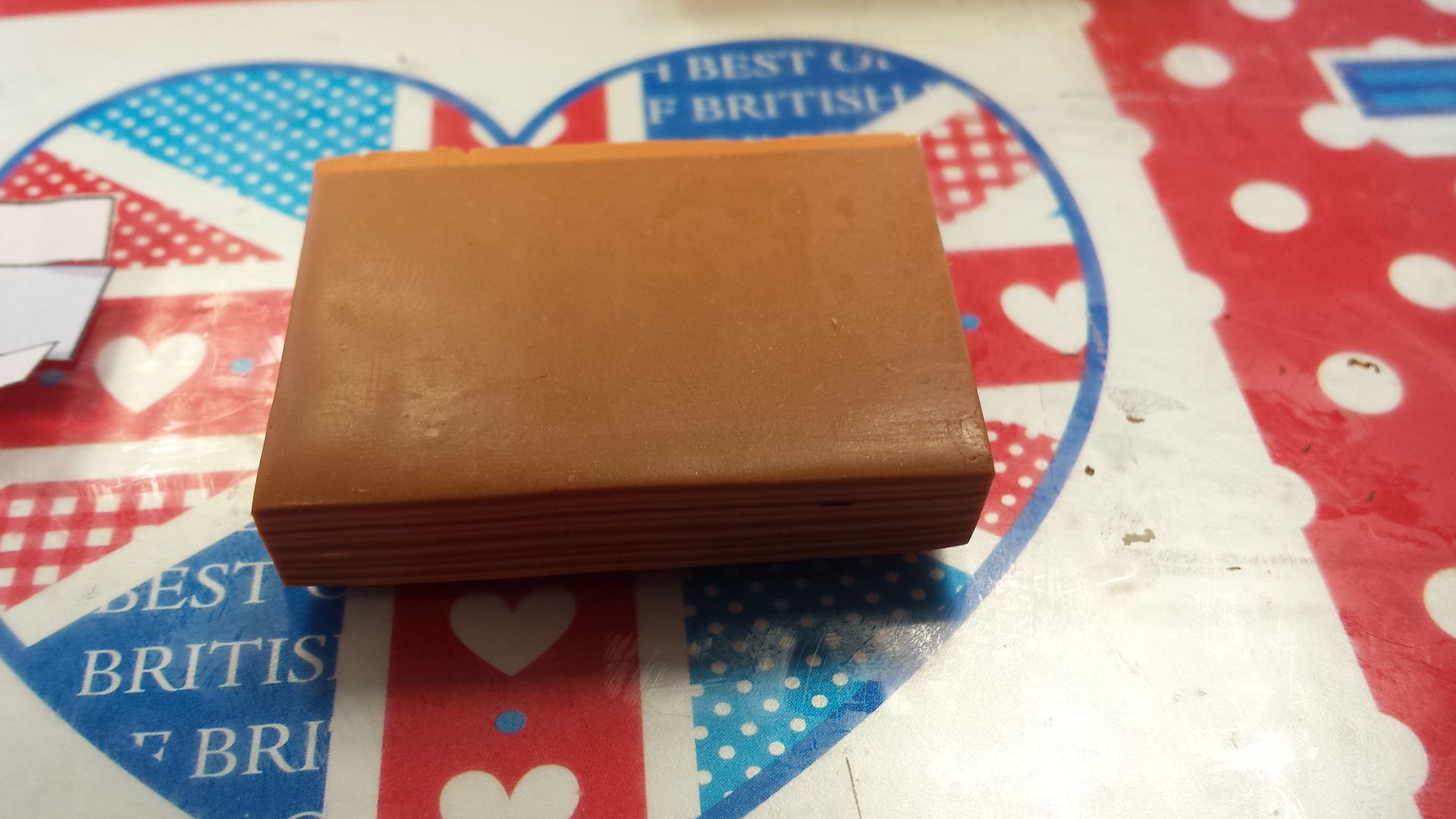 We had 9 different colours to mix. Maple, Oak and Mahogany, each coming in light, medium and dark. We were using Kato Clay which I've never used before and it took some working to mix the colours! We were split into groups of three, so only had to do three colours each, sharing the blends that we made. We then layered then up within the three groups to make a striped block, as above.
Apologies for the background of the photos, we had to take along a glass board to work on and I use this old kitchen chopping board which is pretty garish! We cut our slabs into this shape so that they could be put together to make...
These two canes. The placement is different in each one. We then got to work compressing and stretching the canes to make longer, thinner canes.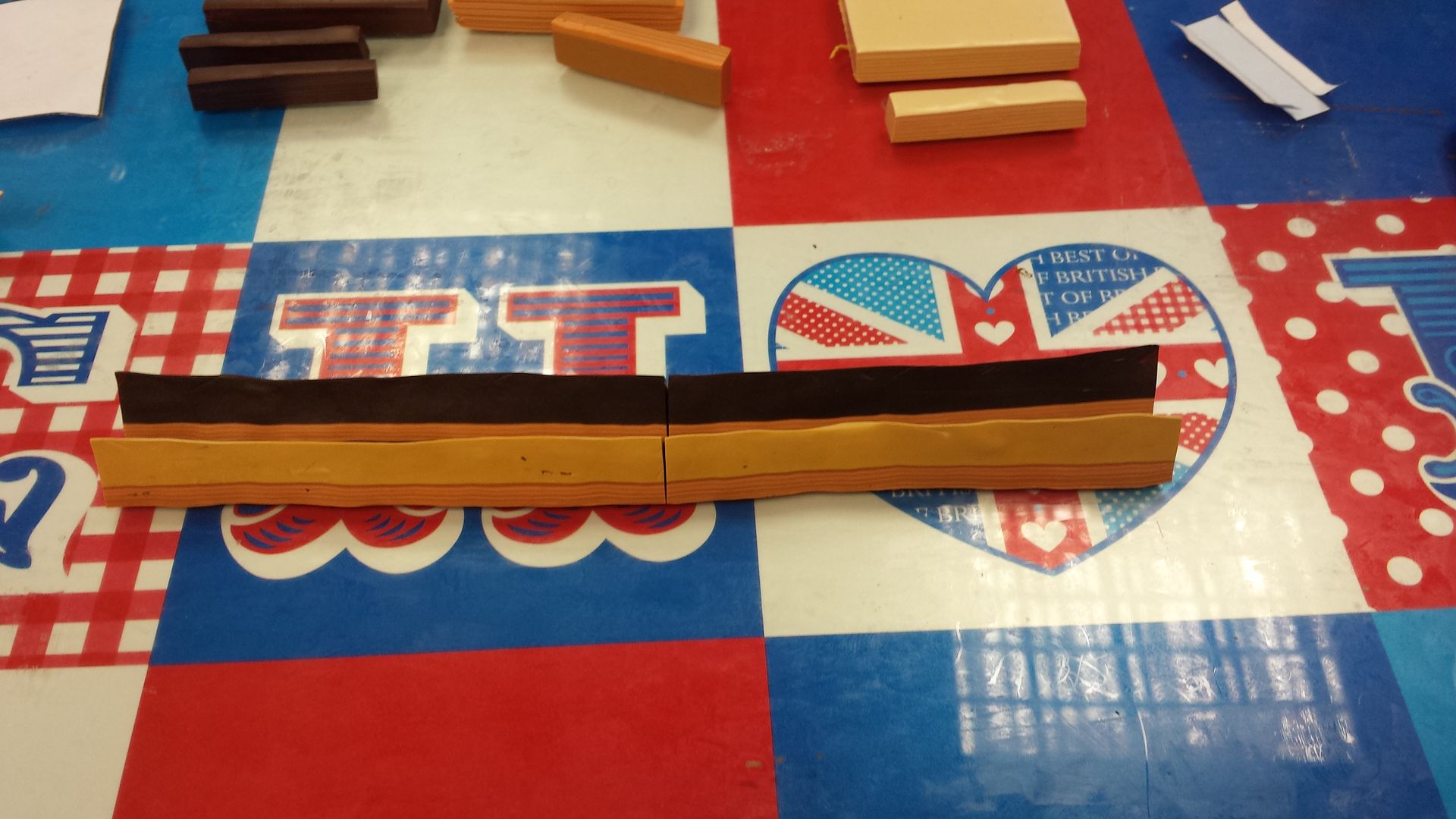 That was quite some reduction!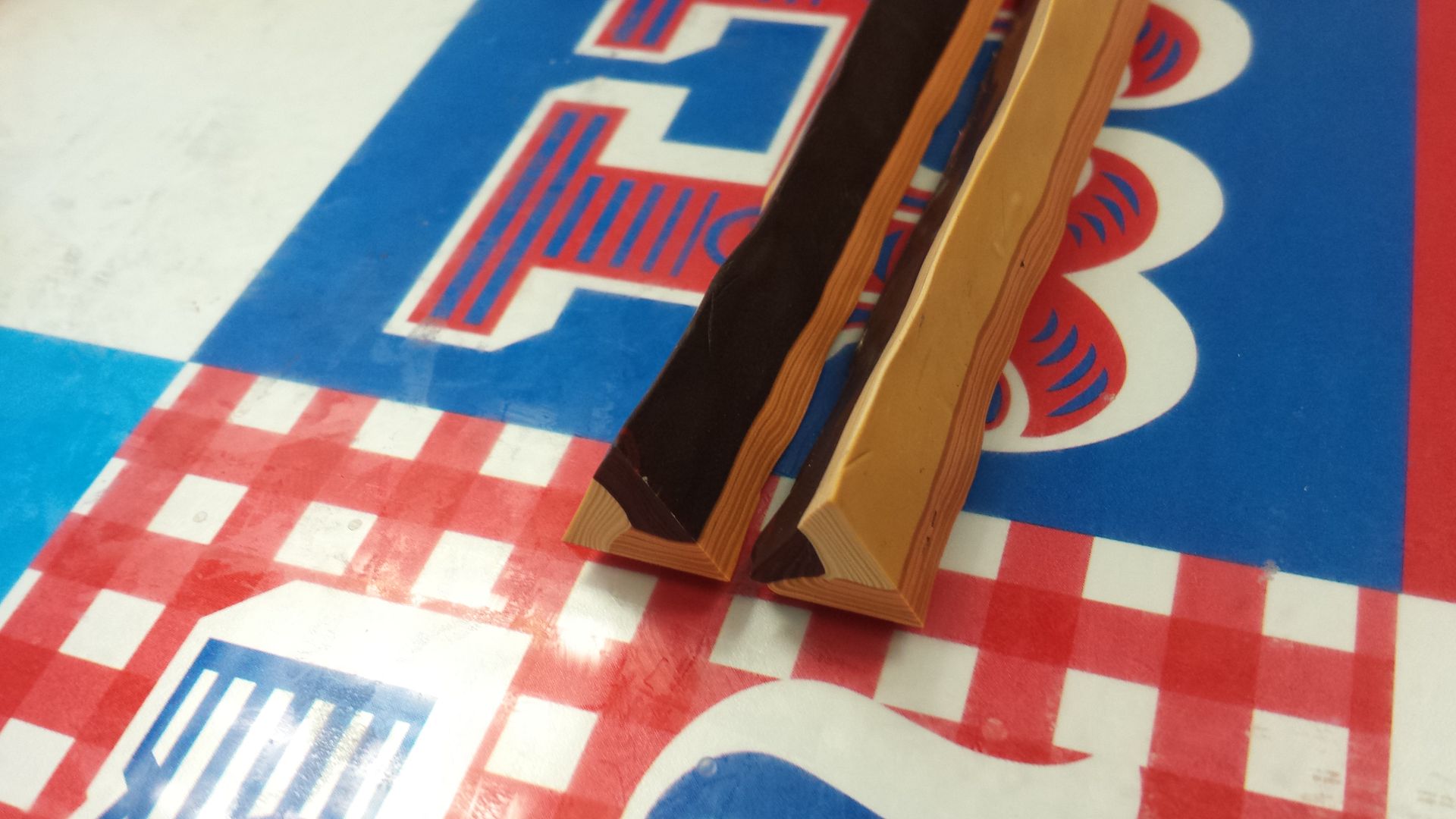 The idea is to cut thin slices of the cane and lay them out to make faux marquetry patterns. Alas, I didn't have time to do it in the session as we moved on to a different technique and to be honest, I'd completely forgotten about it until I saw these photos and started to write this post! I will add it to my UFO list (seriously contemplating making one...) and try to feature it in a "finishing up" post soon!
The photo above shows very thin slices of the oak and mahogany, laid together and then ran through the pasta machine to make these pieces which look like wood grain. This was the second technique we explored. We were to make a covered box, or maybe some pendants.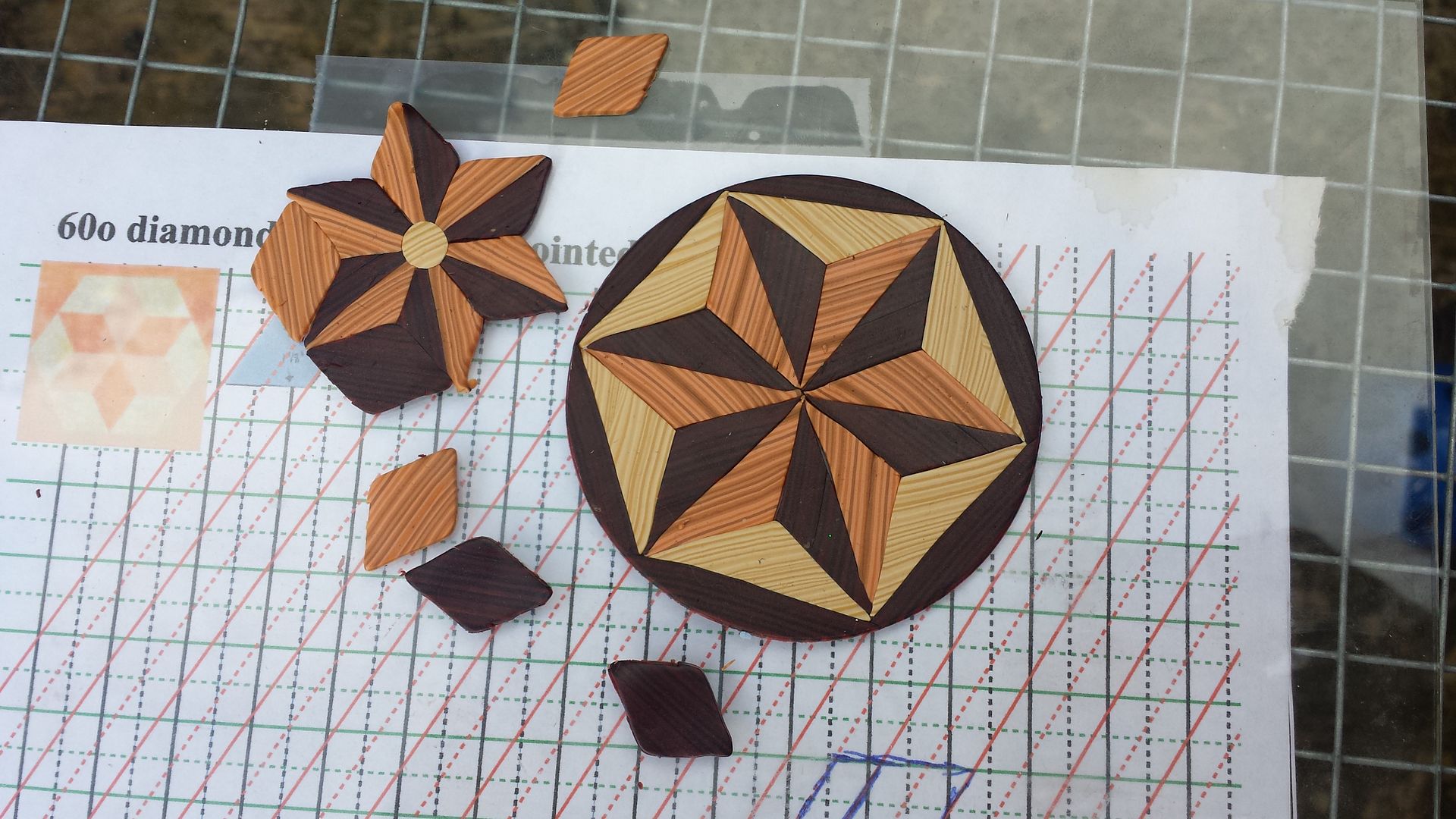 I failed to finish anything at all and it still looks just like this! I made the round motif for the box top, The smaller motif on the left was my first attempt, using a diamond cutter I had. I soon realised that the pieces didn't fit together nicely though as the corners were curved. That's when I started using the template you can see in the background to cut diamonds. Again, this is not finished!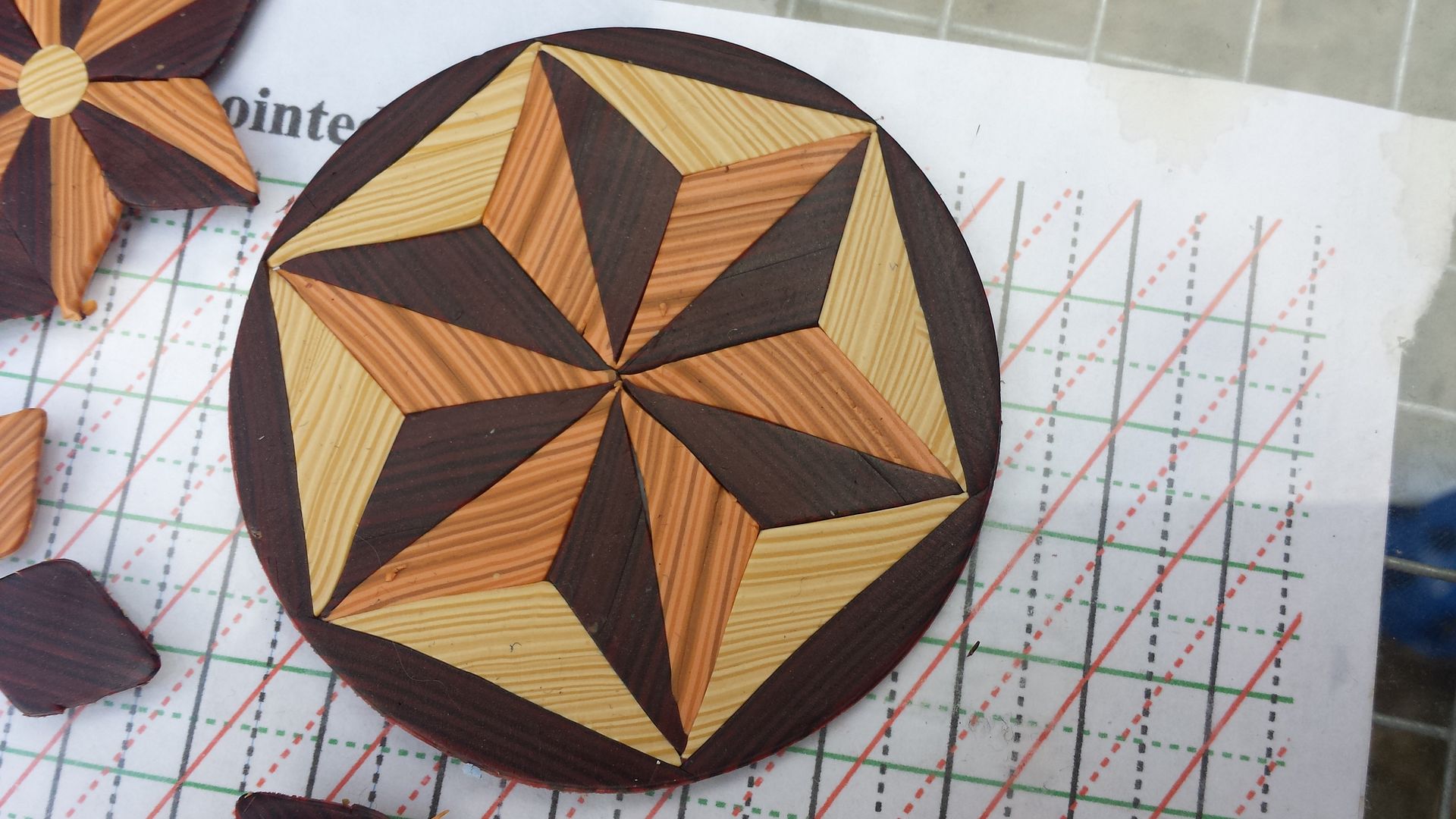 I either need to get on with this, or go to a clay day at the local group and get it finished! Regardless of what I came away with, I had a fantastic time and was amazed at what could be achieved with a bit of polymer clay. The group are really friendly and lovely and I'm sure I'll go back soon.