A couple of weeks ago I spent a Saturday at a workshop by the Living Threads Group. It was a little sad as, of course, mum was supposed to be there with me. The class was Sashiko with a difference -

Hitomezashi.
Hitomezashi is similar to Sashiko, however where Sashiko is done by scooping several stitches onto a needle, Hitomezashi has each stitch stab-stitched individually.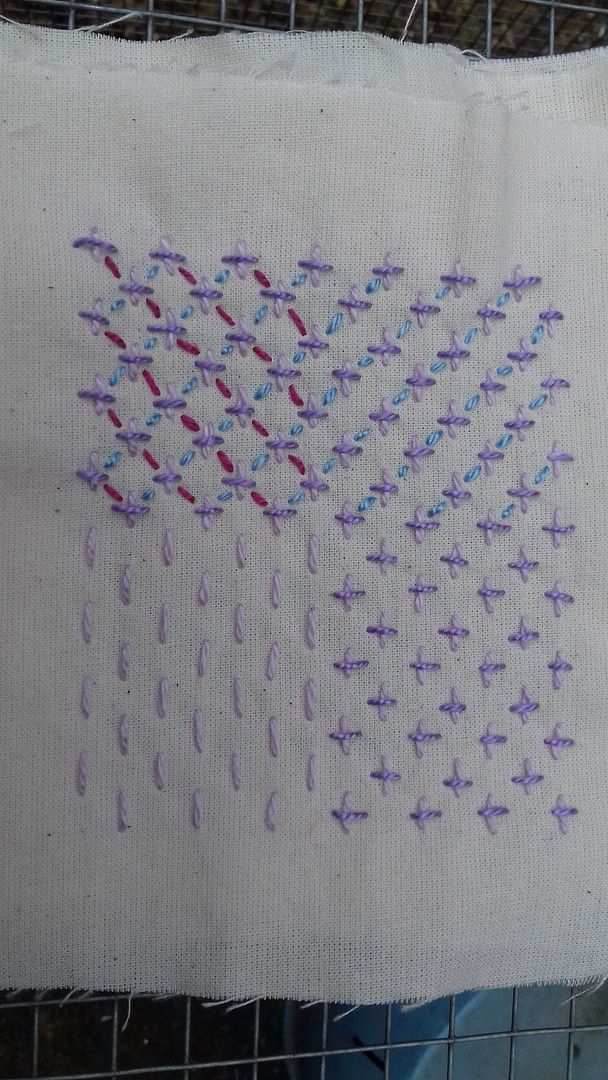 Using some squares of calico that I found amongst mum's stash and perle 5 cotton, I ironed a square of interfacing on the back (sorry, didn't think to take a photo). To do this method, you usually need to mark out a grid on the rear, however the tutor,

Gilli Theoritoff,

had some smocking dots available for purchase. These were great. You just iron them on the back and the dots are there ready for stitching.
The first example, above, shows 4 different patterns, each building on the last. Starting with the simple running stitch, then forming them into crosses, then adding stitches diagonally. I chose to use coloured threads rather than sticking to the standard blue/white combo.
I had a go at two different patterns above, one with single diagonal lines, the second with double lines. I really like this pattern. It's such a meditative embroidery method and the samples worked up pretty quickly.
The pattern above involves whipping some of the stitches. The tutor had loads of examples and also had a copy of The Sashiko Sourcebook which has more examples.
I'm not sure what I'll do with these samples, though I think I have one more square prepared with the smocking dots. I may make them into pouches. As always with Living Threads workshops, the workshop was well taught and good fun. I'll have to look out for more now I don't have mum on workshop-watch any more.
(here is a tutorial by Sake Puppets if you're interested in this stitching method)