Ooops! It seems I completely forgot to blog! I have been really busy recently, a day embroidery class, 3 days at the Bag Retreat with Mrs H, then a week in Devon with my family saying goodbye to mum. It hasn't left much time for making, blogging or reading blogs. I'm behind by 10 days on my reader and I have scores of unanswered emails in my inbox... I hope you'll all let me off this time!
I've mentioned before that a friend of mine has started a Christmas Craft Club, well we had another meeting earlier in the month and made candle jars.
We used sticky-backed plastic to mask of the areas we wanted to keep clear and then painted the jars. I decorated the top of this one with some jingle bells on wire, and a bit of lace that I threaded ribbon through.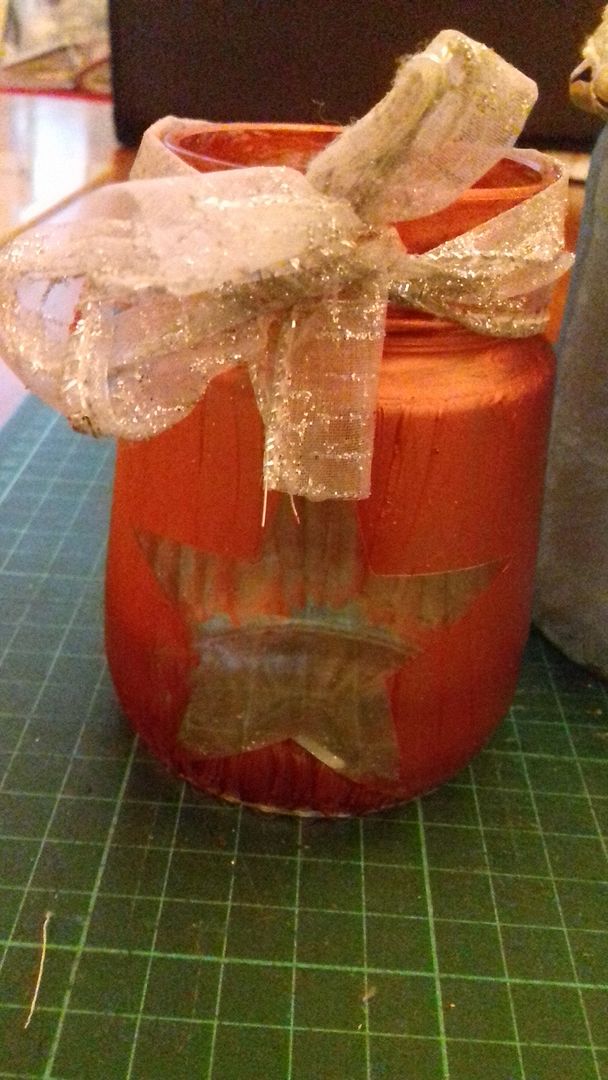 I love the colour of this one, it just has a simple ribbon topper. They are for using with little tea lights, no idea if the ribbon is dangerous!
It was really hard to get the paint on evenly - we used acrylic paint which probably isn't the best kind of paint for the job, some of it is scratched off already! I tried a two-tone effect on the blue one - probably not that successfully!
I'll be back on Sunday with a SAL update - if I get a chance to stitch!!