Good morning/evening/afternoon ladies. Now, I don't have any children of my own (other than my bunny babies of course) and judging by my friend's children, I don't think I want any. That did not come out right! They're lovely and gorgeous and I love them to bits, but it's so much commitment! And the bits where they're crying/mardying/stropping... I don't think I could cope.
They are, however, a bloody good excuse to sew. So I did. I've been seeing taggie blankets all over the place, including over at Sandra Sews. I wanted to make one. Usually what happens is I spot something I like, I decide I'll make it, 3 months later I remember I wanted to make it! This time, I decided I wanted to make a taggy blanket and I did!
I know that taggy blankets are all about texture so on the front I used a square of cotton, 2 squares of homespun which both feel different and a square of denim from an old pair of jeans. I pulled together loads of different types of ribbon and threaded a jingle-bell on one. Sandra has since informed me that a REALLY STUPID IDEA as this is going to a baby. Ooops. I gave it to the mother anyway but asked her to cut it off!! I backed this pieced front with wadding and a piece of white cotton and tried out some quilting. Oh yes, the Crafter's Apprentice does quilting... after a fashion!
First it was on with the walking foot to do the trusty spiral quilting that I did on a gazillion coasters recently, then some back and forth lines. Then I changed to my free motion foot and did the meandering - if that's what the loopy thing is, then a random pattern of loops and waves. I love quilting!!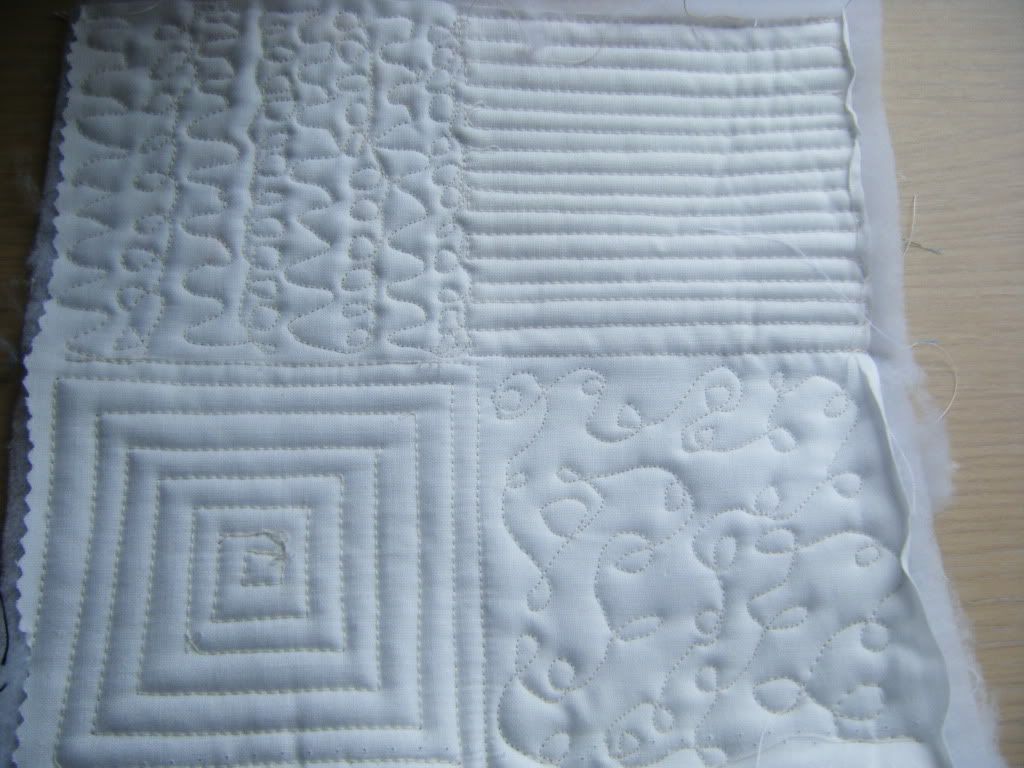 The back of the taggy is this cute cotton fabric. No idea who it's by. I was in the Husqvarna shop buying Tilda for my giveaway when I spotted it and so had to have a fat quarter. The bolts were there also but there was no label on them.
I have given this as a present to my colleague/friend's 12 week only baby. He reached out to touch it but he doesn't have control of his hands yet. I'm hoping it'll be suitable for him in a few weeks.
I didn't want to leave out my other colleague/friend's son. He's 2, nearly 3 and adorable. He loves to play cars up and down the living room carpet so he had to have a playmat. I showed you a glimpse of this in a WIP post.
And I quilted it! I quilted along the edges of the roads. I used the walking foot so there was a lot of turning involved. I skipped over the buildings and cars, but sewed right over the trees and road signs or I'd still be quilting it now!
I think you can just make the quilting out if you concentrate on the tops of the trees first. I really buggered a seam up though and then made it worse with quilting. Ah well, I doubt this little fella will notice or care.
I learnt a lot quilting this. Firstly basting or pinning would have been a really good idea... the wadding slipped about so much that it's bunched up in places. I also got a really good feel for stitching through the sandwich and how sparse quilting like this doesn't quite give the effect I would have liked.
Here's a picture of the back so you can see the quilting. The back is a black IKEA sheet, though it looks grey here.
And here it is all rolled up ready to go.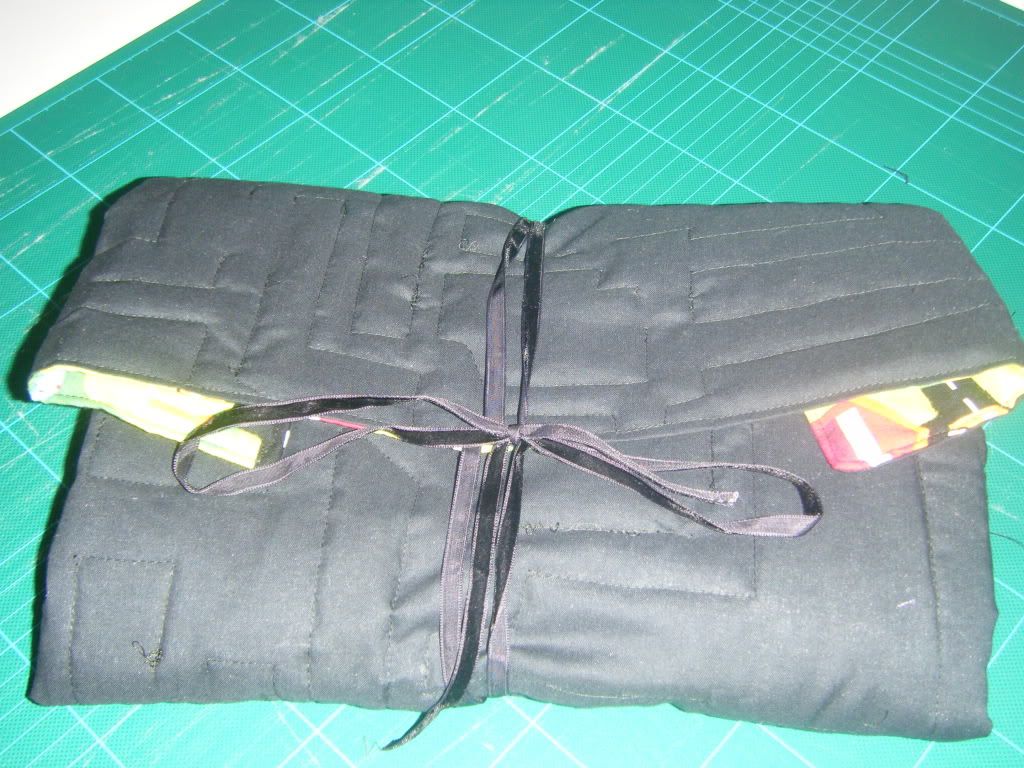 I REALLY enjoyed quilting this even though it's a bit of a mess. There's definitely a quilt in my near future though I don't know how I'll fit one through the throat of my machine and I don't have any use for cot quilts or lap quilts...