Morning people. I'm feeling a little better this morning and I've decided I'm going to "fake it til I feel it"! First of all, a massive thank you for the wonderful comments on my post yesterday. It's great to know that so many people care and I appreciate each and every one of you. I will be emailing you back, but maybe not til later as I get a bit emotional and I don't want to cry at work (again!).
So, let's get to some sewing! This isn't from the weekend, it's from during my two weeks off from work. I've been eyeing up pencil rolls across the internet and knew I wanted to make one for my goddaughter. I discovered a fab pencil roll in Last Minute Patchwork and Quilted Gifts (so this is one for my Craft Book Challenge) and thought, "hmmm, what could be more stressful than making a pencil roll which involves tiny piecing? I know! Making four!". So four it was, one for my goddaughter, one for my friend's son and one each for my cousin's two boys.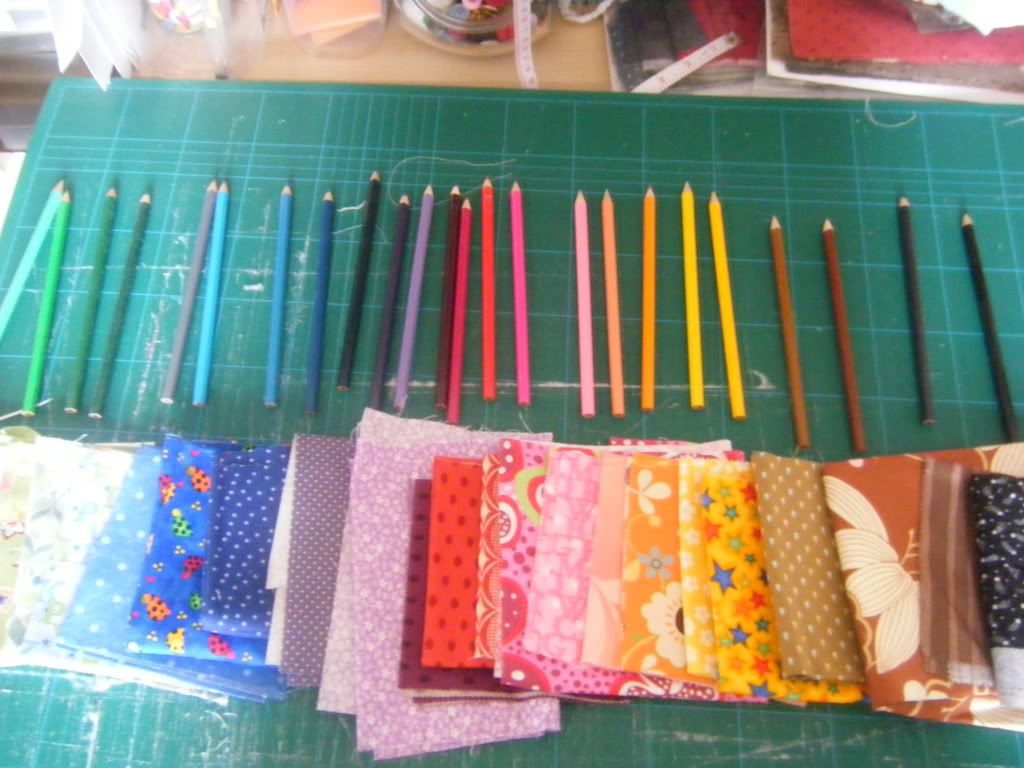 I found some bargain packs of coloured pencils in The Range, 30 for £1. The patterns called for 24 pencils, so I culled some of the shades, then dug through my scraps to find appropriate coloured strips. The strips were supposed to be 11" long, but the majority of my "scraps" are from layer cakes, so I went for 10" scraps. The pencils in the picture in the book sat in the pockets with quite a bit of room above them and I didn't think that was necessary.
4 sets of 24 1 and a half inch strips all sewn up. I don't want to tell you how long this took, you'd be ashamed of me! It was all sewn whilst watching Bargain Hunt, Cash in the Attic and Location, Location, Location! Classic daytime fodder. Oh, and a bit of Jeremy Kyle too, my secret day-off-work-guilty-pleasure. For you non-Brits/non-day-time TV watchers - Bargain Hunt and Cash in the Attic are both programmes about antiques and selling them at auction. I have no interest in antiques, but it's compelling viewing. Location, Location, Location is about buying houses, though they are all about 6 years old. Jeremy Kyle is the Brit version of Jerry Springer, and much, much tamer.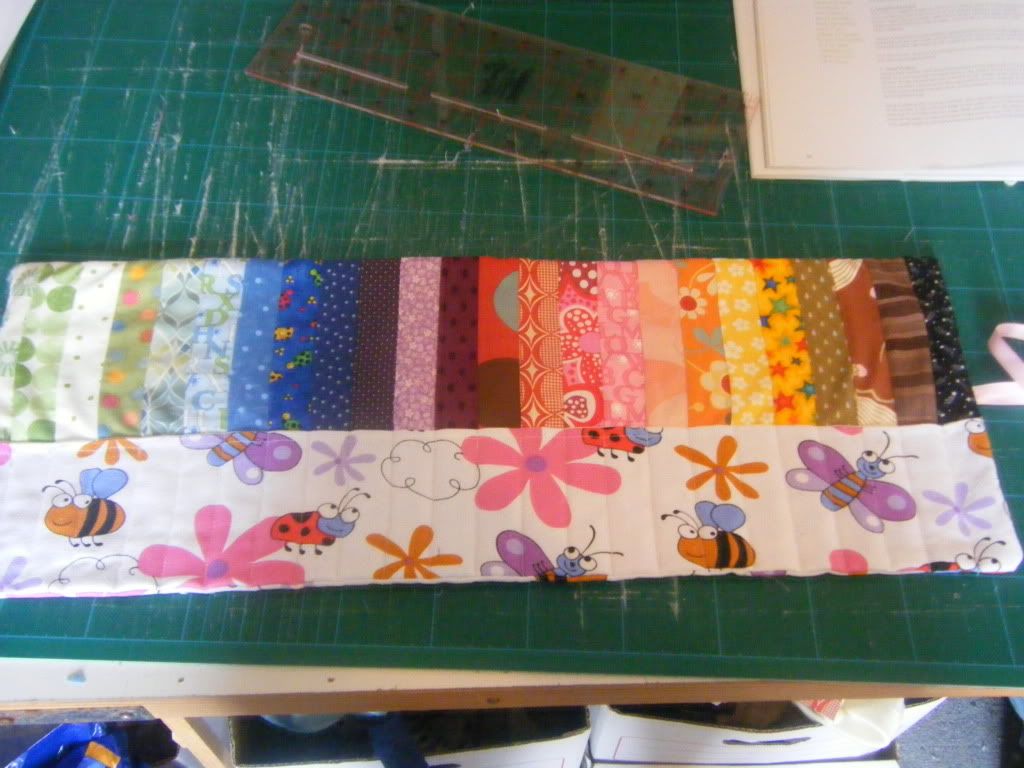 Rebecca's was finished first. This is a piece of canvas fabric given to me by my lovely mum.
Here's a close up of one end so you can see the patchwork. I couldn't match the pencils exactly, but I thought they were near enough.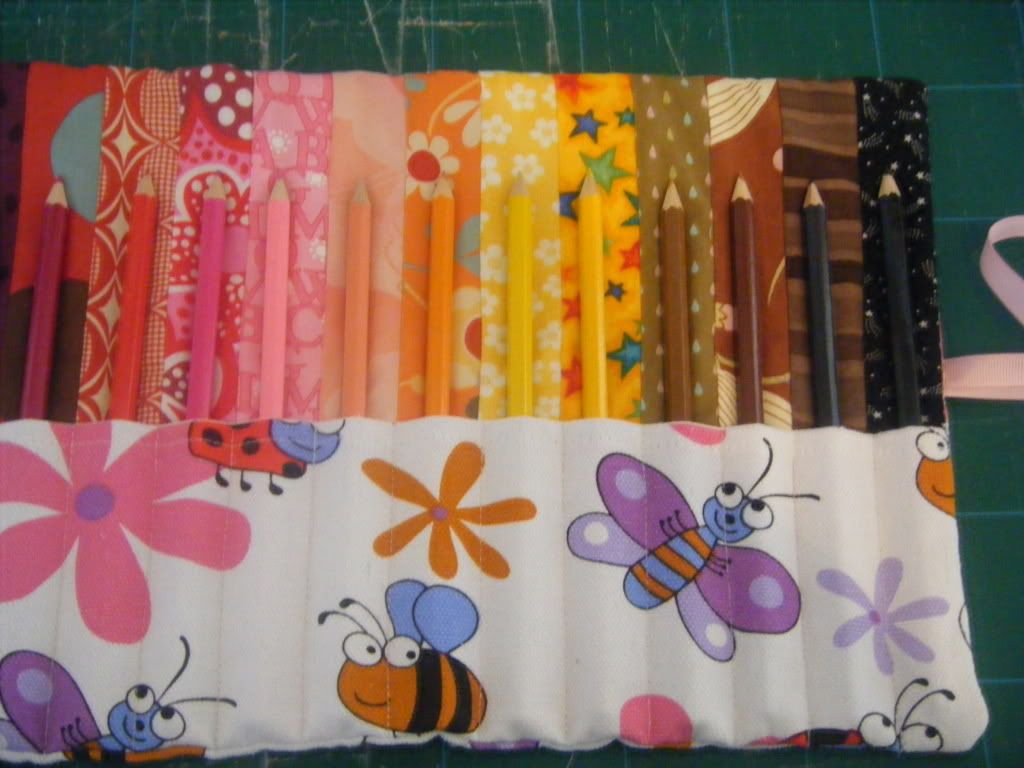 And the other end with the ribbon type peeking out.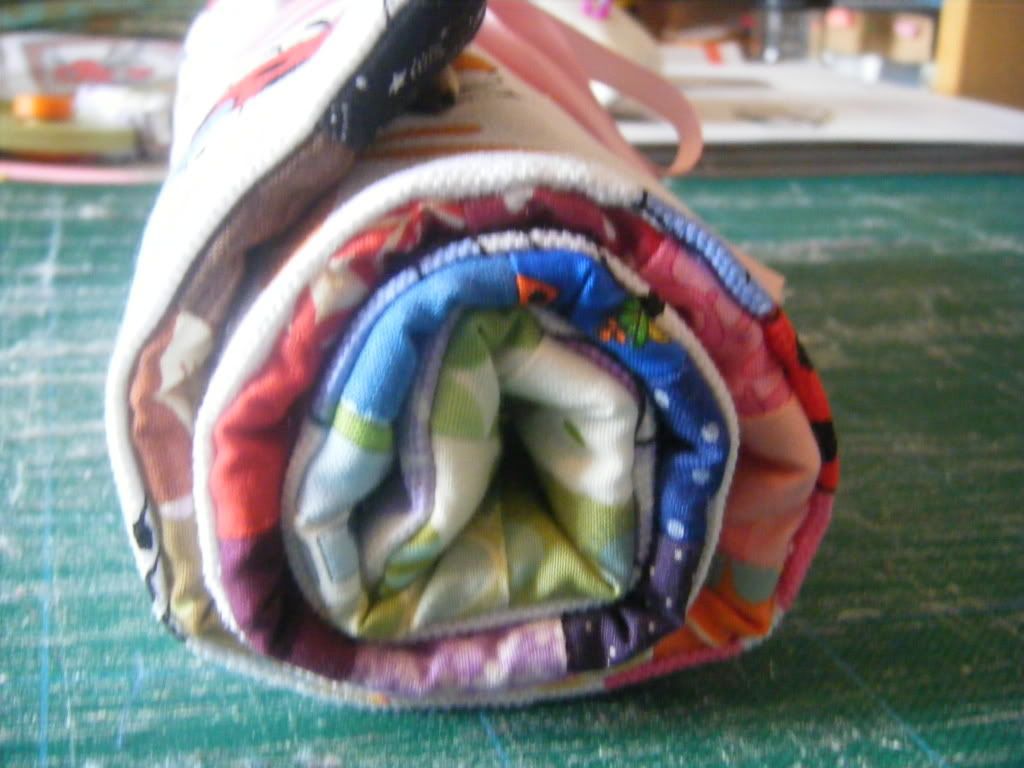 It kind of looks like one of those pictures of a rolled up finished quilt. Maybe I could pass it off as being a quilt?
This is for one of the boys. I didn't quilt the same as the book said to quilt. The instructions said to go up one of the seam lines, all the way to the top, turn 90 degrees, go across the top and down the next seam line. I did intend to do this, but at the bottom edge there are so many layers - outer fabric + interfacing, pocket fabric + interfacing + lining, patchwork piece - and remember, there's too layers of each of these! My walking foot just wouldn't walk along it and the machine was making funny noises. I just quilted up each pocket to the top and left it like that.
I was amazed how little boy-appropriate fabric I have. I really struggled to find some pieces that would work. I think this one is OK for a boy?
This looks brown, but is actualy khaki. And the other spotty one that looks black is actually navy blue. I'm not sure what was up with my camera! There are some floral prints on the insides of the boy's rolls, but then there is pink too and they're all under 5 so I don't think they'll care.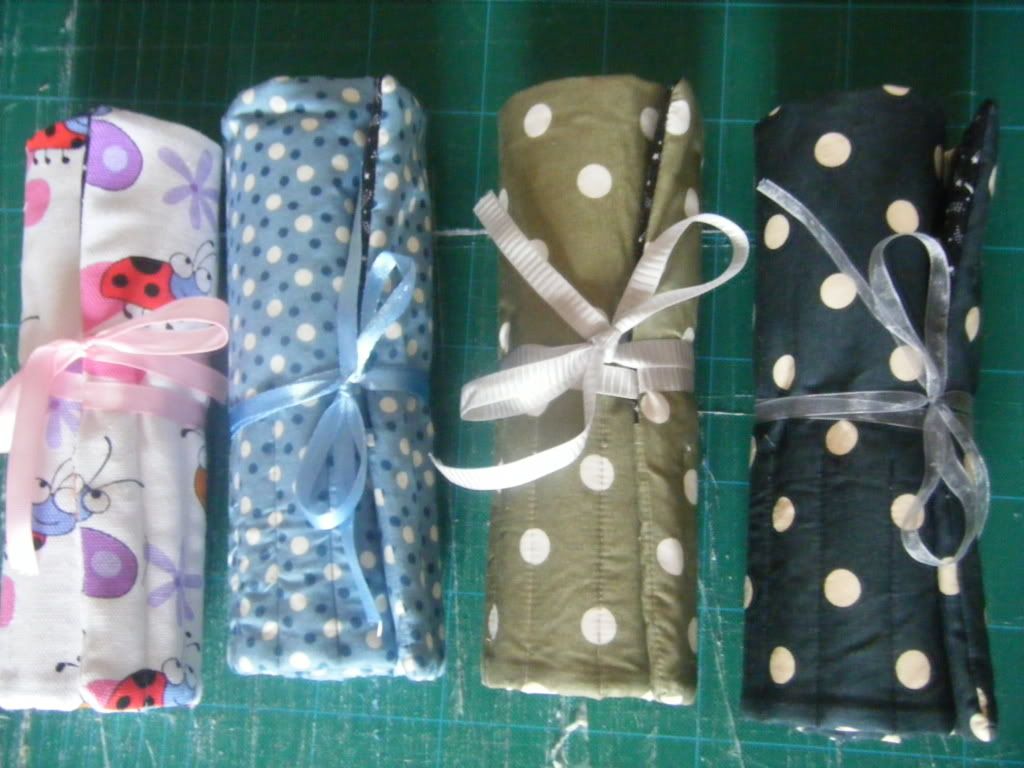 Here they all are together. I took this picture, then promptly slung them into my Christmas Present box!
I didn't have any major mishaps or problems at all. I didn't sew anything on upside down or back to front. I did stab myself with a pin, but that's pretty poor as far as disaster stories go. I'm very sorry if I've disappointed anyone with my competence in this project! If it's any consolation, it did take me hours and hours and hours, about 3 days in all!