Afternoon ladies. Do you want to start with the short essay and then move on to my usual random nonsense? OK, we'll do that then. I've been stitching. Remember this?:
Well now it looks like this:
As you can see, I've worked on this A LOT this week, despite being out most of the evenings last week. I even stayed up late on Friday night after Mr CA had gone to bed and stitched some more whilst watching Big Love. I'm at that point where I want to see it finished now, but I don't know if my poor claw can take any more!
That's it for the short essay - a very short essay, especially for me. I'll tell you about my day instead. I woke up at 11:30, I could sleep for England and I hate getting out of bed. I finished The Help the other day and I'm now reading Girl in Translation, so I read that in bed with some coffee, after running downstairs to feed the poor buns who thought they'd been left to starve. Usually the first thing I do on a Sunday, after lying in bed for a bit reading of course, is to clean out the bunnies, but it was pissing it down so I thought I'd go and sew for a bit first.
Now, my mum is the biggest ruiner of surprise birthday presents I've ever known. I think of things to make her and then she asks me to make them for her! How unfair is that? The latest was yesterday. We'd gone out to Newark for a day's charity shop shopping and lunch. At lunch she pulled out her little purse where she keeps pain meds. She's had it forever, I remember it being her make up bag when I was little. Then she said, "Can you make me a new one of these?" Well guess what I'd already decided to make her for her birthday?
A little zipper pouch made from some Michael Miller fabric, and lined with what might also be Michael Miller fabric, I'm not sure as it was a fat quarter without a selvage, but it matches perfectly.
I didn't do so well with the ends of the zipper, though I'm not sure why as I did it the same way I've done before with the little shoulder pads. I was really proud of this as I did it without instructions. OK, so you're all thinking "so what, it's a bloody zipper pouch, not the splitting of the atom", but it's the first time I've made one without instructions and I didn't mess it up at all! I shameless stole an idea from Sandra and added a beaded charm.
I had loads of trouble with that bloody split ring on there. How do you open those things? It gave me no end of trouble and scored a line down my fingernail.
Mum keeps a post it note pad in the little purse with her pills to write down the times she took them, so I thought a fancy little post it holder would be spot on. Again, I made this up from scratch and the only problem I had was the damn poppers. I've even bought a special popper setting pliers type affair and it still gave me trouble!
That's the front and the picture below is of it opened, with a used post it pad inside - I will buy her a new one!
By this time I was hungry, it was about 2pm and I hadn't eaten, so I came downstairs, heated up the fruit crumble dad made me in the week and ate it with some cream. Oh yes, I'm a real health freak! I saw the rain had stopped so out I went to clean out the buns. I started with Tiff and Harry and no sooner had I emptied out all the poo and straw and chewed up bits of toilet roll holder, than the heavens opened. I couldn't finish filling the hutch as the bag of sawdust would get wet and soggy so I retreated inside, taking the buns with me. They don't like inside much as they don't like my laminate floors.
They did a lot of hiding under the table, and some cautious hopping around, doing the funny extend-the-head-bob-it-up-and-down thing that other bunny mums will recognise.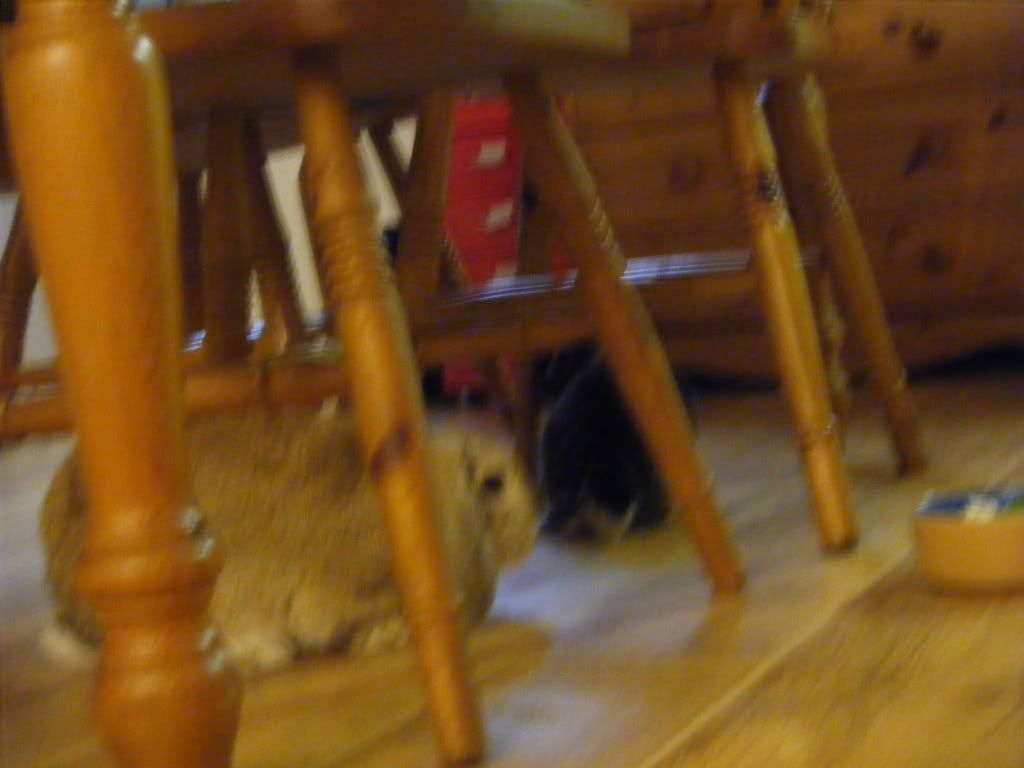 Tiff did her hang-dog look to let me know that she wasn't pleased that I was being so mean to her!! On the upside, I got cuddles and strokes with Harry which is a very rare occurance which only usually happens at the vets as he was mistreated with his previous family and is still very nervous of people. Sorry for the blurry pictures, they would insist on moving when I was taking pictures!
In other news, I got a wonderful parcel from The Wee Pixie. Her friend had been to America and bought back a yard of 12 different DS fabrics from Joann's. The lovely Pixie had generously offered fat quarter bundles to the first 3 people to reply and I was lucky enough to be having a bored moment at work and flicking through Flickr! Thanks Pixie, love 'em. Want to see?
Oh sorry, the picture wont load. Blogger denies it's there even though I can see it. Ah well, I assure you they are gorgeous and you'll see them in some projects soon.
On that note, I'm off. I think I might go and do some sewing as although it's half 6, it feels like lunchtime to me!