Not only have I managed another Christmas present, I've also managed another LANT. Nope, my LANT isn't "making an apron", it's ruffles. When I saw this
pattern
I knew I had to make one and my mother-in-law seemed the perfect victim, I mean recipient, as she always wears an apron in the kitchen.
It took me about 3 hours to make, but about an hour of that was finding co-ordinating fabrics. As we don't have the luxury of cheap fabrics in Britain, I very rarely buy full or half metres, and I never buy half metre bundles so I had to scrounge around for co-ordinating fabrics. Above are 2 quarter yards sent to me as a giveaway price, a old pillow case, some ticking I bought when I first started sewing and a fat quarter that I cut in half and sewed back together.
I had to refer to The Compendium of Sewing Techniques when making the ruffles, so this counts as a Craft Book Challenge too! The photos above is terrible, but it was dark by that point, so I apologise, I just wanted to show you my lovely ruffles all lined up.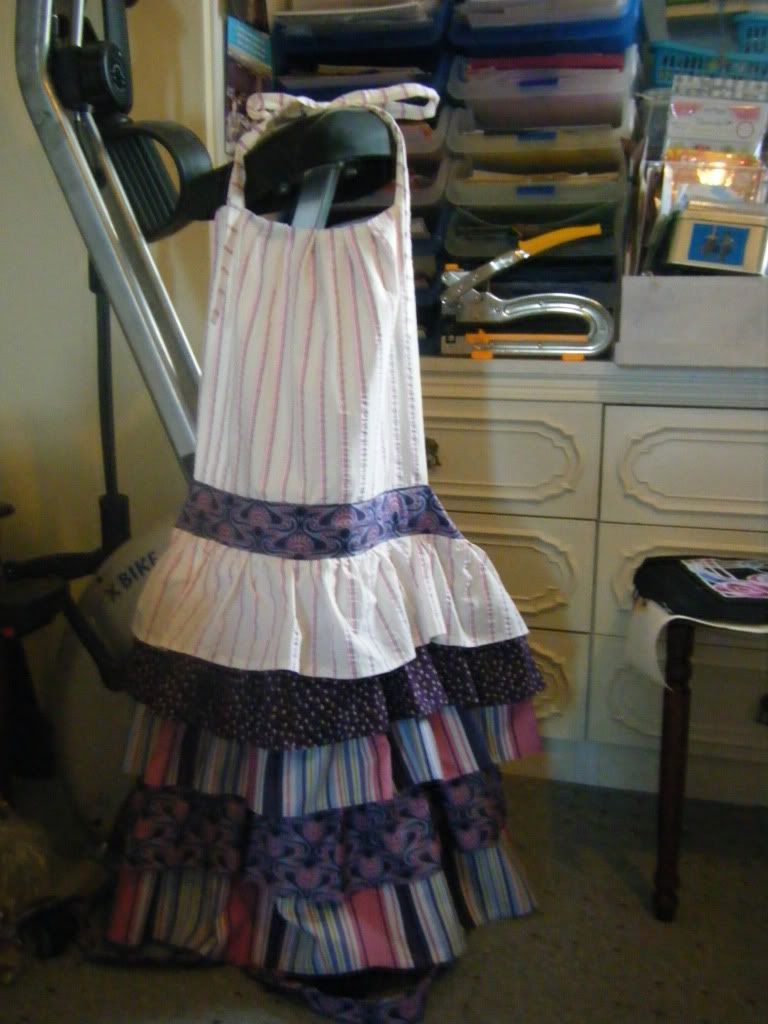 Getting a picture of the completed apron was tricky, I tried the exercise bike but it wasn't very successful. When following the pattern, I felt that the size given for the bib was too small as it didn't even cover one of my (admittedly over-sized) boobs, and although my mother-in-law isn't quite as chesty as me (few people are), I thought it was too small so I made it bigger. This caused problems when I tried it on as the top gapped. A few carefully placed pleats later and it's perfect!
I LOVE the ruffles. I actually want one of these myself, but I would never wear an apron in the kitchen. Do you think I could get away with wearing it for work?
I love you ruffly apron.