It's time for my monthly update on what I've got done on the Winter Stitching list. I've added a fair few items in, and changed my mind about a few items so they've come out, so I've had to renumber! By the way, can anyone tell me how you do that crossing out thing? I've also added in general crafts as I was getting confused having this list and a separateChristmas list, I hope that's OK!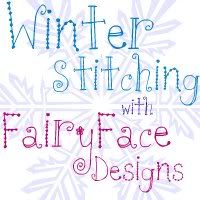 Birthdays before Christmas
1. Crochet hook case for mum -
completed at the end of October
2. A thread catcher for mum - completed at the end of October
3. 2 x car kits, 1 for my dad and 1 for my FIL - completed at the beginning of November
4. 2 x mug rugs for the same 2 men - completed at the beginning of November
Other pre-Christmas stuff
5. An item or two for a private swap
- completed at the beginning of November (I cna't show you pictures until she's recieved it)
6. 4 PIF gifts -

put off til after christmas
7. (new entry!) - Advent calendar for my goddaughter - completed but not blogged yet
8. (new entry!)- Hessian Reindeers from kit
Christmas presents
9. Finish the CRM cushion for mum -

cross stitch is done, waiting on my fabric
10. Glasses cases x 4 for mum, dad, FIL and an aunty -

in progress
11. Slippers for mum

12. Mani pedi kit (can't find the link) for mum

13. Amigurumi pig for mum

14. Flash drive keyrings x 2 for dad and brother

15. Keyboard duster for dad
16. Frilly apron for the MIL - completed November
17. Matching tea towel for above
18. Spa kits of my own devising x 6 for MIL, SIL, niece and 3 friends -

in progress



19. Finish the Petit Ecole table runner for my SIL and BIL - actually, this will now be for my brother and girlfriend as we don't really give gifts to SIL and BIL and I have a few little things for them.

20. Matching tea towel for the above
Handbag for another niece - no longer required as she's decided she wants card making items.

21. Yoda ami for my brother, whilst looking for that link on my bookmarks I also found this crochet R2D2 so had better add that to the list!!

22. A great big question mark. Spot 22 is reserved for my brother. - I have decided! He's getting a wine cosy along with his other little bits and the table runner.

Embroidered cushion from Handmade magazine for Nana-in-law - I've changed my mind about this one too and will save it for her birthday as she's also getting baked goods, a candle and birdfeeders.
23. Iris cross stitch bookmark for Nana-in-law - completed in November
24. Tea cup candles all round

- started, waiting for more supplies! I think I need 6 in total
25. A frog x-stitch pouch from Cross Stitcher for my best bud -
completed in November
26. I'd like to finish the alphabet chart for my goddaughter. I'm on N so I find it hard to believe that will get done!
27. Something for my friend's baby. - I've already made him a linen bunny, and now two bear hats.
28. Patchwork pouch for an aunty - I realised I'd already done this
29. Car air fresheners for my dad and brother - not sure if this will get done.
30. Applique scarf for my god daughter
31. Christmas cards
32. Gift tags
33. Cookies in a jar all round - about 14 jars I think. There will probably also be some freshly baked items but that's one for Christmas Eve!
34. Scrubbies for dad, brother, FIL

- in progress
35. Bird feeders -

in progress
36. Reinbeers for dad and FIL (stolen from Pinterest!)
My nephew's birth in February
37. Quilt
38. Crochet receiving blanket
39. Sewn booties
40. Appliquéd baby grows
41. A cushion for his nursery
42. Trousers
43. Crochet bear hats - done in November
Stuff for myself (for a change)
44. The dining room chair cushions
45. Matching table topper
46. And placemats
47. A needle book or 3
48. Crochet hook case
49. A coffee mat as my coffee pot drips
50. A lunch bag
51. Shopping bags for the supermarket
52. A handbag
Brother's birthday
53. Coasters with cross stitch - quotes from Hitchhiker's Guide to the Galaxy
54. Matching coffee mat
55. A cross stitched towel (just a band, not the whole thing!!) again with the quotes.
WIPs
56. Giant granny blanket
57. Granny square cushion
58. Sampler blanket
59. Hardanger
60. Crochet bag
61. Tea cup embroidery
62. Secret project - can't tell you about it!