Well, I have had a shit day. Excuse my language but it was shit. I'm using that as my excuse for the rubbish title to this post. Ah well, call a bucket a bucket and all that. This post is about a table runner. Mind you, with Sew, Mama, Sew's giveaway week going on, I doubt anyone will read it anyway! Oh, and ladies, I know I've gone silent on you but I'm behind with blog reading and emails, I'm speeding through the reading but not commenting much, I do apologise.
Can anyone guess what this is? Oh, I told you in the title didn't I? And then again above. No prizes for guessing then. I pieced this Petit Ecole table runner months ago but it sat there in the corner of my craft room, waiting. Last weekend I knew the time had come for me to quilt it. I was scared.
I had to piece a back too as I didn't have a piece of fabric long enough with this being about 60inches long. So I pieced the back, did the world's most rubbishest basting. Took the pins out and basted again, marginally better. And I quilted. I did straight lines about a quarter of an inch to either side of the straight seams. I say about a quarter of an inch as my piecing was truly rubbish. I didn't think it looked finished so I quilted along the triangles too.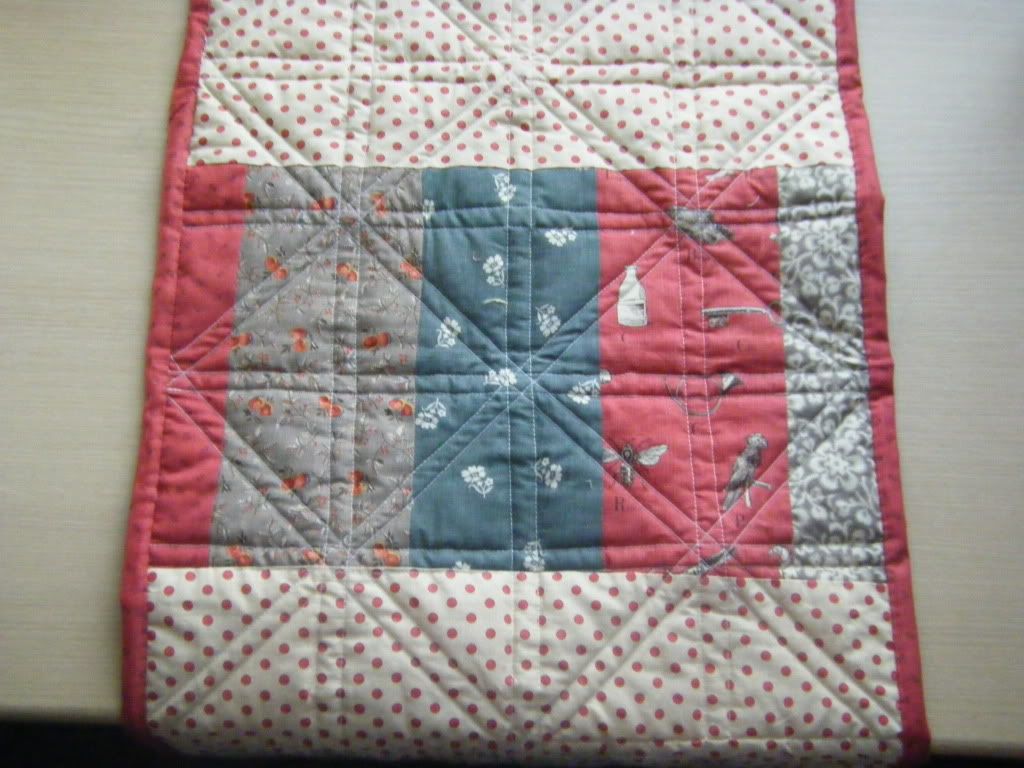 That's the back in case you didn't guess. You know what? I bloody love it! Rubbish points and mismatched seams and wonky quilting and all.
But you know what's not rubbish? My binding!! I sewed it on the front by machine, then hand sewed it to the back and I'm really proud of it, it looks great!
The corners not so much, I did struggle with hand sewing them on the back, but who's going to examine the corners of my binding? Well OK, any passing members of the local quilting guild might, but I don't think my brother gets many of them in his kitchen.
See what I mean about the corners? It does look pretty good though, doesn't it? I know, I know, that quilting in the bottom right of the photo above is probably making you want to cry, but me, I bloody love it!