I have just spent about an hour battling with my printer. I've got one of those scanner/printer/copier all in one jobbies. There's a gift bag I want to make in one of my magazines but it involves increasing the pattern by 140%. I can't get my printer to do it! The scanner wont do it, the photocopier wont do it and the printer just doesn't give me the option! I may have to throw it against a wall...
Anyway, on to the main event. This certainly isn't a new idea, but it's my first adult attempt at candle making. I'm hooked! I'll be adding this to my LANT list
.
I've been furiously scouring the charity shops for teacups, but only came up with these four, plus a set of four 1980's expresso cups.
I love that one at the front on the right. They're all scented, a mixture of Fresh Cut Flowers, Blueberry Cheese Cake and Chocolate Covered Cherries. Not all in the same candle of course!
I had a bit of an accident with these two! I made a bit of a murky colour when filling the top up, beneath the first inch or so is a lovely green! I also got the wax all over the wicks. I'm going to scrape the wicks off and then colour the top with the gold wax pen I bought.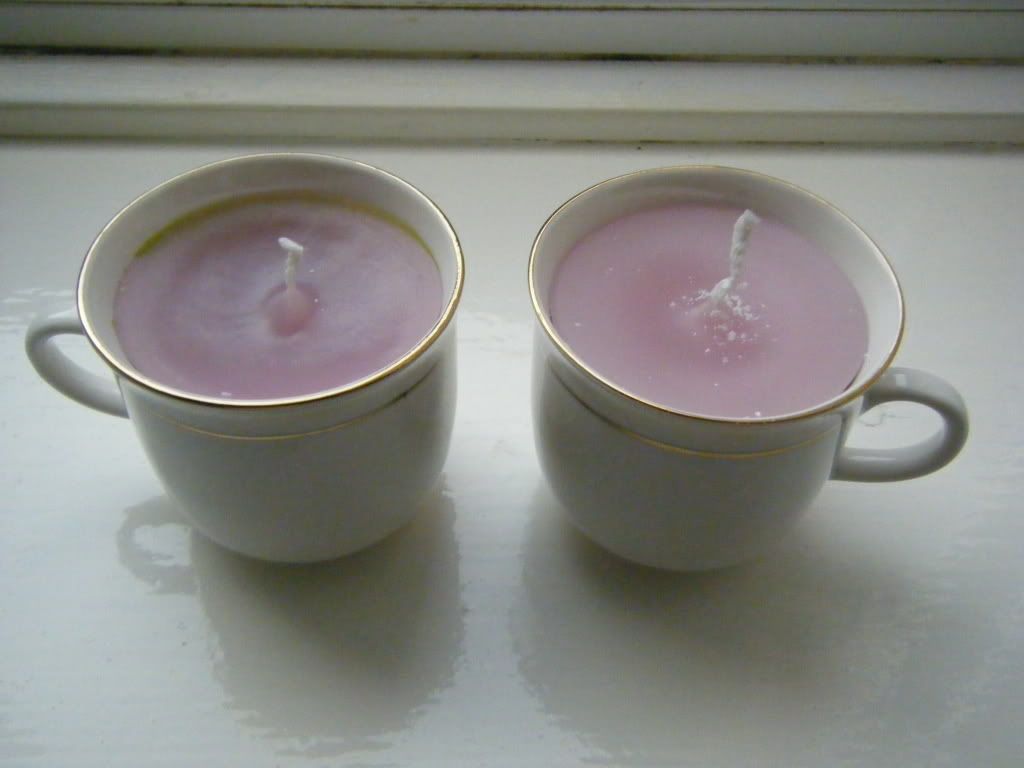 These two were more of a success. I'd bought a candle making kit which ran out after the first 3 candles so bought a load more wax on the internet, and I bought far too much! I had a go with the two moulds included in the set. One is still in the mould as I can't get it out! This other one was a disaster...
Note that it has no wick!! I'll melt it down and try again. I also bought a couple of votive moulds to make some more candles as I have so much wax, but the shop forgot to put in the wick sustainers I orders to that will have to wait. I have a burner so I made some melts for it and for any friends that might like then. I used a silicone muffin mould I bought for a pound. Bargain.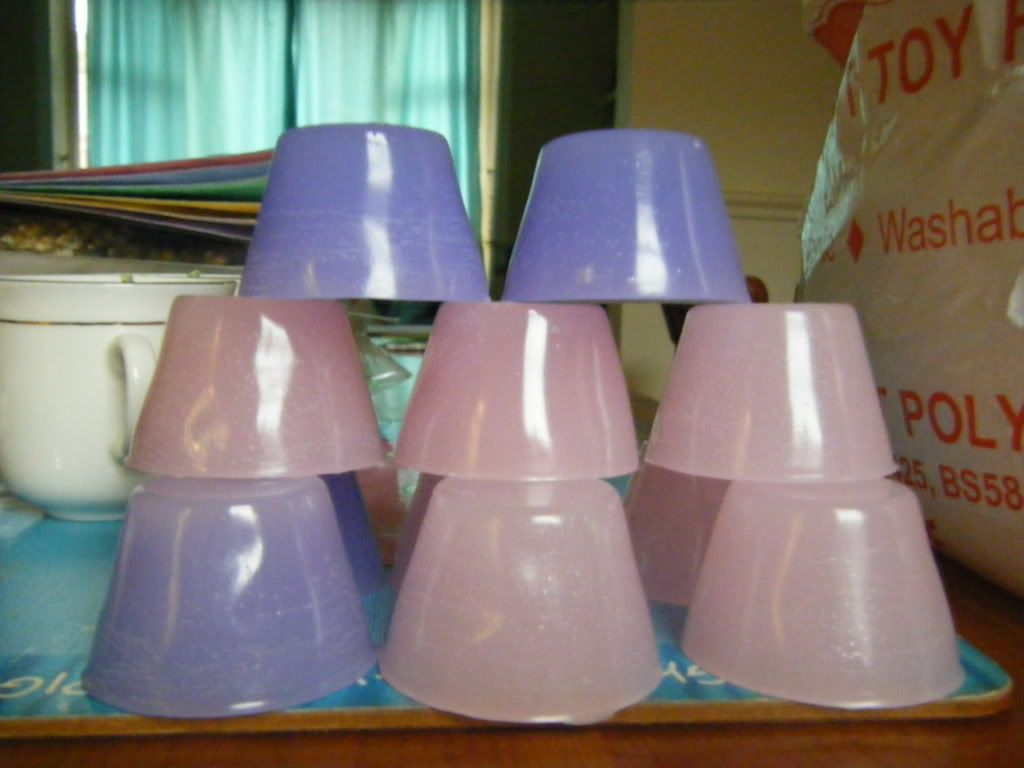 I was going to post the other day about TAST, but for some reason my work has blocked Photobucket (but not Facebook?!?) so I can't see my posts properly from work. What a pain in the arse.
Anyway, I've taken the plunge and I'm joining in with Sharon B's
TAST challenge.
For those of you that don't know Sharon's blog PinTangle, it's a year long stitching challenge - Take a Stitch Tuesday - where we learn and practice a new embroidery stitch each week. My embroidery needs some serious work so I'm hoping this will help, and that I can keep up! Come and join up if you fancy a go.