Morning ladies. I had quite a relaxing weekend, I got a bit of sewing done and dabbled in a new craft... more about that later in the week. Yesterday, after lunch out with the parents-in-law, I wanted to catch up on my blog reading and maybe write a post. The internet said no. I don't know what's going on and if it's my Broadband connection or my PC, but I could only get online for a few minutes at a time, then the connection would go. Frustrating.
I doubt any of you want to read a rant about computers, so I'll get on with it and tell you about the Brick Stitch workshop I went to with my mum last week.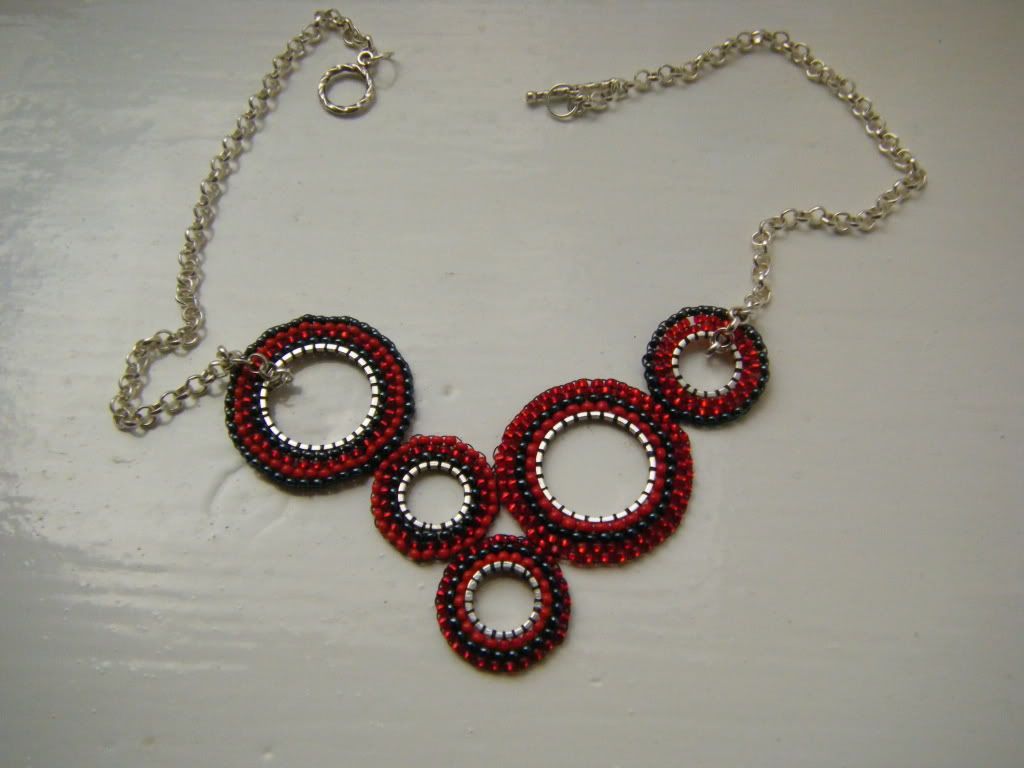 Once again the workshop was at
the Bead Shop
in Nottingham and this time there were only the two of us in the class which meant we got all the attention we needed. To be honest, I didn't need that much help. It looks really complicated but it's not at all, it's just a matter of getting the rhythm right.
We made the earrings first, and, although earrings really freak me out, I thought they'd make a fantastic present for my aunty. She's not getting the matching necklace, that's mine!
Brick-stitch is a needleweaving technique using a beading needle (I bent several beyond repair making the necklace) and Nymo nylon thread along with size 10 seed beads. It can be done in rows or tubular, but we stitched around round connectors to make these pieces. The necklace is turned into a necklace with the addition of a piece of chain. I only had chunky chain to hand (I finished it off at home. The workshop was 3 hours and I got the earrings done and 2 of the circles for the necklace) so used that. Mr CA told me it looked crap. Got to love that man.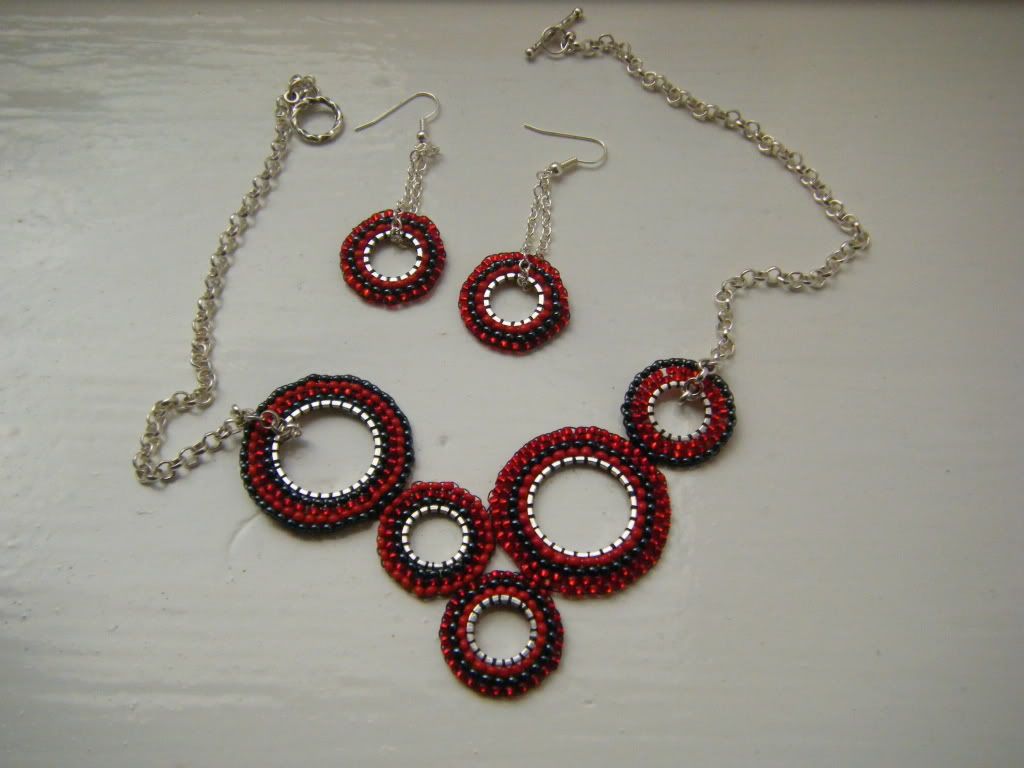 I bought some more beads after the workshop and so set about making a brooch. I have large collars on my coat and since I lost my felted brooch the collar keeps flipping me up and slapping me in the face. It can be quite painful so a new brooch was in order.
I used the same technique, but added in the flowers on 2 jump rings before I began. I made a fringe by stringing on 8 seed beads and coming down through the next bead. It's very odd, "unique" you might say! I think I like it though.
I am a little worried about my brooch attachment. I'm not sure it will be strong enough. So there we go, another LANT conquered.
I got a great surprise last week. Mum told me there was a parcel from Search Press waiting for me and I was desperately trying to remember what I'd ordered (is it just me that does that?). When I opened it, I found it was a giveaway win!
Thanks Search Press! I've only had a bit of a flick through so far, it's very pretty. I'll let you know how I get on with the projects!
So, have you learnt a new technique lately? Dabbled in a new craft? If so, come and join in with the ongoing linky.