Week 2 and I haven't dropped out yet... must be some kind of record for me! Once again I've joined in with the Zakka Style Sew Along, this week was the house pouch.
If you want to join in, or see what everyone else is doing, this week's host was
Amy
and the linky can be found
here.
I didn't have much enthusiasm for this project at first as it's not really my kind of thing, but then I realised that my 3-year old goddaughter would probably love this house pouch and so I made it in pinks to suit her.
The roof and the door are from the same fabric line, I have no idea which as it's one of the first layer cakes I bought and I can't remember. I bought the little flower buttons at a craft show ages ago and thought they'd do perfectly for this project.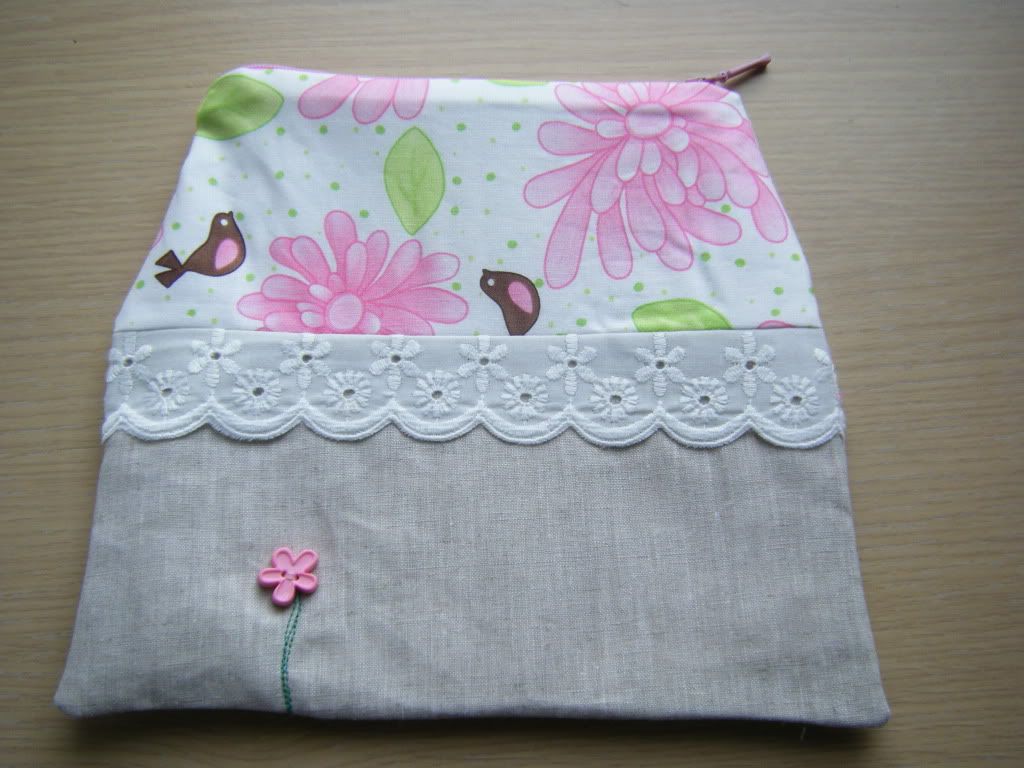 The trim is broderie anglaise, I think, though I'm not sure. I have no idea where it came from but I've got loads of it. The directions in the book said to add the lace on top of the roof and house join, but this trim has an unfinished scalloped top, so I added it in when sewing the seam. I think it works well.
I had a smallish piece of this pink fabric with faces on it left over from various projects and I very carefully cut it out so that the people would be the right way up inside the house. Except I got it wrong and they're sideways! I didn't have enough left to recut it, so sideways they stay.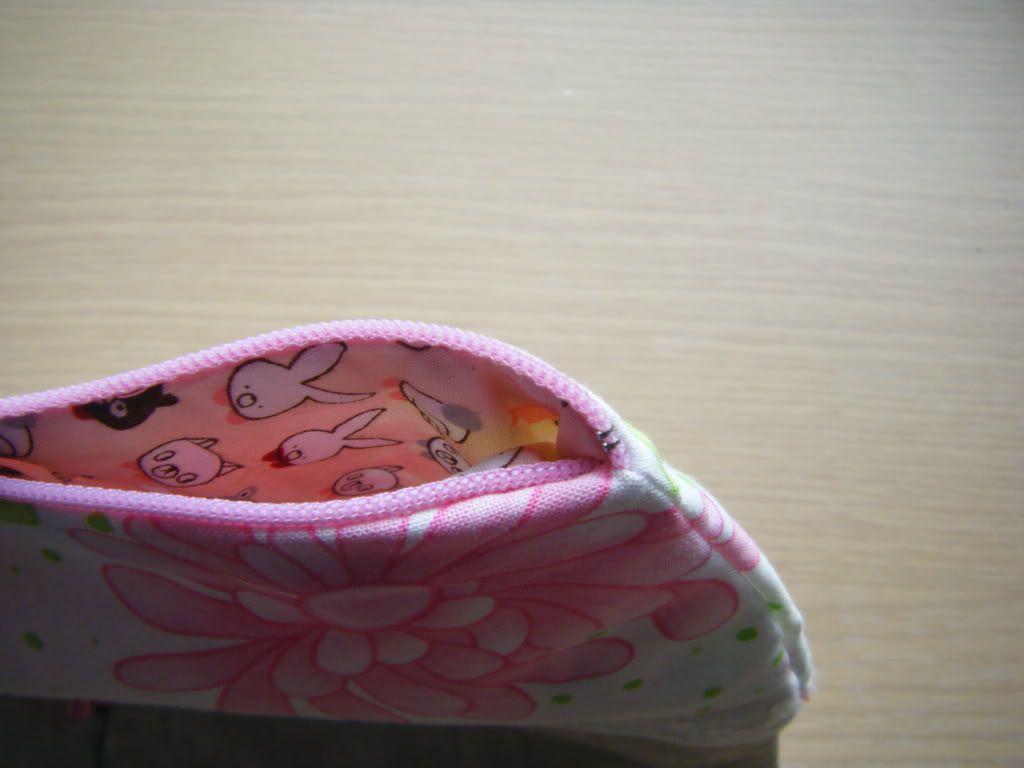 The zip is repurposed from some clothing, possibly from my god-daughter. I made a right pig's ear of the end. Somehow, when I sewed the zipper and then the pouch, the pieces just weren't lined up and it's ended up smaller than it should be. This somehow wrecked the zipper end. It does zip up though.


The zip-pull end is much better, though not perfect by a long shot. Looking at this phot, I should put something on the zip pull as I think she'd like that. I'm going to do a bit of blog surfing, then I'm going to go back upstairs and sew some more so I might do it then.
I don't have much planned this weekend so I'm hoping to do some more sewing today, and then some handwork tonight. I haven't done any embroidery or cross stitch or crochet all week as I've been working on a new skill from a workshop last weekend. I intended to post about it this week, but I couldn't get any decent photos due to not being at home during daylight hours and the weather being so crappy. Sun, rain, slush, hail and snow all in one day, what's going on??
In other news - 1 more pound and I've lost a stone! That's 14 pounds to you "foreigners" ;0), I have no idea what it is in kilos... about 320 maybe?!