Good afternoon ladies! I've got waxy business for you today.
I was contacted by Homecrafts Direct to ask if I wanted to take part in a competition. They sent me some candle making goodies and I had to make a candle. I, of course, agreed. I've made some candles in the past, but nothing more than these basic teacup and glass candles.
This is what I was sent: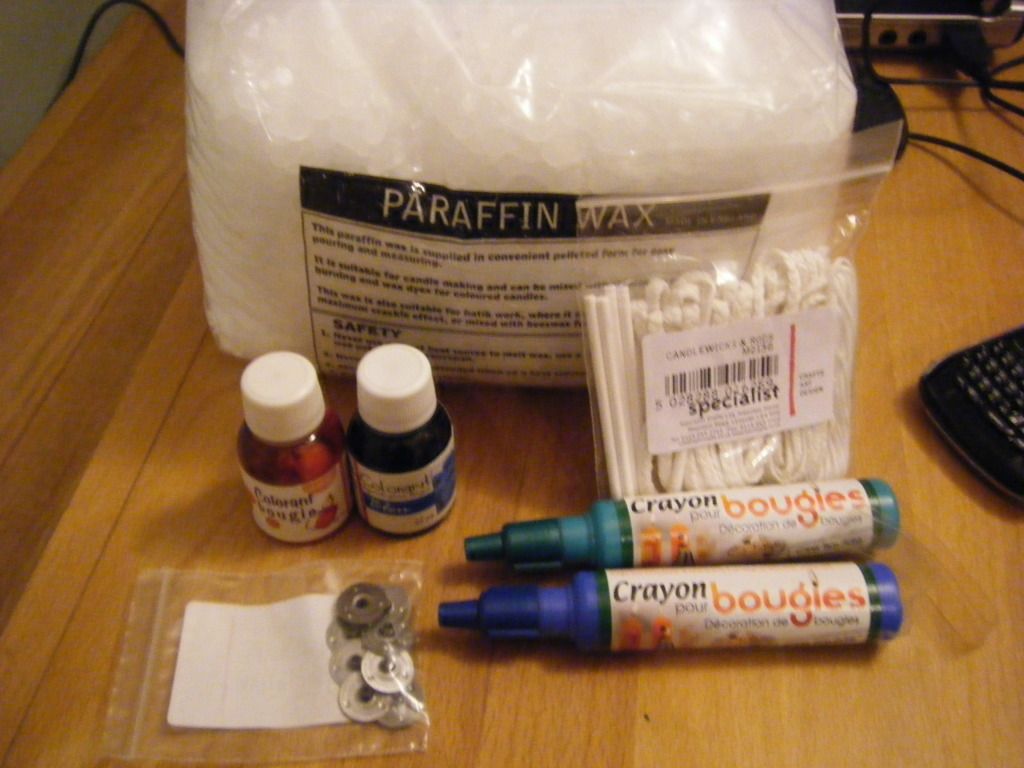 A big bag of paraffin wax, some rods to hold the wicks, wicks and wick holders, orange and blue colouring and blue and green liquid wax pens. I grabbed my votive moulds along with my candle-dedicated saucepans and off I went.
I really wanted to do something creative, but I was limited to use what I had on hand. What I mainly found was grease proof paper and mugs. Well, that could work. I also had an empty spice container (empty after we emptied it!), an empty milk bottle and some paper cupcake cases I found in a cupboard. Oh, and shells. We have been to the beach after all!*
I whipped up several batches of wax and got pouring. First up were the votives and the spice jar. I went for an ombre effect, using three shades of blue.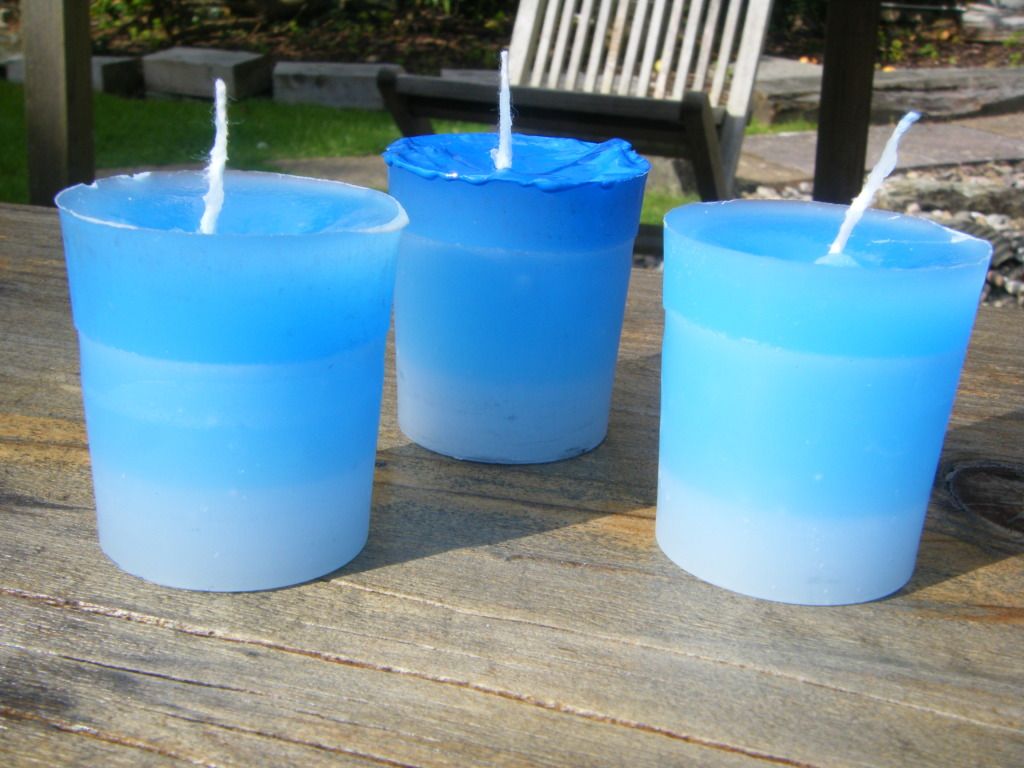 I really like how these turned out. That back one has a layer of the liquid wax as the top was messy. I couldn't get it very neat though! The photo below is the spice jar.
I poured some wax in a bowl lid covered with grease proof paper. I was hoping to cut shapes out and attach them to the candles with the liquid wax.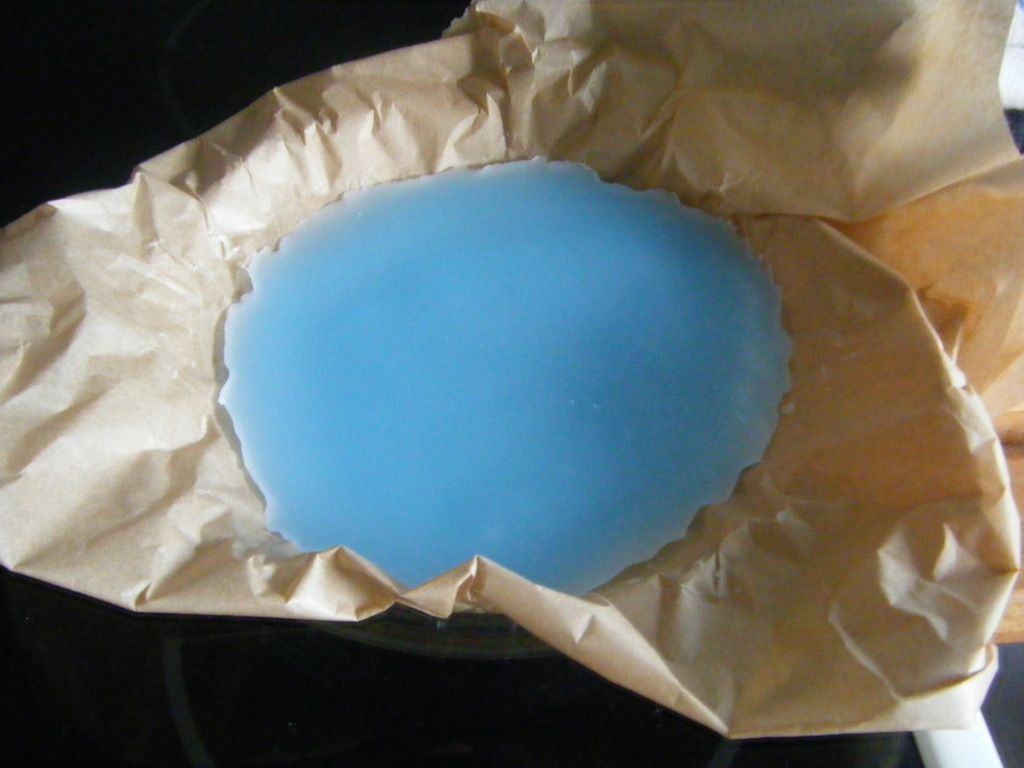 I didn't manage to make a smooth enough candle so that didn't happen. I used some of the larger shells I'd collected to make mini candles. These ones worked out well, the mussel shells didn't!
More greaseproof paper got pressed into mugs and wax added. I wanted to really experiment so played around with different colour intensities, adding new coloured wax to the existing at different points of the wax setting, adding big chunks of wax to semi-set or still liquid wax...
I love the effect of where it's got into the folds of the greaseproof paper and then I've peeled them away.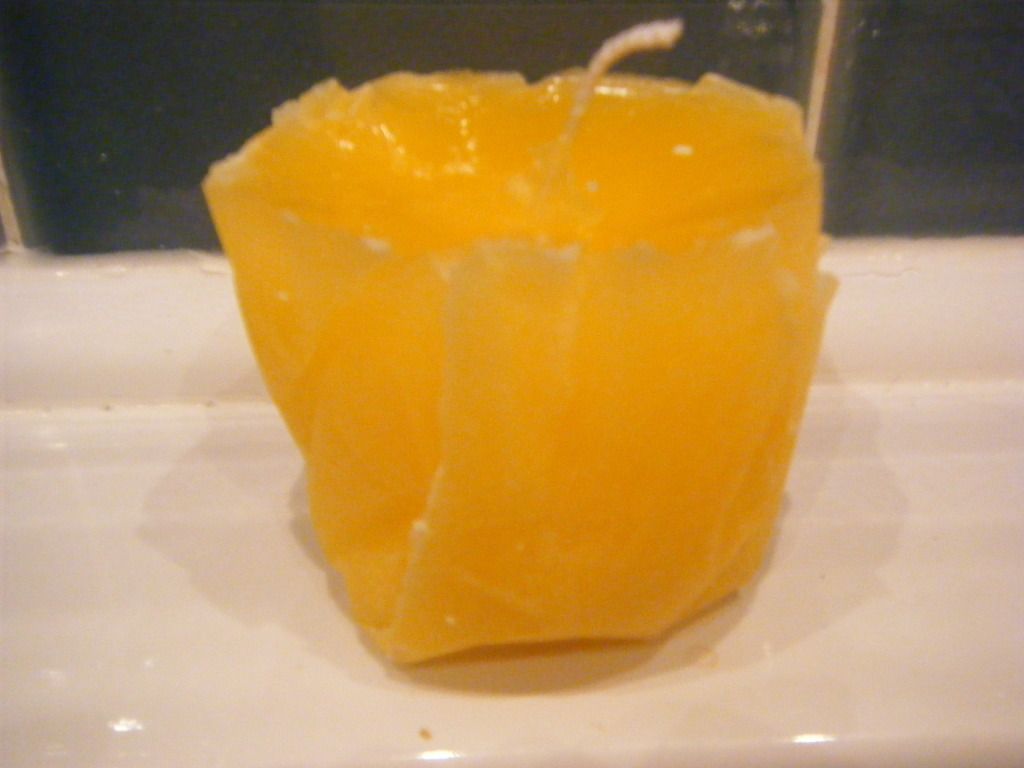 I used a range of colours. I had blue and orange and discovered that they made a lovely olive green. Should I have known that? I would have guessed at brown or maybe purple.
The one with the chunks in didn't work. The wax got all round the layers of paper and we couldn't get it out of the mug!
The pens were tough. I googled and I pinterested and found nothing to show me how I could use them creatively. I wondered if I could make very thin candles by drawings with the pens, adding a wick and then drawings over them. Nope!
In the end I used them to stick sea shells around a grease proof paper candle.
More wax went into the cake cases,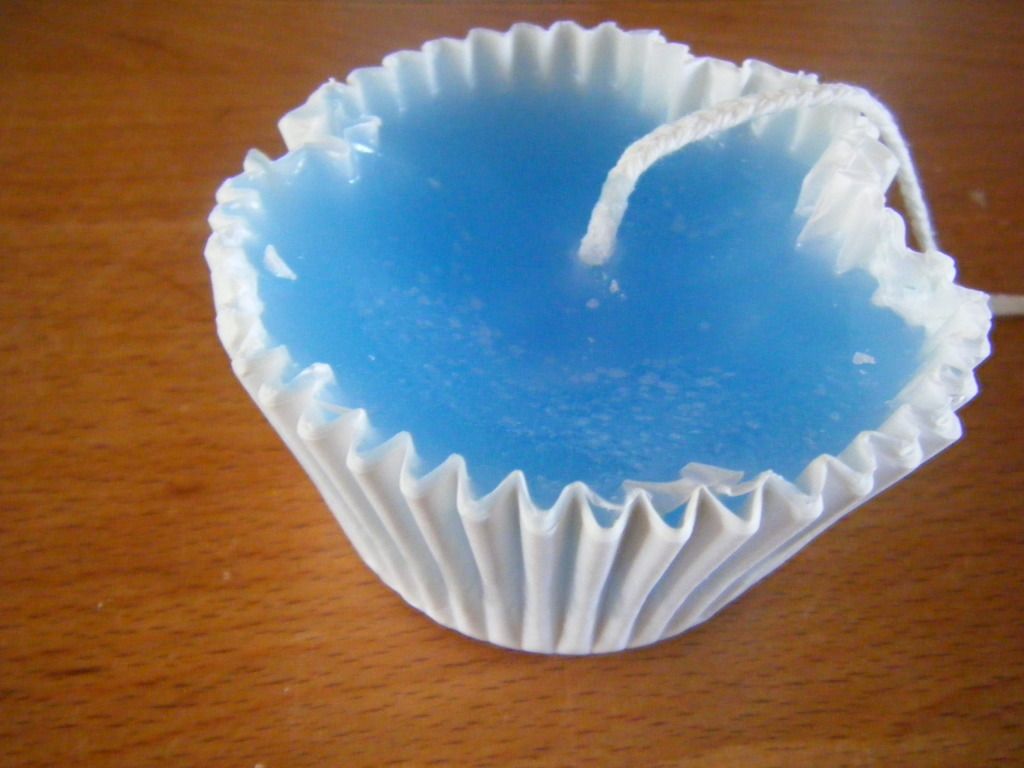 I had a hairy moment when I couldn't get it out of the glass I'd put it into to support it as it set! I then melted some wax and didn't add colour.
When it started to set I whisked it with a hand whisk and added it to the top - cream! I LOVE this candle. I'm going to make some more with more realistic colours and see about adding some decorations.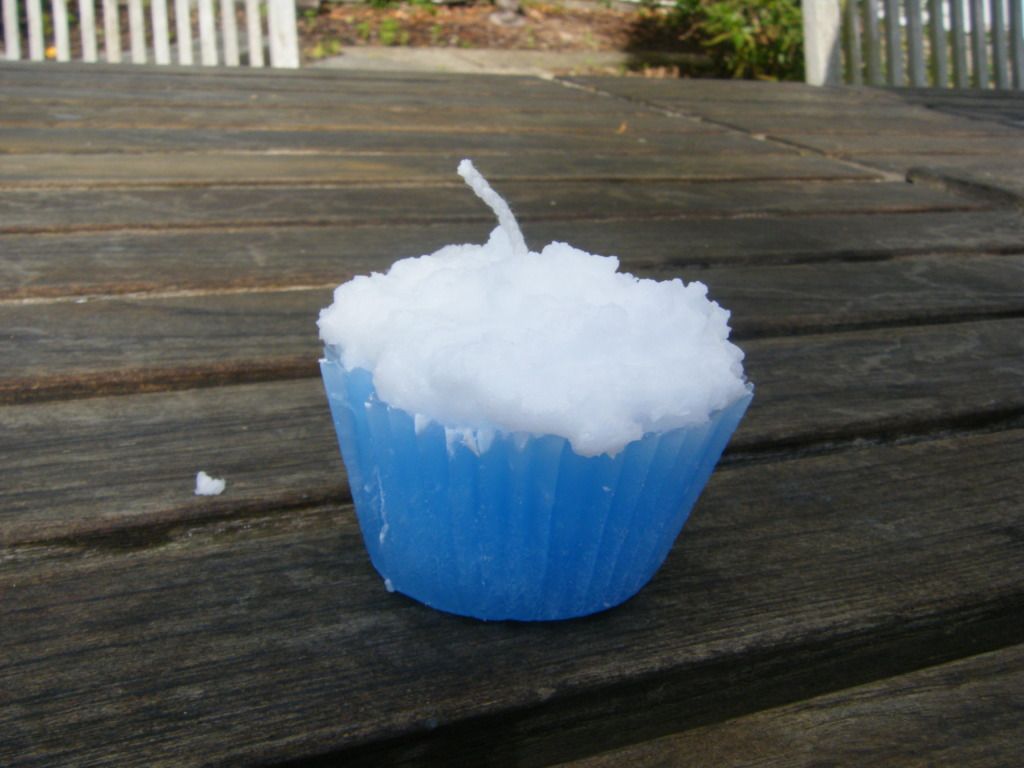 Oh, and the milk jug? No, that didn't work either... nearly, but the handle fell off! I basically poured the wax, uncoloured, into the milk bottle, put it in the fridge to set and then got Mr CA to cut it out. I do quite like the effect!
I've entered these into the Homecrafts Direct competition, they will show all the entries on their blog so please keep your eyes peeled for the post and say something nice!! Incidentally, this online shop has LOADS of craft stuff for all kinds of crafts, if you're in the UK and interested in different crafts, check them out.
*I am aware I haven't mentioned going to the beach... stay tuned and I'll fill you in. Don't worry, I won't be posting boring holiday snaps!