Good morning ladies! In a future twist to the hit-by-a-lorry story, though perhaps unrelated, I broke down on my way home from work last night. The steering went completely, it took all my weight on the wheel to turn it enough to pull over. The dashboard was lit up like a Christmas tree BUT, that annoying high-pitched whine it'd been making had stopped. That's got to be a good thing, right? OK, so perhaps not! Mr CA played my knight in shining armour and was able to get the car to the garage, albeit quite slowly. He informed me when we got there that the car was overheating and smelt of burning! Great... Meanwhile I had fun driving his partner's car. I managed to stall every few feet as he has a spring in his gear level (like most normal cars I believe), mine doesn't, never has had since I've owned it and so putting it in first is just a push upwards, on a "normal" car a push upwards puts you in 3rd... Let's just say I'm glad the car's owner wasn't there to witness it!
Anyway, on with the post. I just had a birthday. Most of my family buy from my Amazon wish list (what an amazing invention that is!) so I get a lot of "craft stuff". This year was no exception. My wonderful parents bought me a Dremel 3000! By "parents" I do of course mean that mum instructed dad to buy it and dad said "what the bleeding 'ell is it?" I don't think I'm going to get a chance to play with it until the craft fair is done, but I'll certainly be showing you the results!
I also got a lot of books. Crafty books:
Spellbound Festive Beading
- full of wonderful
Christmas decorations to bead
(courtesy of amazon.co.uk)
The Art of Bead Embroidery
- luscious eye candy
(courtesy of amazon.co.uk)
Embroidered Jewellery
-
more eye candy and tons of ideas
(courtesy of amazon.co.uk)
Patterns in Polymer
- this book is amazing! I had no idea you
could do so much with polymer clay
(courtesy of amazon.co.uk)
The Beaded Edge 2
-
I've already read this from cover to
cover... expect to see lots of beaded edges soon...
(courtesy of amazon.co.uk)
Mod Podge Rocks!
- some fun ideas
(courtesy of amazon.co.uk)
I also got a present in the form of a craft kit.
(courtesy of amazon.co.uk)
and this is where the useless Crafter's Apprentice bit comes in. You see I want to try everything, and I mean everything. So I collect stuff. The one thing I don't collect, can't buy and won't be getting for Christmas is time, so a lot of this stuff stays on the shelf, or in its box. Want to see?
(courtesy of amazon.co.uk)
First up there is an enamelling kit - please excuse the formatting, Blogger is being an arse...
Then there's
Little Beaded Boxes
. I bought the book, but never had Delicas which you need to make them. I've finally bought the Delicas, wonder how long it will be before I get round to making something...
(courtesy of amazon.co.uk)
Drawn Thread
has been on my shelf for a while...
(courtesy of amazon.co.uk)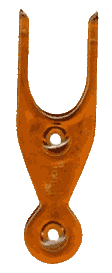 I bought this
lucet
at a Craft Fair... it looked so much fun.
(courtesy of the lucet.co.uk)
At that same fair I bought a punch needle kit. I took it away with me a few times and took it on holiday this summer. No, I haven't opened the packet!
My lovely friend Cuckoo sent me her
sharp crochet hook for making crochet edgings. Did that happen? Erm.... no. But maybe I could team it up with the Beaded Edge book!
I haven't finished!
(courtesy of amazon.co.uk)

This book looks

fascinating... so why haven't I tried any of the
projects??
(courtesy of amazon.co.uk) This one has crochet techniques galore, and yet it lives
on my dining room table... waiting.
I could go on, but I'm feeling such a failure right now I think I'll stop there! If you are interested in seeing my shockingly long Craft book inventory, go here!