Before I start, I just wanted to say hello to my new readers. Wendy, I am unable to reply to you as you are a no-reply blogger and when I clicked on your name to take me to your blog, it came up with an empty Google + page. For those of you that don't know, if you join Google+, you become a no-reply blogger and no-one can find your blog! If you've left me a message and I haven't replied, it's because I can't find you.

Today's project came from

Little Beaded Boxes by Julia S. Pretl. Little yes, easy? NO! I had numerous problems with this little beaded box, unfortunately I didn't think to take photos until near the end. You start with the base, no problem. Then there's the sides, also no problem. Then you get to the hem. Now, the instructions are not very clear at all. I completed the sides and then attempted to make the hem. After I'd ripped it out for the third time as it clearly wasn't right, I realised that you didn't complete the sides, you left 2 rows undone, then made the hem, then came back to the sides.

It was also at this point I realised I didn't have enough white beads. The pattern calls for Miyuki Delicas in size 11 which I'd been using. They fit together perfectly. I got on Ebay and ordered a load more. Except I didn't. I ordered Miyuki beads, not Delicas. I blame Ebay as I'd searched for Delicas so what was it doing putting non-Delicas in the results? After beading 3 rows of hem, I realised it wasn't right. I dispatched Mr CA to the Bead Shop to buy more Delicas.
See the difference? The ones on the left are Miyuki sead beads and they're round. The ones on the right are Miyuki Delicas and they're tubular.
Fourth time lucky and I completed the box. The author says the hem is the most important part of the box, yet her instructions for that part are rubbish. The rest of the instructions are good though and the little boxes are lovely.

Wondering what this hem I keep harping on about is? See below, see the rope like rows of beads at the top? That's the hem It's to stop the sides flopping so much and to give something for the lid to sit on.
The beading is done using a beading needle and Fireline, a clear plastic thread that is very durable. The actual beading is very relaxing, I enjoyed most of this box, just not the whole hem-debacle which took me about 4 days! Overall it took 2 weeks to make this, but that's evenings only, after work for an hour or so, and half that time was probably unpicking!

To be honest, I amazed myself with my patience. I'd like to think the next box will be easier as I now understand the hem. Next box? Yep, I know I'm crazy but I want to make another. I just have to buy some Delicas and find a bead weaving use for all the Miyuki seed beads I bought!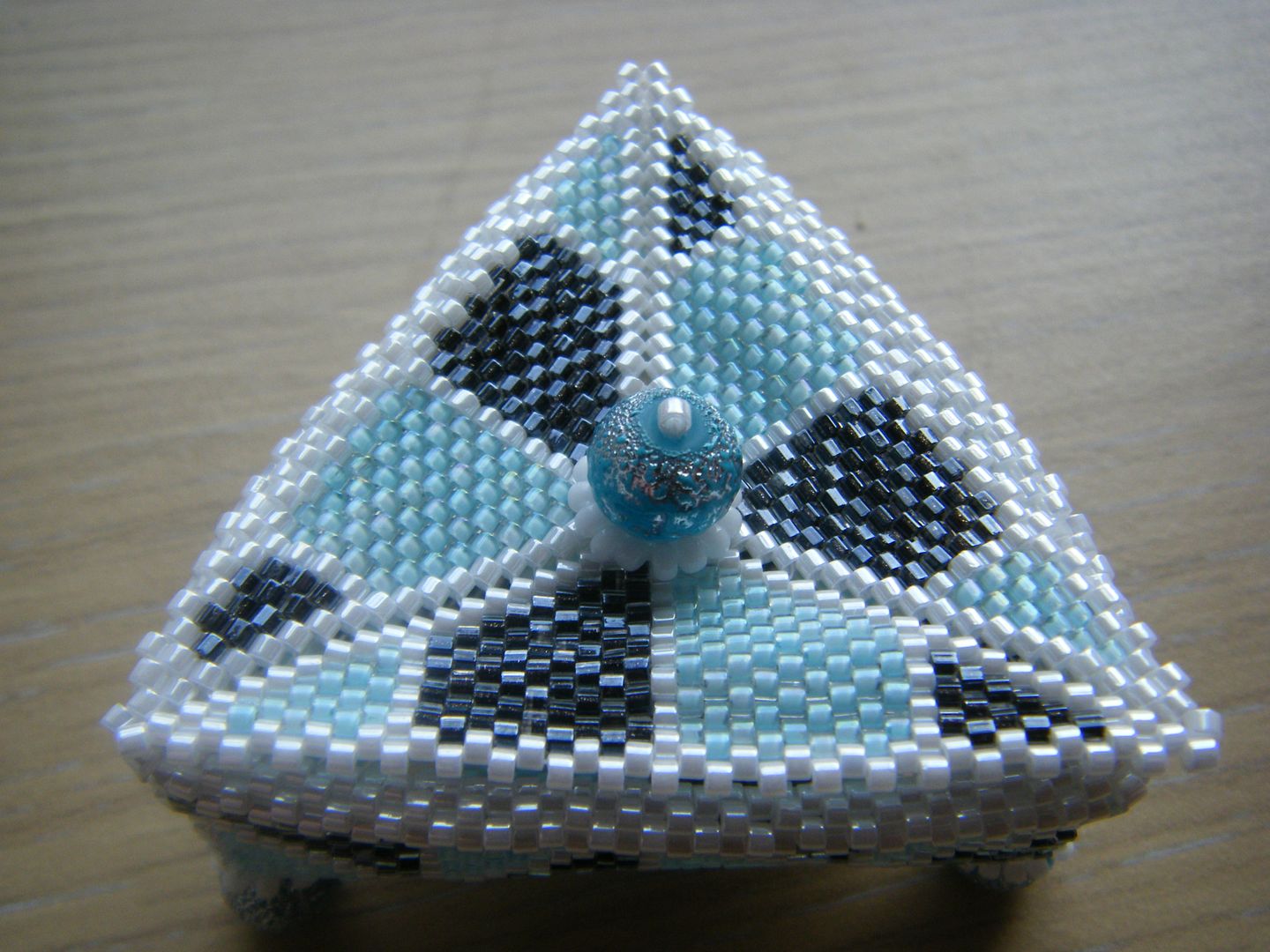 The finials and the feet are made with ordinary beads and I chose these crackle-effect ones from my stash. They have a ring of seed beads around them and I did get to use the Miyuki ones as it called for round seed beads!

This box is very diddy. I'm not sure what I'll use it for, maybe nothing. Maybe it will just sit on the mantelpiece and remind me I do have some patience. Oh, I haven't explained the "little". It's 2" across and 2" high. Yep, tiny.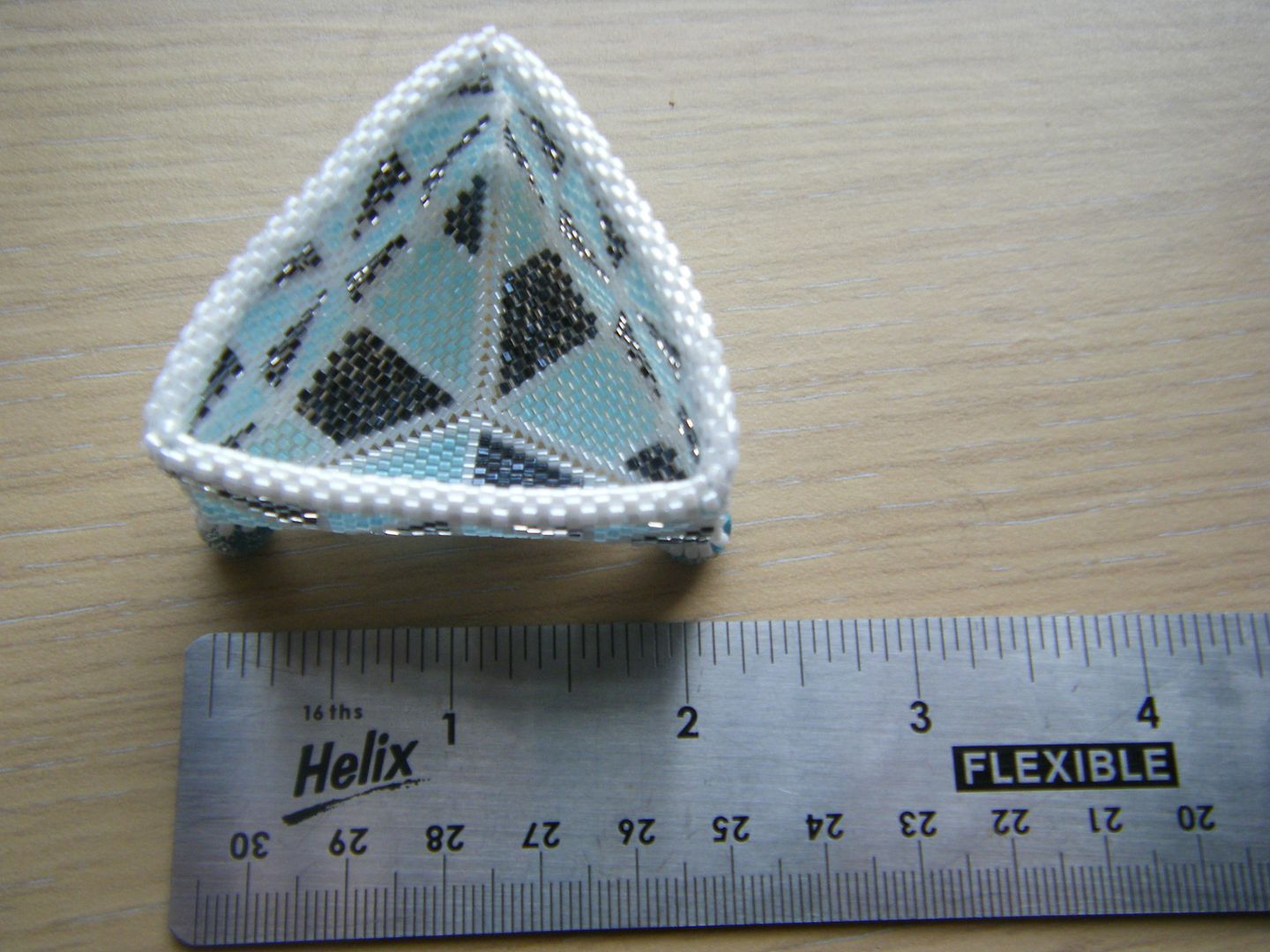 If you want to see more of the projects I've completed from Craft Books, hop over to my Craft Book Challenge page where I've listed my 174 (yep, I know!) craft books. Next to each one, if I've completed a project from it I have listed it and most of those are clickable to see the blog post.

Now to find something non-beading to do!