Wonderful Mum and I have found a new venue for craft classes - Lincoln Castle Heritage Skills Centre - there is a wood turning one I really want to do, but I haven't managed to persuade mum yet, maybe I can get Mr CA to come with me instead...
The first course we attended there was goldwork embroidery with Sarah Homfray. Sarah is an excellent teacher so we're really glad we also booked into her stumpwork class which we're on in July. The class was small - I think there were 6 or 7 of us - so she had plenty of time to work with each student individually. She started with a demonstration of the first technique, couching, then we all had a go on the middle mushroom.
If I remember correctly, we're using 2 strands of Japanese gold thread here and couching it with ordinary thread. Why didn't I take notes!
I need to work on getting the spaces between my couching stitches more regular, but I don't think it looks too bad.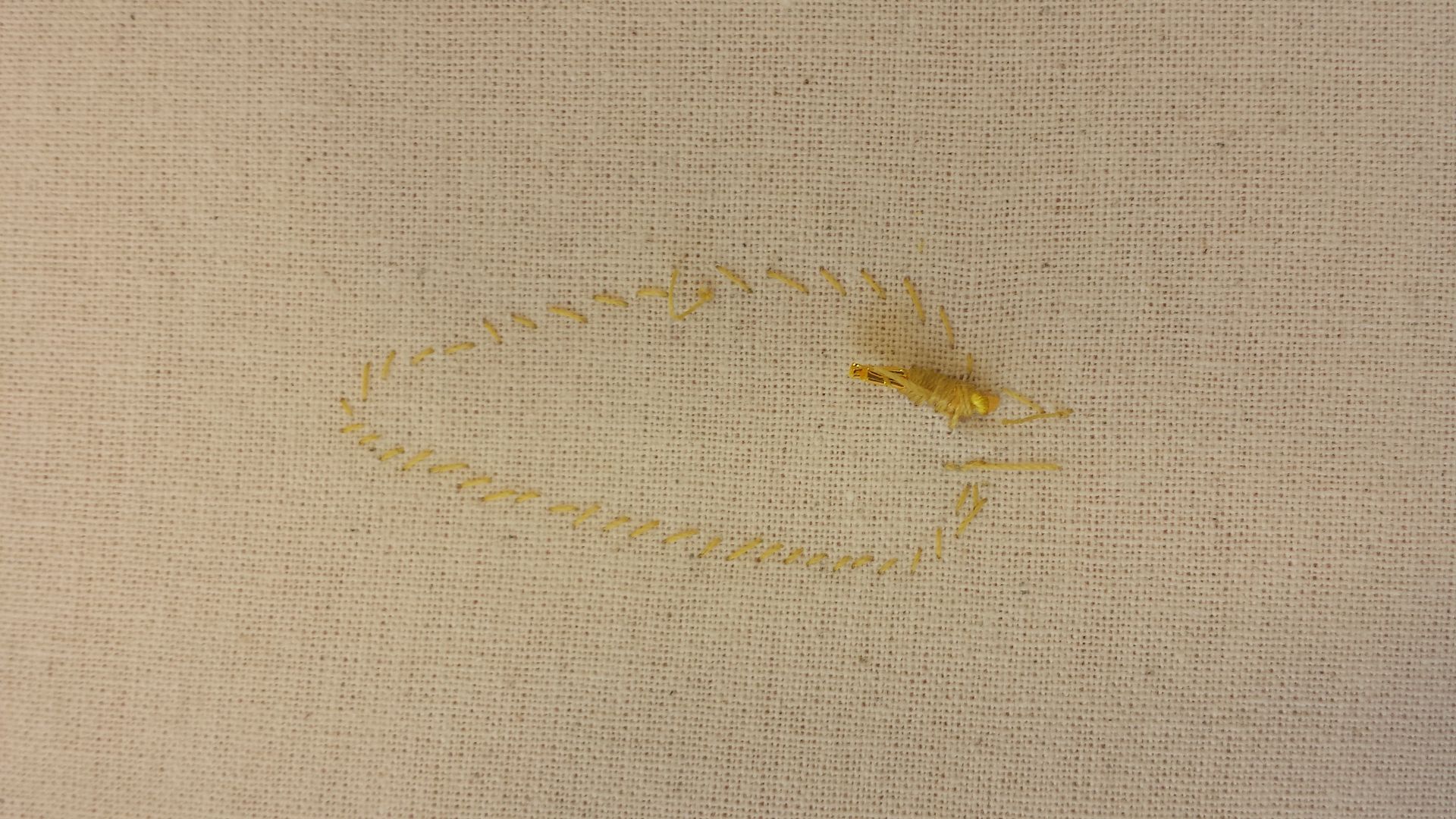 After the couching is done, the ends of the Japanese thread are plunged to the back and stitched down "neatly".
Next we worked with Pearl Purl, the picture above shows a gold Pearl Purl and a silver Pearl Purl, they resemble tiny springs and have to be very gently stretched before couching down. The heart is beeswax, essential for goldwork.
Here you can see that I've couched down the Pearl Purl all round the mushroom on the right. Sarah would show us a particular part of the pattern, then we'd go away and do it. So she was catering for all abilities as well and keeping the class running on time, we didn't always finish each element before we were shown the next, so after I'd couched down the PP, I went back and finished the Japanese couching on the middle mushroom.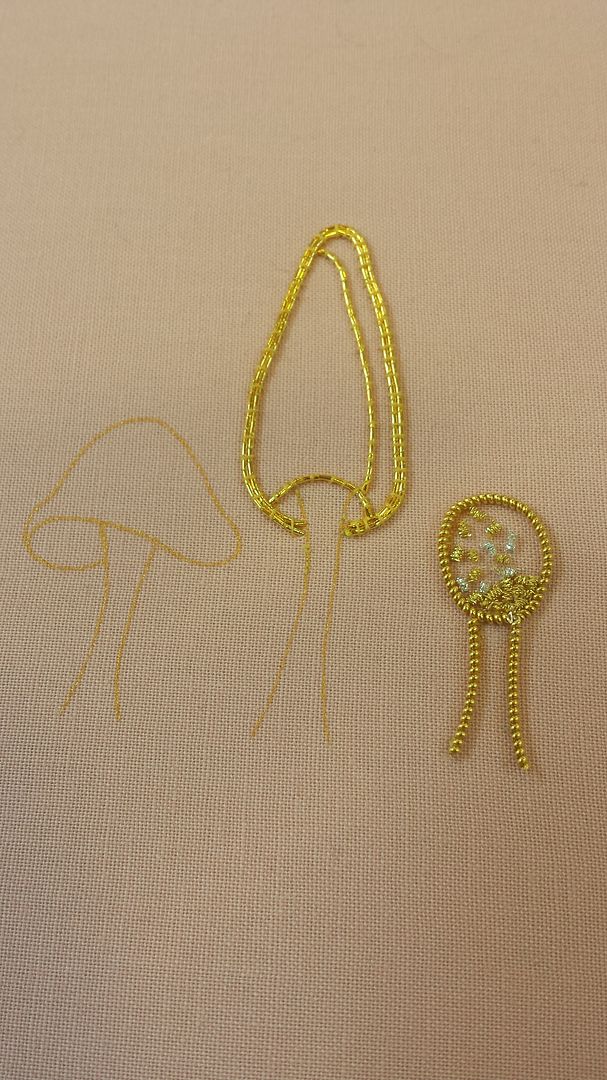 Next was chipwork. We cut little chips of the Pearl Purl in both silver and gold and sewed them on just like sewing on a bead, using a double thickness of thread.
Next came the raised element - the stalk. This is embroidery cotton, folded up and stitched down, then cut to the right size. This is just padding.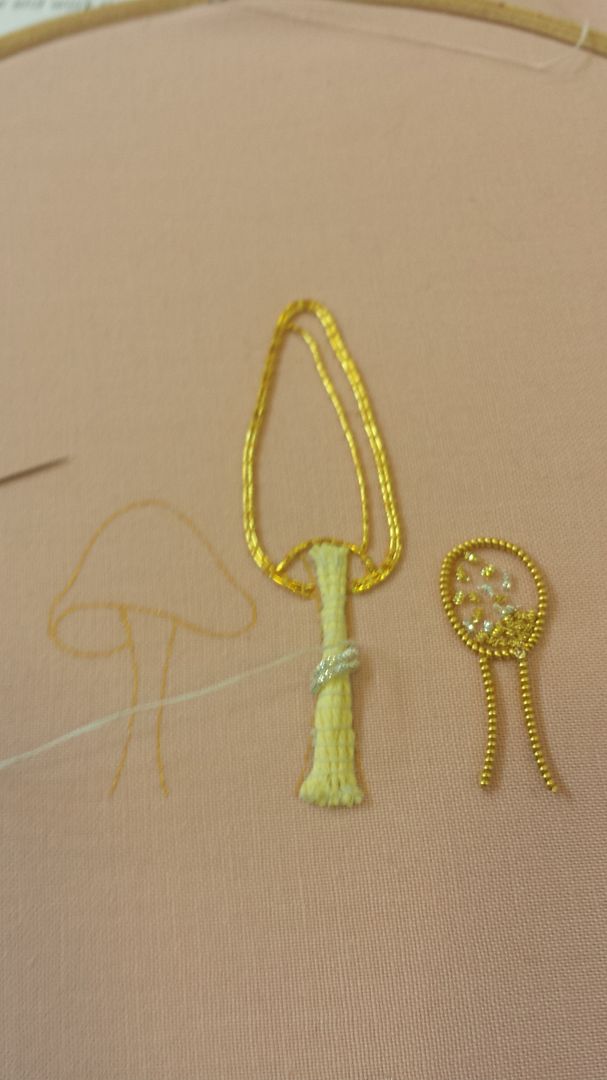 Pearl Purl is then threaded on to sewing cotton and couched down over the top in diagonal lines, starting in the middle. It's really hard to judge the length of pearl purl to use!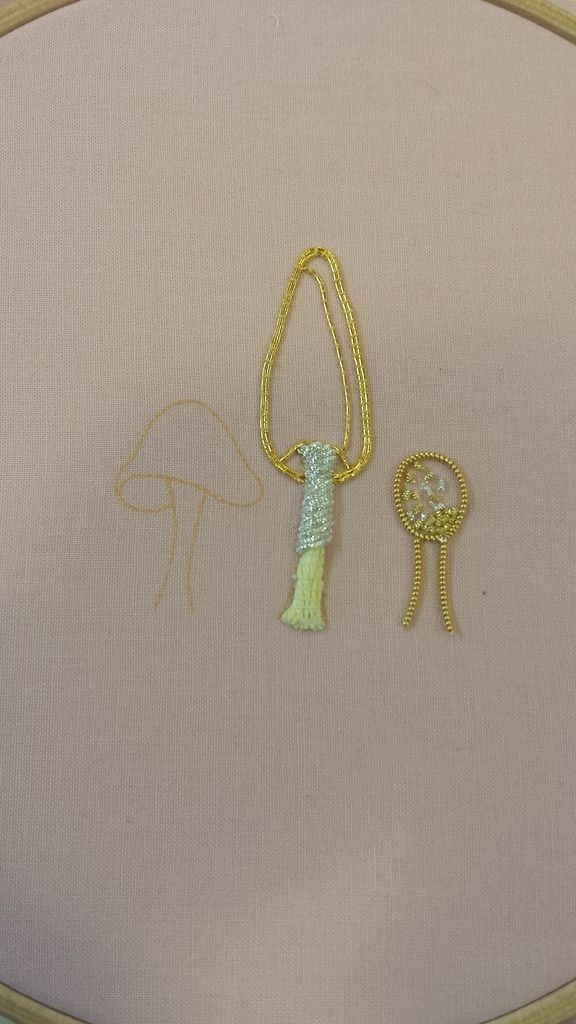 This is as far as I got. I still haven't finished it though I know that mum finished hers! It's on my long list of workshop project UFOs....
I really enjoyed this class. I liked doing the techniques, though in future I think I'd mainly work in silver and coloured metal threads as gold is not so much my style. You can get all colours these days and I do in fact have a kit or two using the coloured metal threads... I'll have to dig that out too!