Back in November, on Saturday 12th to be precise, me and wonderful mum did something very exciting. It was my birthday. Mr Ex-CA had left me a month before and I was in a bit of a state. I didn't want to have a birthday. Wonderful mum booked us onto a Pulled Thread class at The Royal School of Needlework satellite branch in Rugby.
Our tutor was Becky, she was a fab teacher. There was just me and mum there, and another lady doing Drawn Thread work. We each got a kit and lots of individual attention.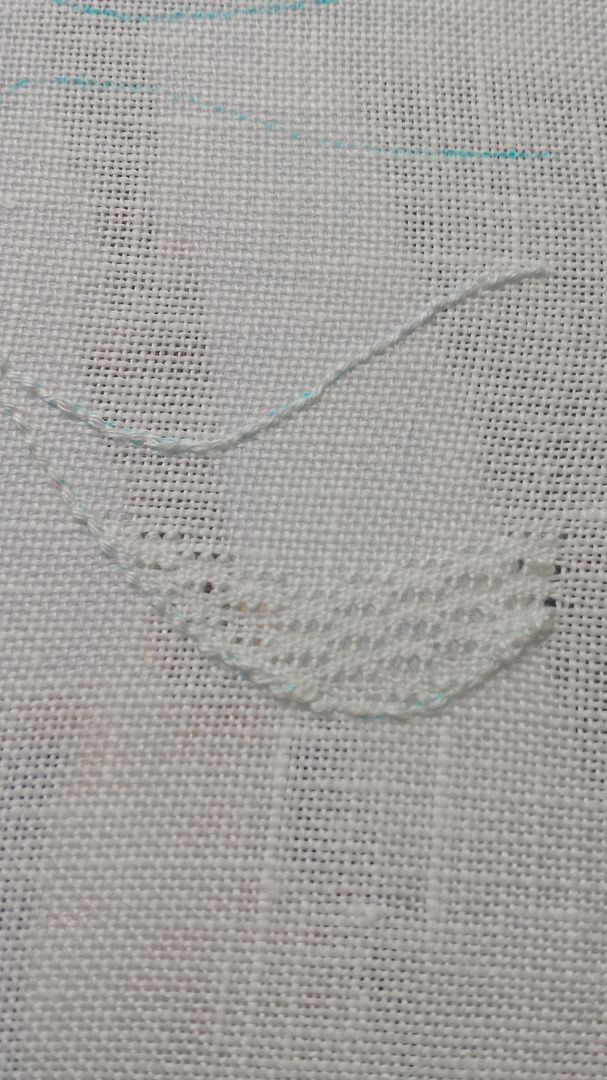 I have put my in-progress shots in this post, intending to give you the lowdown on the stitches worked. Alas, I am at work and I don't have my instructions with me so I don't remember what any of them are!
We worked a little on each different stitch, then there was time to go back and fill in the gaps as we went along. We worked with white thread on a loose-weave linen. Again, I don't remember what the thread is!
I've still got quite a lot to do, though I did get a reasonable amount done in the class. I didn't feel like stitching for weeks afterwards and I still can't bear to think of my birthday. I hope that passes in time as actually the class was brilliant.
If I get a chance, I'll update this post with the stitches and threads as that will probably be more interesting to read!
I can tell you that those stitches towards the top are eyelets and they are great fun to stitch. All the stitches involve pulling the thread tight to compress the threads of the fabric and create little holes.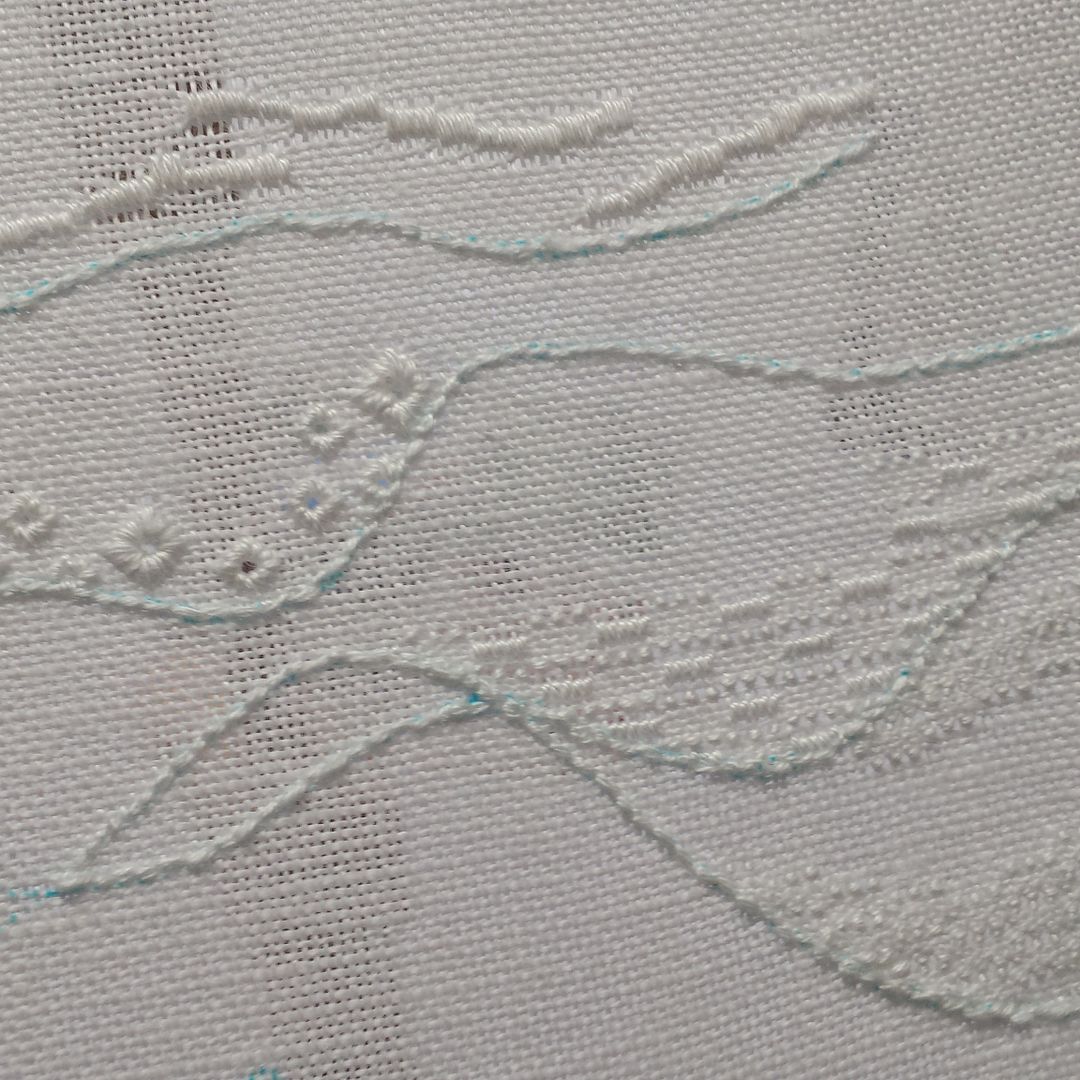 It's a really lovely technique and I enjoyed it. I bought a clip on OTT light at the Knitting and Stitching show so that should help me work on this peace, hopefully over Christmas.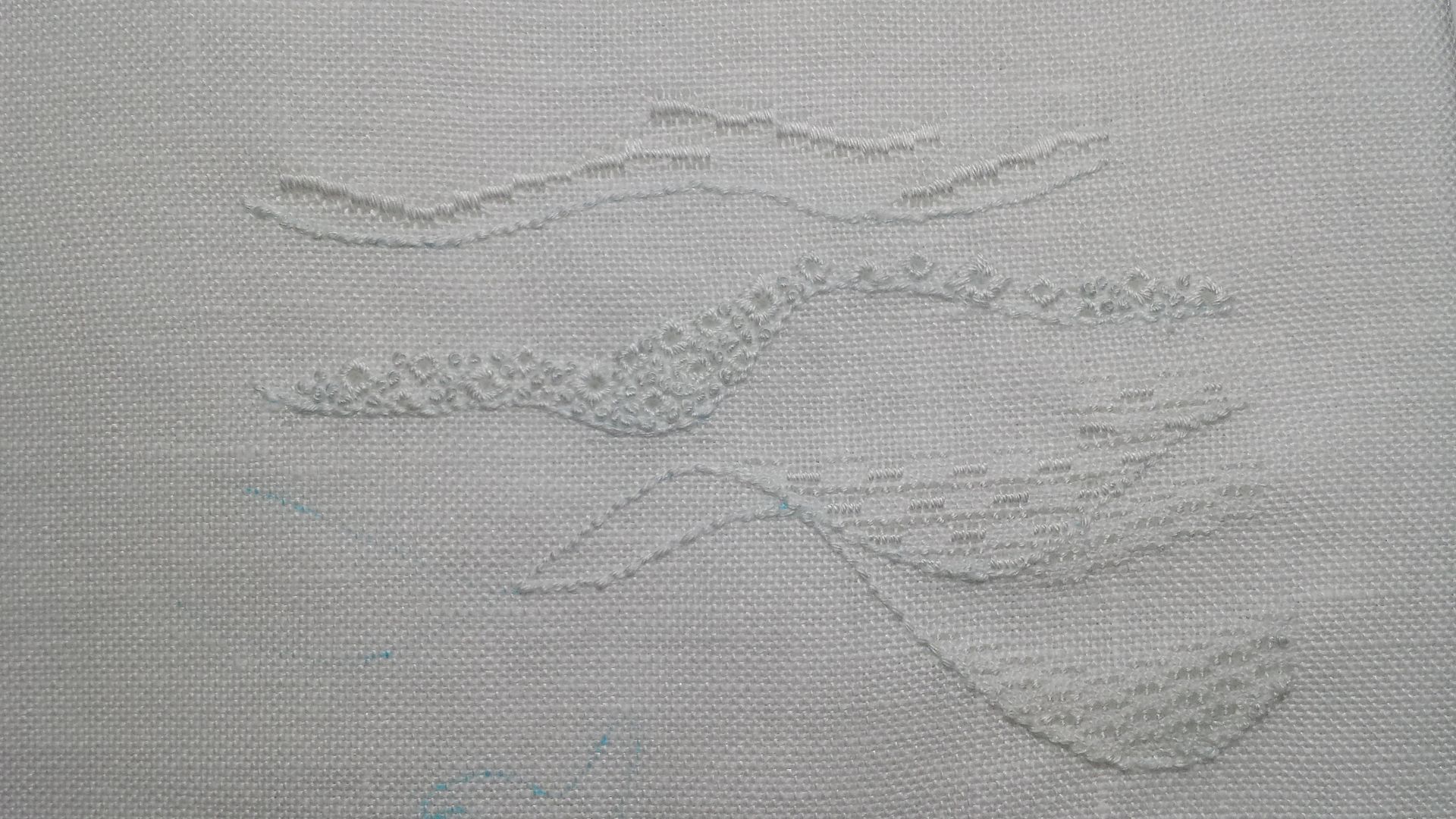 I've still got to fill in the gaps and then there is a starfish at the bottom. I will, of course, show you when it's done, AND give details of the thread and stitches!
I cancelled my birthday so only mum bought me any presents as she didn't want to ignore the day completely. I think I might have cried as I undid them!
There was a whitework theme with this lovely kit and 3 whitework books - Beginner's Guide to Mountmellick Embroidery - Pat Trott, Pulled Thread Embroidery 64 Patterns used in Rococo and Today - Edith Blocher and Schwalm Embroidery Techniques and Designs - Christine Bishop. The kit can be bought online here.
We have taken classes with Sarah Homfray (and I think we've booked a couple more for 2017, must sort my diary out!) and loved them. I got this crewelwork hare kit.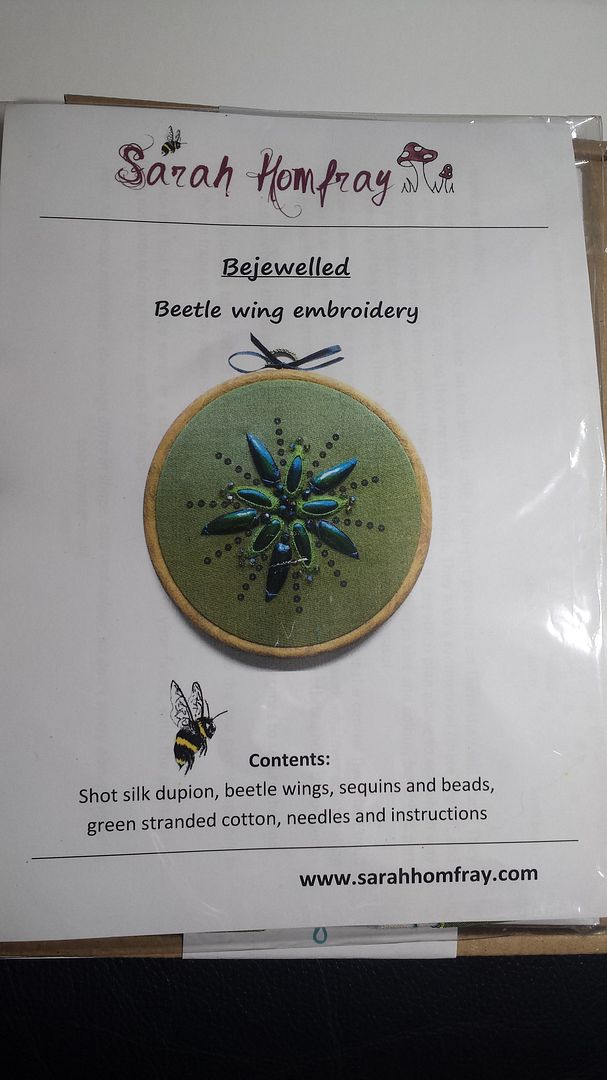 And this beetle-wing embroidery kit. How unusual is that? You can buy Sarah's kits online here.
Sorry about a rather depressing post, but I hope you enjoyed the pictures! I hope to become happier, more cheerful and more detailed in the new year!