Good morning ladies. I hope you're all well. I think I mentioned that I'd had a blood test to find out if I had food intolerances which were contributing to my migraines and my eczema. Well, it turns out I do, and they're also making me bloated and feel ill a lot of the time, something I'm so used to, I don't even think about. I am intolerant to yeast. Well OK, you might think, so no bread and no beer. Oh no, it goes MUCH further than that, the list of things that contain yeast is massive and I've still got to talk to the consultant, this is just what I've gleaned from the internet: - bread, cheese, marmite, oxo cubes, soy sauce, bacon, ripe fruit, grapes, plums, wine, beer, most spirits, chocolate, cakes, biscuits - that little list (except the alcohol) is the mainstay of my diet! Some serious life changes coming up.
Anyway, enough whinging, want to see what I've made? Back in April I made some baby bear hats, if you want to see, and for a link to the pattern, go
here
. My brother's closest friend had his first baby last week - technically his girlfriend had the baby, but you know what I mean. As he's been around my whole life, I wanted to make something for his little baby son and what better than a panda bear hat?
I'm hoping to get a linen bunny finished this weekend to add to the parcel for baby Sam. I've also called a stop to the Big Knit crocheting so I can get the parcel in the post. I managed a total of 39 in the end (I thought it was 40 when I stopped, but then counted them. Here are the last few: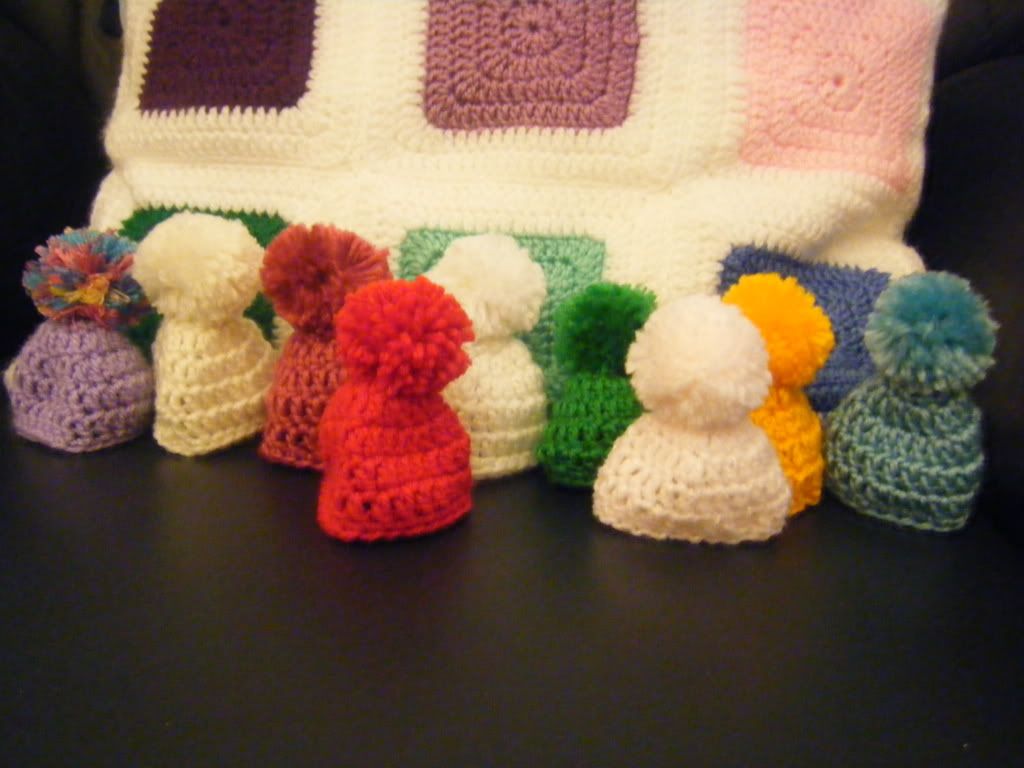 I had a little tidy up of my beside-sofa stash last night and found loads of WIPs I'd forgotten about:
- a needlepoint bookmark that just needs backing
- my sampler square blanket
- charity 4" crochet squares
- the shopping bag (which I've frogged as I think I'd gone serious wrong)
- my hardanger heart which just needs finishing (how did I forget that, it was only the other week!)
- my teacup and flower embroidery
Add to that my other WIPs
- my Rennie Mackintosh cross stitch
- my giant granny blanket
- my second hardanger attempt
- the pinwheel table topper
I'd better get busy this weekend! I know it's good to have WIPs so you've got variety and all that, but this many is stressing me out!
Before I go, a link you might be interested in. I know a lot of you love Mary Englebright and loved her Home Companion. I never saw it, but I have one of her books and by the sounds of it, I'd like it a lot. They're thinking of bringing it out again, but they need your vote/comment to see if it's worthwhile. Go
here
and say YES!