Hello ladies, just a quick little post from me this evening. I've just got back from a wonderful weekend with my lovely little nephew. He's completely gorgeous! I'm afraid I wont be posting pictures of him on my blog, my brother is a little anti-social media and doesn't want pictures of Jacob on the internet, so I'm sorry if you were hoping to see the little mite.
Before I went down to see him, I whipped up more presents! First of all I made baby trousers using this excellent tutorial from Made by Rae. As I got started I realised it was going to be so easy to follow, I decided to make two pairs.

The top pair was made using Animal Alphabet fabric by David Walker which I bought from Prints to Polka Dots. I love this fabric! The bottom is a fabric I bought a long time ago, when I first started sewing, and I can't remember what it is!


The only issue I had with making these trousers was the fact my top seam was so wonky that I couldn't thread the elastic through very easily in places! Not as bad as my sewing machine cover, mind.

The green trousers have a front and back, but only because of the way the elastic lays. The blue doesn't have a front or back. They're a bit too big for him at the minute, but I hope he'll be in them soon.





It's a good job I appliqued size 3-6 month baby grows to match really, considering the size of the trousers. I really had no idea if they'd be too big or small when I made them.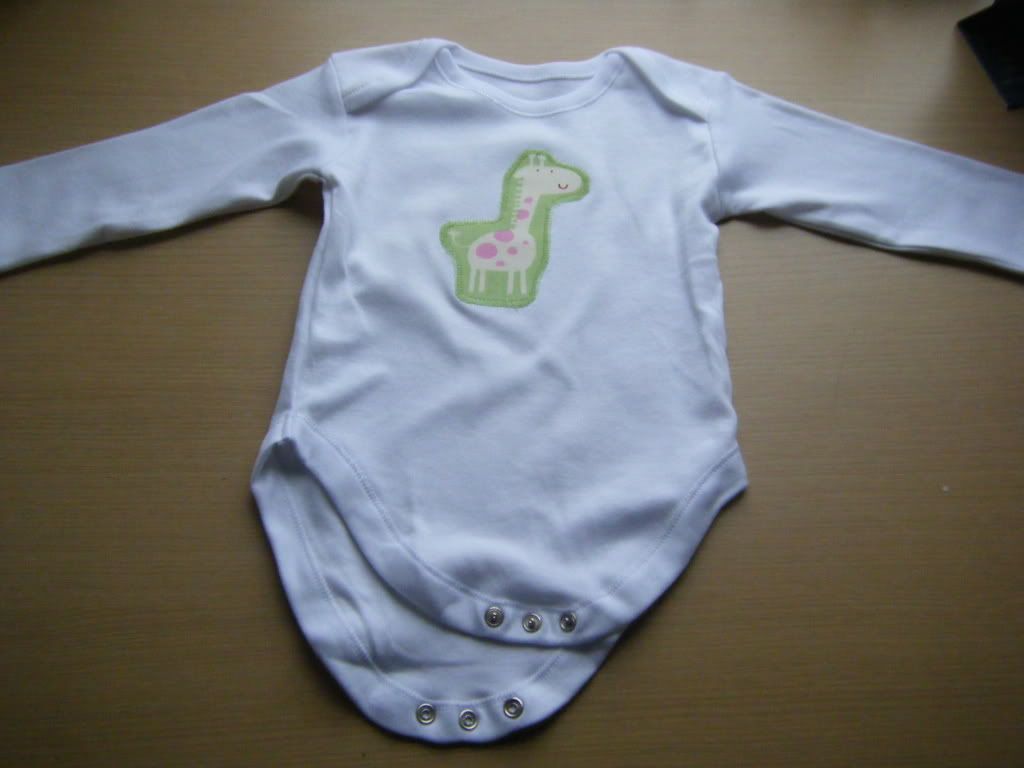 My brother loves giraffes, so I fussy cut a giraffe from the same fabric and just machine stitched him on. I made the owl, below, first and found it really hard, then remembered I hadn't added Stitch 'n' Tear. Sewing on the giraffe with the Stitch 'n' Tear made all the difference.


The owl doesn't really co-ordinate, but Jacob's mum loves owls, so I had to add one. If I had it my way he'd only wear clothes featuring rabbits!


The brown on the owl and the trousers does mean that he can wear them as a little outfit though.


Although not chosen to co-ordinate, this fabric goes perfectly with the
babygrow and booties
I made before. You've got to love it when that happens! If you do click to that post, you'll see that the bib co-ordinates with the other pair of trousers.

And of course the giraffe babygrow matches the green trousers. Cute, but not as cute as Jacob!

By the way, in the interests of disclosure, I've signed up for affiliate membership with Prints to Polka Dots. Now, I've only done this as it's an online shop I use A LOT. If you read back through my posts, you'll see I've mentioned them before, before I signed up. The first time I ordered from them, there was a problem with my order but they way they dealt with it (professionally and quickly) meant I gave them a second chance and I haven't looked back. The affiliate programme basically means that if you click on one of the links to their shop in my blog post (like the one above), then buy something from the site, I get a small kickback. I hope this isn't something that offends anyone? I wont be pushing them on you all the time either!!